Danish "Christmas" Kringle
We may earn money or products from the companies mentioned in this post.
Danish "Christmas" Kringle
Whether it's friends dropping by your home or your entire family visiting for the holidays, you can never go wrong with a Racine Kringle! We purchase a Kringle each year to enjoy with our coffee on Thanksgiving morning….our way of kicking off the "Kringle Season" This year we enjoyed a Cherry Cheese Kringle from O & H Bakery. In my house we tend to "overindulge" in Racine Kringles during the holidays. Now that Kringle can be found in most grocery stores, including Aldi, we have been partaking in overindulgence of the Danish Kringle as if it where a Winter Olympic Sport! We'd definitely win the Gold!
Racine Kringle
Kringle, is an oval shaped, authentic, Danish pastry produced predominately in Racine County, WI. Each Kringle has thirty-two layers of flaky dough, then shaped into an oval. After filling with fruit, nuts or other flavor combinations, the pastry is baked and iced. Said to be "The only Kringle a self respecting Dane would eat"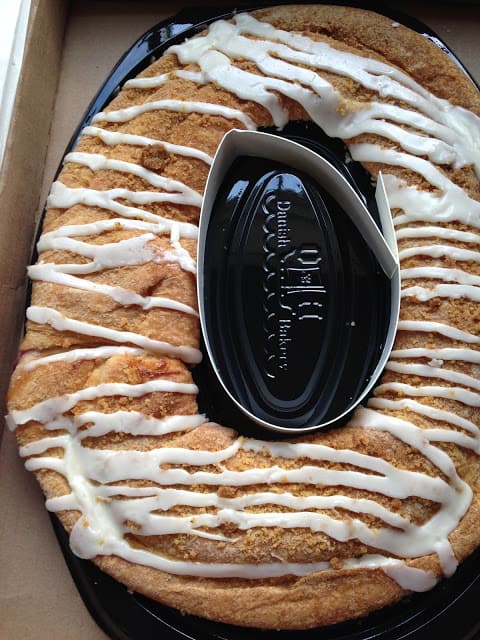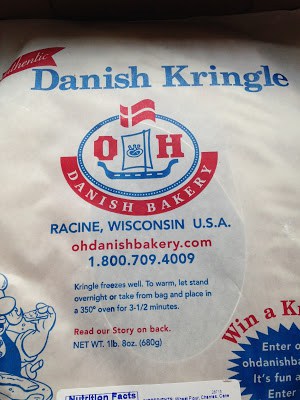 What is a Kringle?
A Kringle is a butter-layered Danish pastry that were introduced to Racine WI in the late 1800's by immigrant Danish bakers. In Denmark, the Kringle is traditionally a "pretzel-shaped" almond-filled coffee cake called Wienerbroth. The shape of a Kringle, pretzel-shaped in Denmark, is the Danish sign for bakery hence the name Kringle. Outside every bakery in Denmark you'll find a sign with a Kringle on it. The pretzel shape is still used in Denmark but in the US the pretzel shape has been replaced with the oval shape.
Racine Home to Danes and Kringle
At one time Racine was home to more Danes than anywhere else in the country. As a result, there are more Kringle shops in Racine than you'll find anywhere else. Racine WI is known as the "most Danish City in America." There you will find the best bakeries to enjoy an authentic Danish Kringle. Wisconsin named the Kringle it's "Official State Pastry" further etching the Kringle into Wisconsin's heritage. Here is a list of three of my favorite Kringle Stops. In alphabetical order.
Larsen's:
Larsen's Bakery bills itself as "Racine's Original Kringle." Made from a centuries old Copenhagen recipe. Larsen's makes 30+ varieties of Kringle. It takes Larsen's three days to make the pastry, a light, flaky, butter crust. Fresh fruits, nuts, and seasonal ingredients are used for the fillings and then the Kringle is topped with an icing.
Well-known in Southeastern Wisconsin, Larsen's Bakery Kringle are sold across the country. It's an almost four-decade, family-run bakery. Ernie Hutchinson purchased the bakery in 1969 from Eirner Larsen. Ernie kept the name and the recipes. Now Debbie and Don Hutchinson are following in their father's footsteps by running the family bakery where they maintain the quality and customer service people expect at Larsen's.
You can buy Larsen's Kringle here: Larsen's Bakery

O & H Bakery:
There is nothing quite as comforting as a slice of delicious Kringle and a steaming cup of hot coffee. O & H Bakery has been baking Kringle and other Danish pastries since 1949. O & H Bakery provides you with a Kringle that is light, tender and flaky. O & H Kringle are made with only quality ingredients. O & H Bakery strives to provide you with outstanding service, that comes from their family's values and integrity. Christian Olsen immigrated to Racine, as a young boy from Denmark in the early 1900's. He partnered with Harvey Holtz and together they founded O & H Bakery in May, 1949.
By 1963, Christian's son Ray and wife Myrna purchased the Holtz share of the business. They worked hard to build the bakery business and taught their three sons Dale, Mike, and Eric the family recipes and values. The fourth generation of children and talented bakers are still working hard at making the delectable Kringle their family has so proudly produced for over 60 years. You can buy O & H Kringle online here: O & H Bakery
Racine Kringle:
Danish immigrant bakers introduced the Kringle to Racine and Southeast Wisconsin in the late 1880's. Every day, bakers at Racine Kringle start with the freshest ingredients to make the authentic pastry dough. The pastry is then filled with the finest in nuts, fruit or a gourmet filling. Then shaped into the distinctive Kringle oval and baked until golden brown.The Kringle is generously spread with a rich vanilla or chocolate icing. Racine Kringle is also a Certified Dairy Kosher Product and carries the official Kosher seal. You can find Racine Kringle in most supermarkets or online here: Racine Kringle
A Racine made Kringle are enjoyed by millions each year. It's now a key part of the community's tradition. The Racine Kringle has put Racine County on the food map. Racine Kringle has been featured on the Food Network, the Travel Channel and the Today Show. Racine Kringle are shipped all over the world…especially at Christmas.