Cheesy Spinach Artichoke Dip
We may earn money or products from the companies mentioned in this post.
Cheesy Spinach Artichoke Dip
This hot cheesy dip has it all, chopped spinach, artichoke hearts, green onions, roasted garlic, chopped fresh parsley and cream cheese. Serve with wheat thins or your favorite buttery crackers for a super delicious dip perfect to serve on game day. Make this delicious dip and cheer on your favorite team.
Dips
One thing we love here at Turnips 2 Tangerines is a good dip. Nothing better than a good chip or cracker dip to munch on while your watching your favorite team play a football or baseball game. Not only do we like to eat a good dip, we like to make them and share them here with you. Take a look at the numerous dip/appetizer recipes we have in our recipe box and you'll understand what I mean. Hot or cold, mild or spicy we love them all.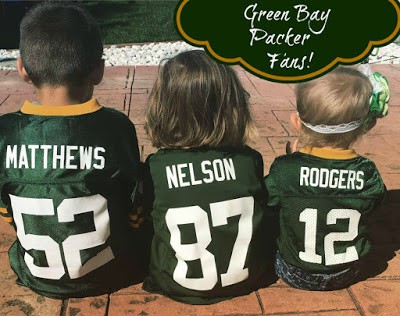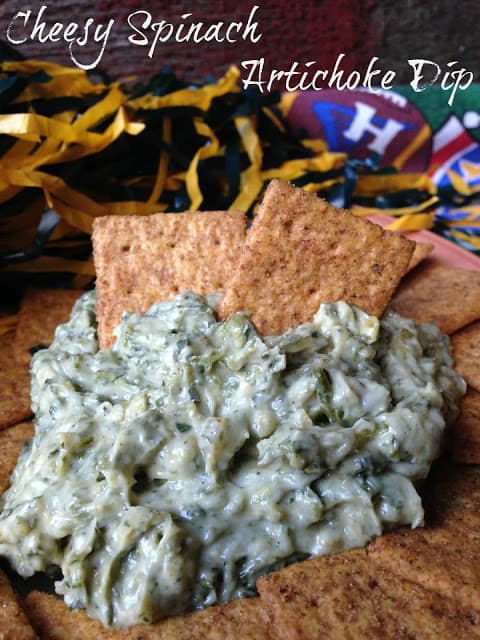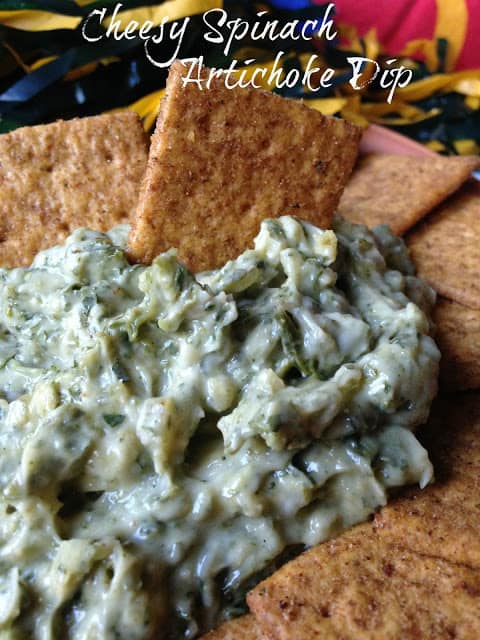 Most Good Appetizers
In my humble opinion, most good appetizers and/or dips start with cream cheese and has some kind of "other" cheese or two include somewhere in the recipe. This may account for the fact that I live in America's Dairyland and I just plain like cheese….any kind of cheese. In fact, I've never eaten a cheese I didn't like and I have eaten a lot of different kinds of cheese in my lifetime.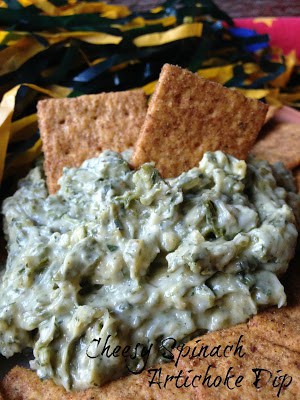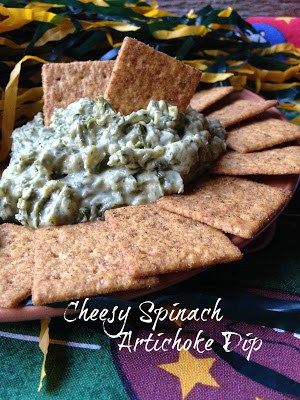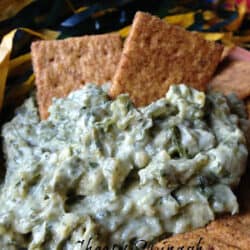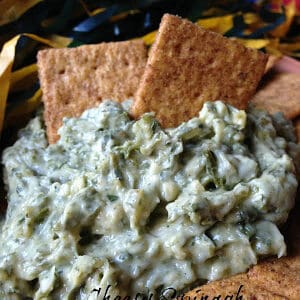 Cheesy Spinach Artichoke Dip
Ingredients
1

8 oz package

cream cheese, room temperature

1/2

cup

sour cream

2

tablespoons

evaporated milk

1/4

teaspoon

salt

3/4

cup

shredded Asiago cheese

1

14 oz jar

artichoke hearts, drained and chopped

4

medium

green onions, chopped

1

cup

frozen chopped spinach, thawed and squeezed dry

2

cloves

roasted garlic, minced

1

teaspoon

butter

2

tablespoons

chopped fresh parsley

sun-dried tomato basil thin wheat crackers
Instructions
Heat oven to 350°F.

In medium bowl, beat cream cheese with electric mixer on medium speed until smooth. Beat in sour cream, evaporated milk and salt. Stir in remaining ingredients. Spoon into 1-quart casserole or small ovenproof serving dish.

Bake uncovered 10 to 15 minutes or until hot and cheese is melted. Remove from oven; stir. Sprinkle with parsley. Serve with crackers.