Elephant Ears
We may earn money or products from the companies mentioned in this post.
Elephant Ears
Who doesn't like Elephant Ears. Those crispy, crunchy, sweet, cinnamony, deep-fried fritters. Those quintessential fair food, classic treats are deep-fried deliciousness. Fried flattened dough, topped with sugar, cinnamon or powdered sugar, that describes the elephant ear in a nutshell. A thin, disc of fried sweetness that seems to be about as big as an actual elephant eat, but it's much tastier.
This irregularly shaped staple of summer fairs and carnivals, weighs in at a whopping 300 to 500 calories, and is a favorite at carnivals across the Midwest. Along with corn dogs, cotton candy and those huge pretzels served with cheese sauce, deep-fried food is a staple at any carnival and state fair. In fact, anything that you can possibly imagine is acceptable, to take a dip in the deep fryer.
Easy to Make
If you get a craving for elephant ears and there doesn't seem to be a carnival in sight or if it's the dead of winter and you have a longing for warmer, summertime weather, making elephant ears at home is really not difficult at all. Check out our recipe for elephant ears so you can make up a batch of 'ears' at home. Have plenty of cinnamon-sugar on hand or change things up some and top them with macerated berries.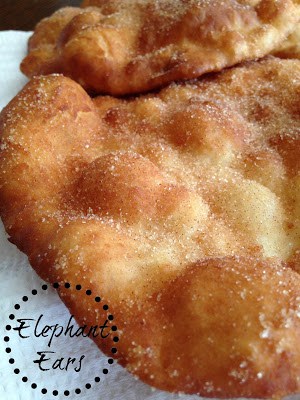 Beaver Tails
Next on my culinary journey is Beaver Tails. The Beaver Tail, considered The Canadian Doughnut. This truly Canadian treat is well loved in Canada. It's a simple, hand-stretched wheat dough, that is deep-fried but can and is topped with many different toppings. How did it get its name? The beaver is Canada's largest rodent and a symbolic mascot. In the 19th century, aboriginals would cook beaver tails over an open fire until the skin cracked and loosened. They would then eat the exposed meat inside.
Early settles began to cook their bread in the same manner. The dough used required little to no raising and was quick and easy to cook over an open fire. Settlers would stretch the dough over one or two sticks in the shape of a beaver's tail. This bread is referred to as bannock, similar to the dough used for Beaver Tails today. Some feel this was the beginning of the quintessential sweet treat of Canada.
In the 70's and 80's
In 1978, Beaver Tails Canada Inc. trademarked the dessert, laying claim to its official creation. According to the founder, Grant Hooker, the recipe for his sweet treat came from his German-Canadian grandmother. She called the deep-fried dough, 'keekla', a German dish which means 'little cake.' In 1978, using his grandmother's recipe, Grant and his wife decided to sell their treats at a local craft fair. It wasn't until Hooker's daughter made the comparison of the 'keekla' to the shape of a beaver's tail that the name took hold and the Beaver Tail took off.
Popular Toppings
Beaver Tails are popular from Vancouver to Nova Scotia. which The most popular topping is still the traditional cinnamon-sugar, although there are cities which boast their own local varieties. In Vancouver, you'll find the Salmon Tail, topped with cream cheese and capers; Mont Tremblant, has the much-loved Ham and Cheese Tails. And Halifax, has the Lobster Tail. Of course, we can't forget about chocolate. "Triple Trip Beaver Tail" is peanut butter, chocolate and Reese's Pieces candies.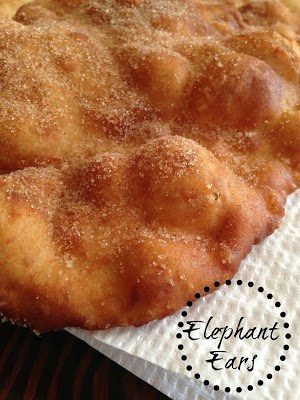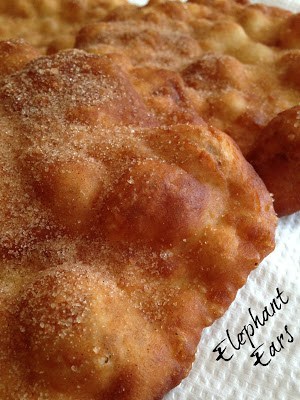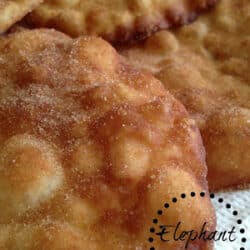 Elephant Ears 
Ingredients
1 1/2

cups

milk

1

teaspoon

salt

2

tablespoons

sugar

3/8

cup

shortening

2

tablespoons

active dry yeast

4

cups

all-purpose flour

1

quart

oil for frying

3

tablespoons

ground cinnamon

6

tablespoons

sugar
Instructions
In a small saucepan over medium heat, combine milk, salt, 2 tablespoons sugar and shortening. Heat until shortening melts and sugar dissolves. Remove from heat and let cool to lukewarm, 110°.

Sprinkle in yeast and let sit until foamy.

Transfer mixture to a large bowl. Stir in flour to make a dough, knead until smooth, cover and let rise 30 minutes.

In a large, heavy skillet or deep fryer, heat 1 inch of oil to 375°.

Roll dough into 1 to 2 inch balls. Shape or roll dough into thin, round discs. Fry discs, 1 to 2 minutes on each side, until puffed and golden. Drain on paper towels.

Combine cinnamon and remaining sugar. Sprinkle over warm pastries. Serve.