Blueberry Pie with Homemade Filling
We may earn money or products from the companies mentioned in this post.
Blueberry Pie and Happy Valentine's Day
This pie is as easy as 1. 2. 3. Homemade blueberry pie filling plus a refrigerated pie crust is all that is needed. You can certainly make your own pie crust but to save time, we opted for the refrigerated version. Don't have homemade blueberry pie filling? That's okay too! You can easily use your favorite canned blueberry pie filling, either way this pie is as easy as 1, 2, 3.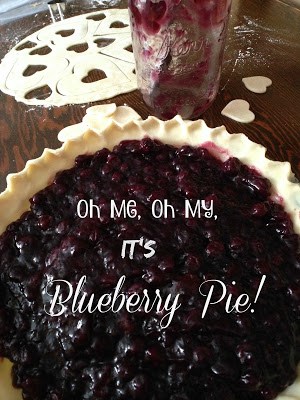 Make Your Own
One thing though you really can't skimp on is the blueberry filling. We highly recommend making your own blueberry pie filling. It really isn't difficult and the taste is pure heaven. Next summer, when blueberries are in season, go to your local "pick-your-own-blueberries" farm and pick your own. When making home-made pie filling, remember  fresh is always best.
But if your grocery store runs a special on blueberries pick up a couple of cartons and make some blueberry pie filling! Trust me, if I can tackle home-made pie filling, so can you! One word of caution, once you make home-made, you'll never go back to canned.
Make Several Kinds
The recipe given here Homemade Blueberry Pie Filling is for 1 quart. I doubled the recipe and made 2 quarts of pie filling,  which is an usual amount to make, I know. I like to have 2 quarts of several different kinds of fruit pie fillings on hand such as: blueberry, cherry, peach, blackberry, apple and pear-cranberry. Instead of having six of the same kind of pie filling in the pantry, I like a variety.
This is our personal preference. If you have a large family, have access to large amounts of blueberries or you simply love blueberry pie filling and bake often by all means make as many quarts as you want…hey knock yourself out! Here's a little secret, if you do decide to make your own fruit pie filling, you can make a home-made pie in the dead of winter too.
Canned Works Too
If you don't have any homemade pie filling on hand don't worry…you can still make this delicious pie. There are many wonderful brands on the market to pick from. Our favorites include: 
Mrs. Miller's
, 
Lucky Leaf
Duncan Hines
 and 
Solo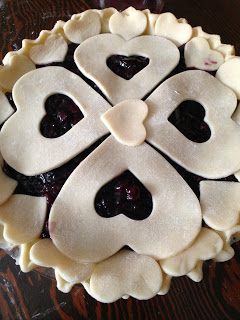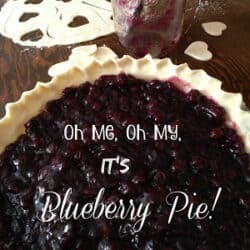 Blueberry Pie with Decorative Crust
A delicious blueberry pie made with homemade blueberry pie filling and a decorative crust.
Ingredients
1

package

refrigerated pie crust

,

2 crusts

1

quart

homemade blueberry pie filling OR

1

21 oz can

blueberry pie filling

1

egg

1

tablespoon

water

1

tablespoon

sugar
Instructions
Preheat oven to 375.

Unroll one pie crust, place in the bottom of a 9 inch pie plate.

Flute the pie crust edges.

Spoon blueberry pie filling into pie crust.

Unroll second pie crust, using a heart shaped cookie cutter cut out as many shapes as possible.

Place heart shaped cutouts on top of blueberry filling in a decorative pattern.

Whisk together egg and water.

Brush egg mixture on crust cutouts and decorative crust. Sprinkle sugar over the top of the pie.

Bake in preheated oven for 45 minutes or until crust is golden brown and blueberry filling is bubbly.
Nutrition
Serving:
1
g
,
Calories:
479
kcal
,
Carbohydrates:
81
g
,
Protein:
5
g
,
Fat:
15
g
,
Saturated Fat:
5
g
,
Cholesterol:
20
mg
,
Sodium:
247
mg
,
Potassium:
197
mg
,
Fiber:
4
g
,
Sugar:
46
g
,
Vitamin A:
56
IU
,
Vitamin C:
1
mg
,
Calcium:
45
mg
,
Iron:
2
mg