Amish Style Baked Oatmeal
We may earn money or products from the companies mentioned in this post.
Amish Style Baked Oatmeal
Amish-Style Baked Oatmeal is a great and delicious way to eat oatmeal. Made with old fashioned rolled oats, spices, brown sugar, half and half, raisins and cinnamon chips. Sounds delicious doesn't it..I can assure you, it is! Amish Style Baked Oatmeal is sure to become a fast, family favorite. The leftovers are super delicious too.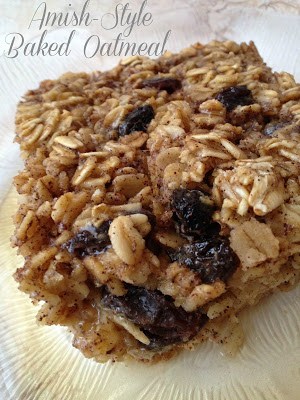 Breakfast is Possible
Now more than ever parents are both in the work force. Breakfast has become a 'meal' that is eaten on the run. A granola bar, banana or a quick stop to pick up a 'breakfast sandwich' are all okay options but they really don't keep you "full" until lunchtime. This recipe makes a 2-quart size baking dish, which is a lot of oatmeal. If you make this oatmeal, let's say on a Sunday night, you have delicious Amish Style Oatmeal for breakfast for the next couple of mornings.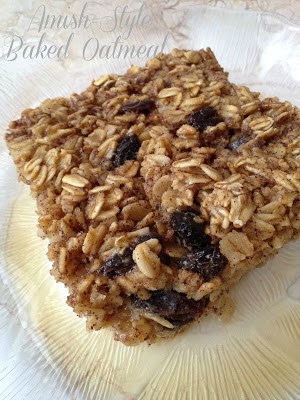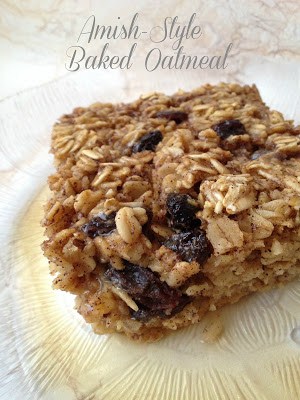 Oatmeal
Oats are by far the most nutritious of the cereal grasses and are consumed after they have been cleaned, toasted, hulled and cleaned again. After this process they become oat groats. Oat groats contain most of the original nutrients and can be cooked and served as cereal. They can also be prepared in the same manner as rice and used as a side dish, salad or stuffing.
When steamed and flattened with huge rollers, oat groats become regular rolled oats also called old-fashioned oats, take about 15 minutes to cook. Quick-cooking, rolled oats are groats that have been cut into several pieces before being steamed and rolled into thinner flakes. Though they cook in about 5 minutes, many think the flavor and texture aren't as satisfying as with regular rolled oats.
Old fashioned oats and quick-cooking oats can usually be interchanged in recipes. Instant oats however, are not interchangeable because they're made with cut grouts that have been precooked and dried before being rolled. This precooking process so softens the oat pieces that, after being combined with a liquid, the mixture can turn baked goods such as muffins or cookies into gooey lumps. Most instant oatmeal is packaged with salt, sugar, and other flavorings.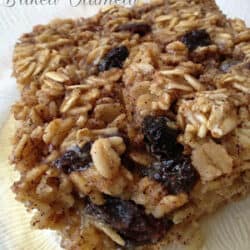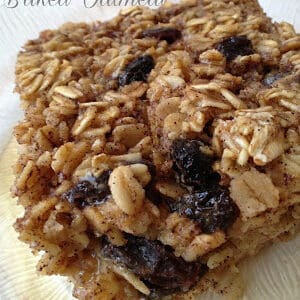 Amish-Style Baked Oatmeal
Ingredients
3

cups

old-fashioned rolled oats

,

Quaker Oats

1 1/2

teaspoons

baking powder

2

teaspoons

ground cinnamon

1/4

teaspoon

ground nutmeg

3/4

teaspoon

salt

1/2

cup

lightly packed brown sugar

2 1/2

cups

milk or half and half

2

large

eggs

1

teaspoon 

maple extract

4

tablespoons

butter, melted

1/2

cup

raisins

1/3

cup

cinnamon chips
Instructions
Lightly grease a 2-quart or 9 x 9-inch baking dish (for super thick oatmeal) with nonstick cooking spray and set aside.

Preheat the oven to 325º

In a large bowl, whisk together the oats, baking powder, cinnamon, nutmeg, salt and brown sugar.

In a large liquid measuring cup, whisk together the milk, eggs, and maple extract.

Pour this mixture over the dry ingredients and add the melted butter. Stir or whisk to combine.

Fold in raisins and cinnamon chips.

Pour oatmeal mixture into prepared dish.

Bake for 35 to 45 minutes or until the top is golden.

Serve warm with a drizzle of maple syrup.
Nutrition
Serving:
1
g
,
Calories:
455
kcal
,
Carbohydrates:
69
g
,
Protein:
11
g
,
Fat:
16
g
,
Saturated Fat:
8
g
,
Cholesterol:
101
mg
,
Sodium:
477
mg
,
Potassium:
532
mg
,
Fiber:
5
g
,
Sugar:
31
g
,
Vitamin A:
509
IU
,
Vitamin C:
1
mg
,
Calcium:
217
mg
,
Iron:
3
mg
Amish Style Baked Oatmeal is made with Quaker Old Fashioned Oats
Recipe On Tap:
Apple Date Baked Oatmeal and Tropical Baked Steel Cut Oatmeal are two of our favorite baked oatmeal recipes.