Blueberry Goat Cheese and Mint Rangoon
We may earn money or products from the companies mentioned in this post.
Blueberry Goat Cheese and Mint Rangoon
This simple and easy recipe might be short on ingredients but it's big on taste. Made with only three ingredients, Blueberry Goat Cheese, Mint  and Potsticker Wrappers. Rangoon takes only a few minutes to assemble and less than a minute to fry up crisp in hot oil. A quick drizzle of honey or a dusting of powdered sugar and you are good to go. Fast, easy and most importantly delicious! You can also substitute fresh basil for the fresh mint.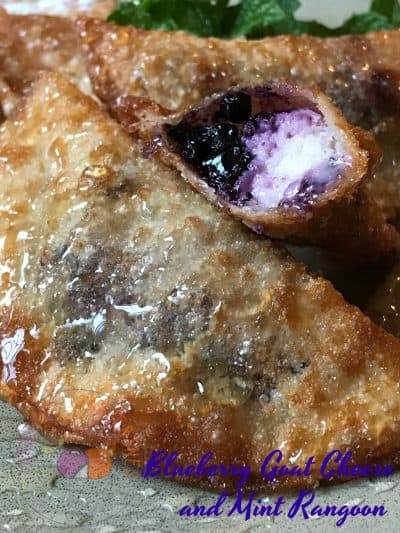 Twin Dragon Asian Wrappers
I have entered this recipe in the Twin Dragon Asian Wrapper Blogger Recipe Challenge. This is the second of several recipes that I am entering. My husband was on vacation when I made the recipes for this challenge so he was my taste tester. He takes his taste testing job very seriously so I trust his taste testing abilities. He loved these blueberry goat cheese and mint rangoon and all the recipes I made for the Twin Dragon Recipe Contest.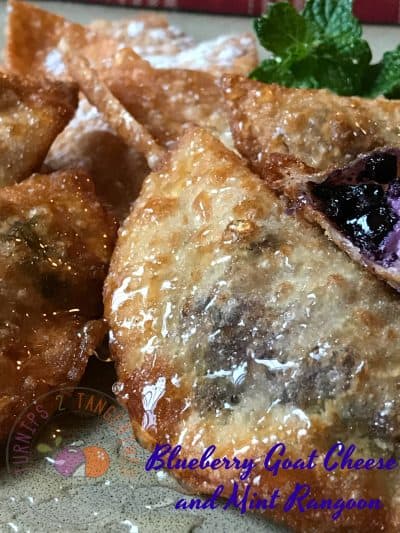 Twin Dragon- Authentic Quality and Flavor
"The dragon is a strong character in Asian cultures.  It represents power, strength and good luck.  The Twin Dragon brand reflects our ties to authentic Japanese and Chinese food with one dragon from Asia and the second from the United States.  Our noodle and wrapper recipes are based on an authentic foundation infused with American taste and texture preferences. Twin Dragon is committed to  "Authentic Quality and Flavor."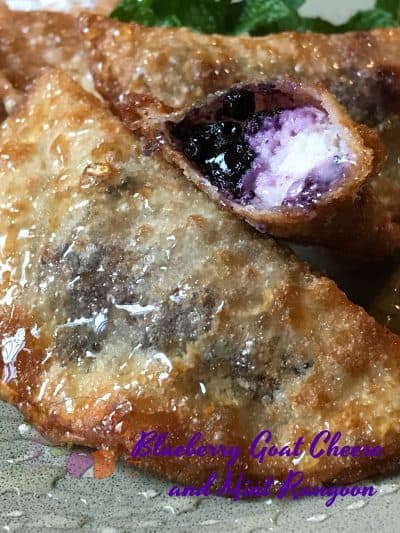 Received for this Challenge
For this recipe challenge I received two packages of each; Twin Dragon Egg Roll Wrappers, Twin Dragon Won Ton Wrappers, and Twin Dragon Gyoza Wrappers or Potstickers. For more information about Twin Dragon and JSL Foods, stop by and check out all of their social media outlets to learn more. Asian wrappers can be found in most grocery stores refrigerated ethnic food section, ethnic food aisle or in the produce department.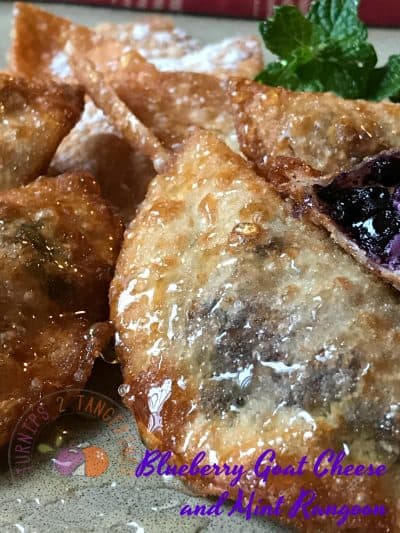 Blueberry Goat Cheese
Use your favorite brand of blueberry goat cheese, such as Montchevre Goat Cheese. If you can't find blueberry goat cheese, you can substitute blueberry flavored cream cheese or mascarpone cheese that has fresh chopped blueberries added. This recipe is all about simplicity. Simple flavors combined to make one delicious bite. Any rangoon are wonderful served as an appetizer with glasses of chilled white Moscato.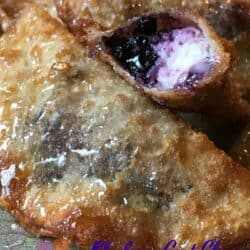 Blueberry Goat Cheese and Mint Pockets
This recipe is short on ingredients but big on flavor. Use your favorite brand of Blueberry Goat Cheese for this recipe and Twin Dragon Potstickers Wrappers.
Ingredients
1

package Twin Dragon Potstickers

1

4 oz

package blueberry vanilla goat cheese

vegetable oil

6

mint leaves, thinly sliced

honey and/or powdered sugar
Instructions
Heat oil to 350 degrees in a large saucepan.

Place a small amount of blueberry vanilla goat cheese in the center of each potsticker wrapper. Top cheese with a few strands of sliced mint. Moisten edges with water and seal.

Fry in hot oil for 1 1/2 minutes turning in oil to cook evenly. Remove from hot oil, drain on paper towels. Drizzle with honey or sprinkle with powdered sugar. Serve.
Notes
*For this recipe, you can substitute fresh basil leaves for the mint.
Blueberry Vanilla Goat Cheese Montchevre Goat Cheese
Baked Potato Bar is Party Perfect
*Thank-you JLS Foods for allowing me participate in the Twin Dragon Asian Wrapper Blogger Recipe Challenge. It has been my pleasure to create recipes using Twin Dragon Asian Wrappers. Stop back to see the next recipes we will be entering in the