Smoked Salmon Cream Cheese Rangoon
We may earn money or products from the companies mentioned in this post.
Smoked Salmon Cream Cheese Rangoon
Cream cheese rangoon is everyone's favorite. I mean, who doesn't like a crispy, hot pillow of ooey, cheesy goodness. For this recipe we decided to jazz up plain cream cheese with minced garlic, fresh squeezed lemon juice and dried dill weed. We then stirred in some smoked salmon and voilà you have yourself an easy and delicious filling for won ton wrappers. We entered this recipe in the Twin Dragon Asian Wrapper Blogger Recipe Challenge.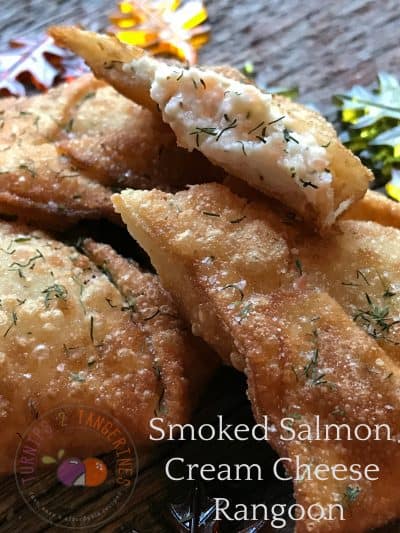 Smoked Salmon
Smoked salmon can be purchased in the meat/seafood section of most grocery stores. For this recipe, you will only need a small amount of smoked salmon. Look for the smallest package you can find. If your like me and my family who love smoked salmon, purchase a large package! Then you can make sensational recipes using smoked salmon such as Smoked Salmon Alfredo.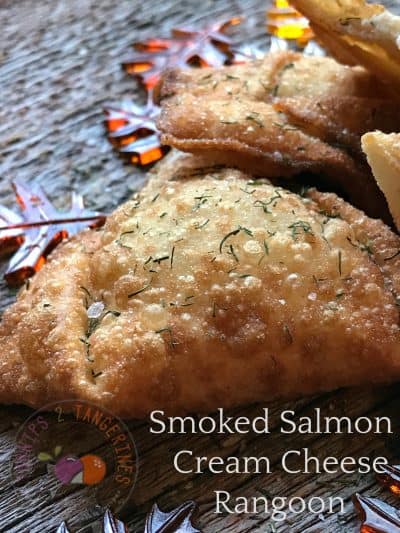 Make New Friends
Many times, at the seafood counter in larger grocery stores, you can purchase smaller amounts of smoked salmon. It may even be possible to ask the person behind the meat/seafood counter to divide a package of smoked salmon into smaller portions for you to purchase. It never hurts to become 'friendly' with the people behind the meat/seafood counter at your local grocery store!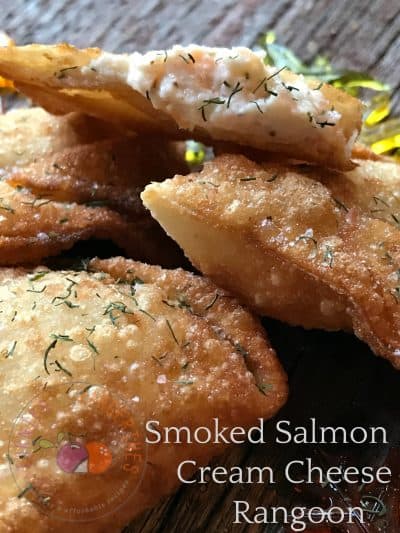 According to Wiki
This explanation is for crab rangoon, which is the most widely known cream cheese style rangoon. The history of crab rangoon according to Wiki states that crab rangoon was on the menu of the "Polynesian-style" restaurant "Trader Vic's" in San Francisco since at least 1956. Although the appetizer is allegedly derived from an authentic Burmese recipe, the dish was probably invented in the US.
History is Unclear But..
Although the history of crab rangoon is unclear, mainly because cream cheese, like most cheese, is essentially nonexistent in Asian and Chinese cuisine, its unlikely that the dish is actually of east or southwest Asian origin but really, who cares! Crab rangoon or any rangoon for that matter, are pretty darn good including this recipe for smoked salmon cream cheese rangoon using Twin Dragon Asian Won Ton Wrappers.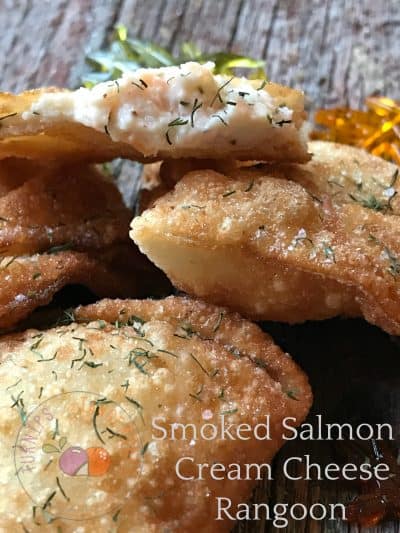 How are they made?
Crab rangoon, sometimes called crab puffs or cheese won tons, are filled with a mixture of cream cheese, crab meat, imitation crab meat or in this case smoked salmon. A small amount of filling is wrapped in a won ton wrapper and the edges are moistened. The filled wrapper is then shaped by folding the wrapper over into a triangle or by gathering it up into a purse shape or by twisting it into the traditional won ton shape.
With or Without Sauce..
Rangoon can be served hot or cold, baked or deep fried and with or without a dipping sauce.  If served with a dipping sauce, they are traditionally as follows; soy sauce, duck sauce, sweet and sour sauce and hot Chinese mustard. We prefer to eat rangoon as simply as possible, with plain soy sauce or a dab of hot Chinese mustard. I prefer if the sauce enhances the filling flavors not overtakes it but the sauce choice is really up to you.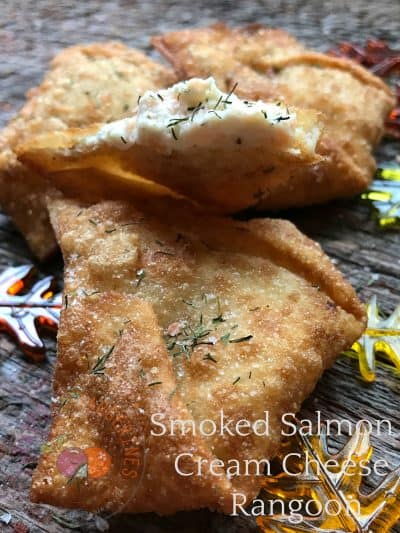 Smoked Fish
Smoked trout or smoked white fish can also be substituted for the smoked salmon called for in this recipe. In my area, especially during the months of November and December, smoked trout and smoked whitefish can also be found in many 'mom and pop' supermarkets throughout northeastern Wisconsin. Certainly larger supermarket chains carry a variety of smoked fish also and usually year 'round.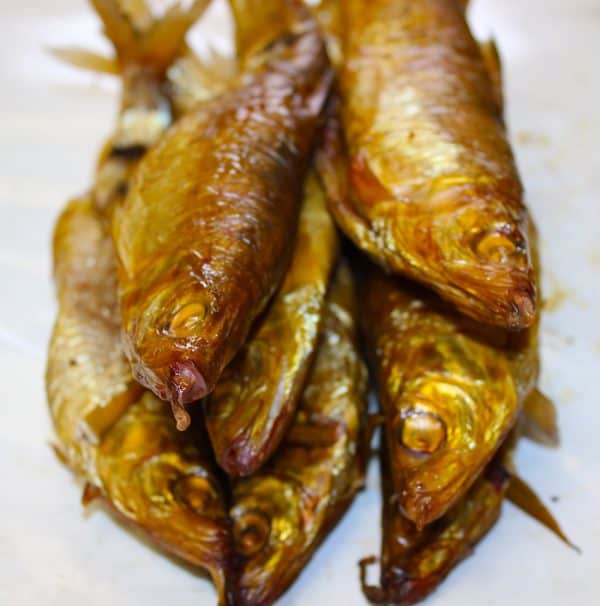 Chubs are Well Known in WI
Being from Wisconsin, I can't mention smoked fish without mentioning Chubs. Chubs are found mainly in Wisconsin and Michigan, and are well known in any city or state surrounding the Great Lakes. The image above is from Bear Cats Fish website. A fantastic website where you can learn the process of smoking fish and to order smoked chubs and other smoked fish online, for all of your smoked fish needs. They have Super Smoked Fish!
Smoked Chubs
If you're from Wisconsin or Michigan, you undoubtedly know what smoked Chubs are. And no, a 'smoked chub' isn't your overweight uncle, with the gold front tooth, who chain smokes camels, that you see once a year at Christmas, who lives way, way up north and has a tattoo of a naked lady on his arm that he can make dance when he flexes his muscles…That guys name is Tiny and his wife is Dottie.
Enough with the Funny Stuff
Even if you don't know what chubs are, you have certainly seen the packages of gold-ish colored, smoked whole fish in the meat department or fish section of most grocery stores. I haven't eaten chubs since I was a kid, many moons ago. I'm sure my dad ate chubs, and I'm positive Aggie didn't. I thought it was high time to 'think' about trying chubs again, let's do some research on the chub…
Great Smoky Flavor
According to the Eat Wisconsin Fish, chubs are known in Wisconsin, Michigan and other Great Lakes states. Bloater chubs have the highest amount of omega-3 fatty acids of the Great Lakes commercial fish species, more than sockeye salmon. They are very oily and make wonderful smoked fish. When they arrive fresh to a smokehouse, chubs are soaked in a salt brine overnight and then placed in the smoker for about five hours.
History
Many chub species used to be harvested commercially, but today bloater chubs make up the bulk of the chub fishery in Lakes Michigan and Superior. They are fished with gill nets, and the demand for them far exceeds their availability.  Historically the bloater was a small chub species of little value. Smoking the bloater chub made it extremely popular. It's the most important species of chub remaining in the fisheries of Lakes Michigan and Superior.
The Great Lakes
Like many Great Lakes fish, the bloater chub population has always had cyclical highs and lows. There is some evidence of peaks in both 1960 and 1990, possibly indicating a 30-year cycle. Since the 1990's, bloater chub numbers have been in decline. Scientists are trying to find out if bloater chubs will rebound on their own as they have done historically, or if competition from invasive mussels has altered their natural population fluctuations.
Fun Fact
The owners of  The Cove in Leland, Michigan, trademarked a cocktail called the Chubby Mary®. It's a Bloody Mary with a smoked chub in it. A What?? A Smoked Chub in a Drink? No Way! A Whole Smoked Chub! Definitely not for me, but my hubby on the other hand, would order one! I don't think I could drink a drink that had a smoked, whole fish, staring back at me.
Delicious Local Flavors
Here is a peak at the rest of the menu…"Enjoy a menu of up north favorites and signature dishes with a focus on local ingredients and from scratch recipes. The Cove specializes in serving fresh Lake Michigan whitefish, hand cut prime steaks, and famous seafood chowder. In house made desserts include award winning cherry pie, chocolate cherry cheesecake, and key lime pie."
"Waiter, I'll have a diet coke please!"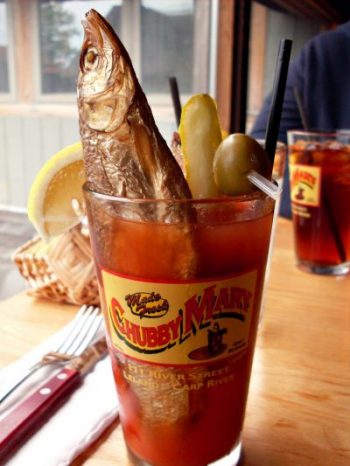 Twin Dragon Asian Wrappers
To learn more about Twin Dragon Asian Wrappers, where you a purchase Twin Dragon and JSL products check out their fantastic website. JSL, Twin Dragon Asian Wrappers. Also take a look at  Blueberry Goat Cheese and Mint Rangoon and Egg Roll Crisps and Apple Cider Syrup   two recipes that we have also entered in the Twin Dragon Asian Wrapper Blogger Recipe Challenge.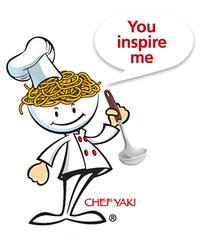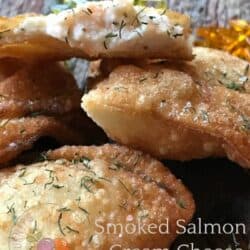 Smoked Salmon Cream Cheese Rangoon
A delicious and creamy filling.
Ingredients
1 8

oz

package cream cheese

,

room temperature

1

garlic clove

,

minced

2

tablespoons

sliced green onion

1

teaspoon

Dijon mustard

2

teaspoons

dried dill weed

1

or 2 tablespoons freshly squeezed lemon juice

Salt and white pepper to taste

1/2

cup

flaked smoked salmon

,

remove any skin or bones

1

package wonton wrappers

vegetable oil
Instructions
In a medium bowl beat cream cheese until light and creamy, Beat in garlic. green onion, mustard, dill weed, lemon juice, salt and pepper until smooth. Stir in flaked salmon. Chill for one hour.

Heat oil in large saucepan, deep fat fryer or cast iron skillet to 375 degrees. Remove cream cheese mixture from refrigerator.

On work surface place 4 to 6 won ton wrappers. Keep remaining won ton wrappers covered with plastic wrap. Place a small amount of filling in the center of won ton wrappers, roughly 1/2 teaspoon.

Moisten all sides of won ton wrappers with water, fold wrapper over filling and seal edges OR moisten all sides of won ton wrappers with water, bring corners up to form point and seal edges together.

Fry 4 to 6 filled won ton wrappers in 350 degree oil for 1 to 2 minutes in hot oil, turning in to cook evenly or until golden brown. Watch carefully! Remove won ton wrappers from oil and drain on paper towel lined plate. Sprinkle with salt and Serve with sauce of your choice.
Here are a few more appetizers that are sure to make you smile:) Coconut Shrimp with Spicy Sauce,  Smoked Oyster Spread and Rumaki-A Strange Sounding Appetizer.