Hot as Hell Baked Beans
Hot as Hell Baked Beans are perfect to serve for your 4th of July festivities. Delicious and very hot n' spicy, they are sure to set off a few fireworks! Serve lots of ice cold beer with Hot as Hell Baked Beans to put out the fiery flames. Don't drink beer? No problem….Milk will put out the flames too. Why are these baked beans "Hot as Hell"? They are made with one 12.6 ounce bottle of Lingham's Hot Sauce " The World's Finest Multi-Use Condiment" "Hot and Spicy, Unique, Versatile, Delicious, 100% Natural" If you are really daring and brave…Try Lingham's {Extra Hot} Hot Sauce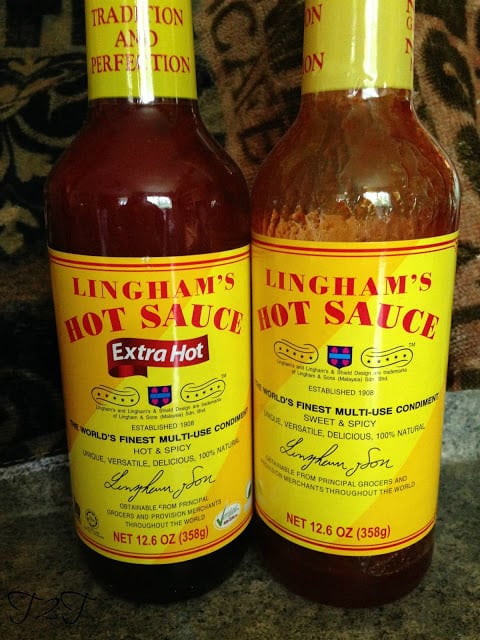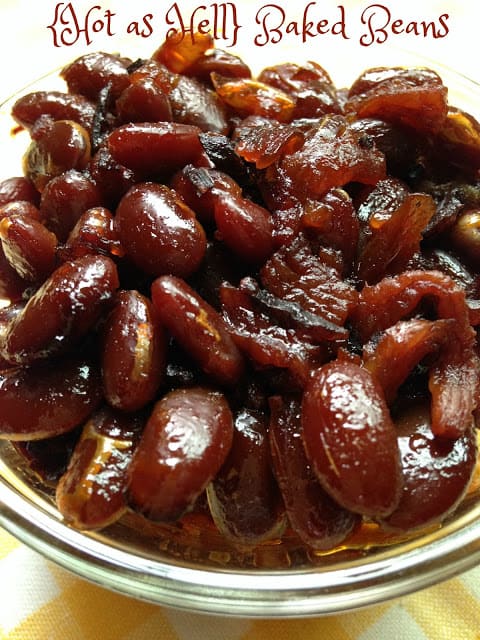 Food Finds:
This is not a sponsored post. Here at Turnips 2 Tangerines we enjoy passing along "food finds" that we feel our readers will love as much as we do. We found Lingham's Hot Sauce at the Dollar Tree. Lingham's hot sauce is a real bargain at $1.00 a bottle. We love this sauce so much we bought a dozen bottles. For a $1.00 a bottle…we simply couldn't pass it up. Plus we have a few "fire heads" in our family and they made great gifts.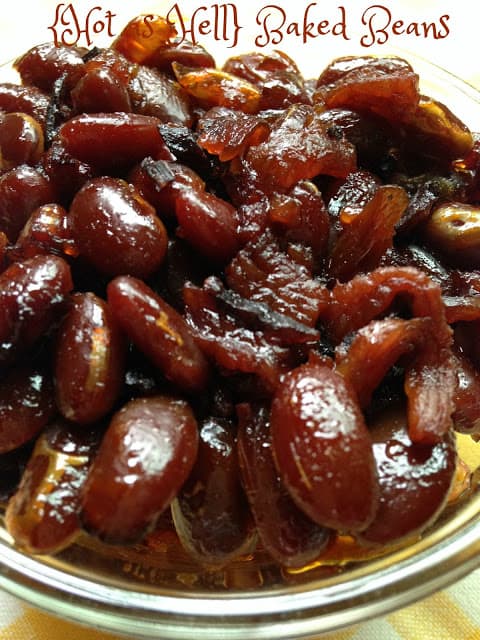 Looking For More?
Looking for more bean recipes? Give these a try Old Fashioned Baked Beans and Slow Cooker White Beans with Smoked Ham Hocks.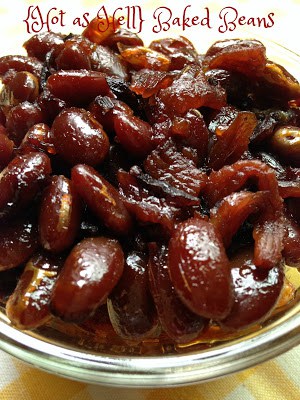 Ingredients
3 1/2 cups




great northern white beans, dried

2 quarts




cold water

1/4 pound




salt pork

1 large




onion, sliced

1/2 cup




brown sugar

1 cup




dark molasses

1/4 teaspoon each




salt and pepper

1 teaspoon




chili powder

1 teaspoon




ground mustard (colemans)

juice from




2 lemons

1 cup




ketchup

1 (12.6 oz) bottle




Lingham's Hot Sauce (or hot sauce of your choice)

1/2 pound




bacon, halved
Cooking Directions
Wash beans, discarding imperfect ones. Cover beans with 2 quarts cold water; refrigerate, covered, overnight. Turn beans and water into a 6-quart kettle. Bring to boiling; reduce heat; simmer covered, half an hour. Drain; reserve liquid. Preheat oven to 300 F.
Trim rind from salt pork. Cut pork almost through at half-inch intervals.
Place sliced onion in bottom of a 3 to 4 quart bean pot or casserole with lid. Add beans; bury pork, cut side down, in center of beans. heat bean liquid to a boiling.
In a large bowl, combine brown sugar, dark molasses, salt and pepper, chili powder, ground mustard, juice from lemons, ketchup and hot sauce. Stir in 1 cup boiling bean liquid. Pour mixture over beans in bean pot or casserole. Lay bacon slices on top. Add more boiling bean liquid to cover beans, up to 1 1/2 cups more.
Bake, covered for 3 hours. (Stir once every hour, so beans cook evenly; add more water if needed) Uncover, bake for an additional hour or more until beans are fork tender.