Strawberry Kiwi Banana Smoothie Pops
We may earn money or products from the companies mentioned in this post.
 Strawberry Kiwi Banana Smoothie Pops
Cool off  this summer with these delicious, refreshing and good for you smoothie pops! Strawberry Kiwi Banana Smoothie Pops are great for the whole family. Your kids and/or grandkids will love these on a hot summer afternoon. Heck, everyone will want to cool off with one of these frozen smoothie pops. Smoothie pops are made in these really cool ice pop molds by Tovolo.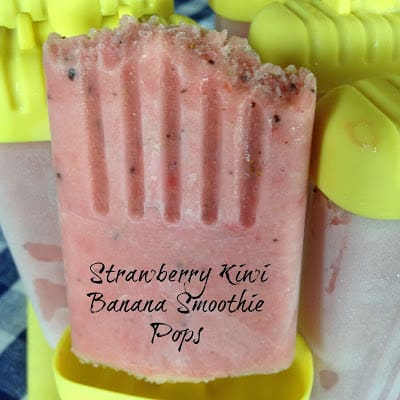 Ice Pop Molds
When I found these ice pop molds by Tovolo on one of my many thrift shopping escapades, I was ecstatic. I've had my eye on them for sometime or should I say I had them in my Amazon cart for a few weeks. I came across a box of them at the thrift store for $1.50. Inside the box there were eight ice pop molds with the trays to stand them in. Not a bad deal, not bad at all. I'm a sucker for any kind of kitchen gadget or silly things most of us can do without but when I find a bargain, well let's face it, I just have to have it!
Corner Grocery Store
All this talk about Popsicle's reminds me of my mom, Aggie. Waay back when I was a kid, there was a tiny, neighborhood grocery store down the block from my house. It sold everything you could think of from beauty supplies to canned goods to frozen food. I guess a good comparison would be to that of a convenience store, only without the gas (gasoline, that is) The name of this tiny corner store was Geenans (? I'm not sure of the spelling.) Geenan's was located on the corner while I was growing up, in my teens, it was sold and the name changed to Lauermann's. Now I believe it's an Asian Food Store.
Alaska or Eskimo Pops
Geenan's sold Popsicle's that I think were like 10 cents a piece back in the day. My favorite color was white or lemon-lime, blue was second and lime green came in third. I'm not sure what the name of the brand of popsicle it was, I don't think it was the Popsicle brand we are all familiar with today, it was something like Alaska or Eskimo Brand. I'm talking 50 years ago here! Anyway the popsicles were solid, not twin pops and I would love to get my hands on one to this very day.
Homemade Popsicle's
Now back to my Aggie story. Aggie was a very frugal woman, I guess most moms were back in the 50's and 60's. Raising large families on a single family income, could not have been an easy task. So Aggie, like many moms of her time, learned ways to keep their families happy on a budget. My mom Aggie liked summer, which meant she loved to take us swimming. God knows she wasn't a good cook but she made up for her lack of cooking skills by being a "fun" "outdoorsy" mom. One of Aggie's favorite things to make in the hot summer months, were kool-aid and popsicles.
Kool-aid Pops
Aggie made popsicle's using kool-aid. As children we thought these were great..we saved our popsicles sticks from the popsciles we bought from a dime down at the neighborhood grocery store. When we had saved up enough sticks, Aggie would make popsciles. When I was a kid we had one of those old fashioned refrigerators, with the freezer inside the refrigerator. Ladies, you have no idea how lucky you are…defrosting a freezer regularly is a real pain. Aggie made popsicles by pouring kool-aid into the metal-style ice cube trays, adding a popsicle stick and putting the trays into the freezer over night. Definitely not rocket science, but we sure looked forward to those cube shaped popsicles on a hot summer afternoon.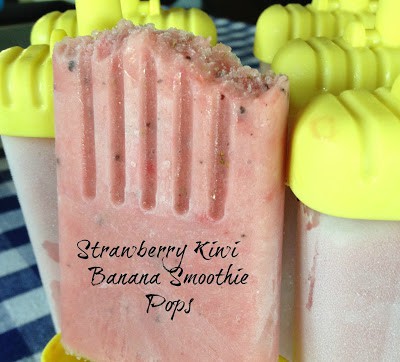 Recent Recipe: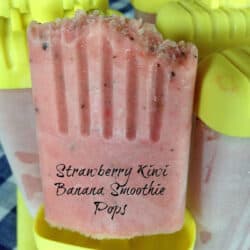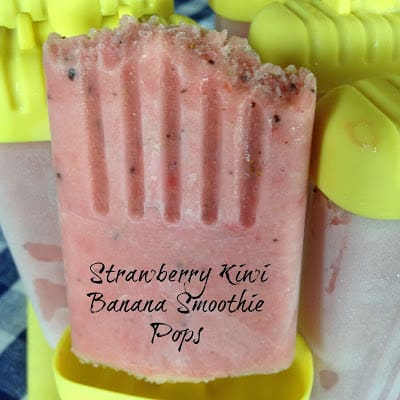 Strawberry Kiwi Banana Smoothie Pops
Delicious and Refreshing.
Ingredients
2

bananas, cut into thirds

14

strawberries, hulled and sliced in half

4

kiwi, peeled and sliced in half

1

cup

vanilla yogurt

1

tablespoon

honey

1

cup

apple juice
Instructions
Place bananas, strawberries, kiwi, yogurt, honey, and juice in blender.

Process until smooth.

Pour into 12 Popsicle containers.

Freeze until firm.
Tropical Smoothie Bowl with Paradise Fruit is a favorite of mine. I can't think of a better way to cool off then with a tropical smoothie bowl topped with Paradise dried fruit, coconut and chia seeds.