Oven Baked Barbecue Ribs
We may earn money or products from the companies mentioned in this post.
Oven Baked Barbecue Ribs
This is one of our favorite recipes. It's a great recipe to make when you want comfort food at it's very best. Oven Baked Barbecue Rib smell absolutely delicious while baking…they are mouth-watering, can't wait to eat delicious. I have a confession to make, I love, love, love, me some ribs! I could eat ribs everyday and made anyway. Bone-in, boneless, baby back, spare ribs…I love them all. Every now and then my favorite grocery store has pork ribs on sale for either .99 a lb. or $1.29 a lb. Believe you me, I stock up.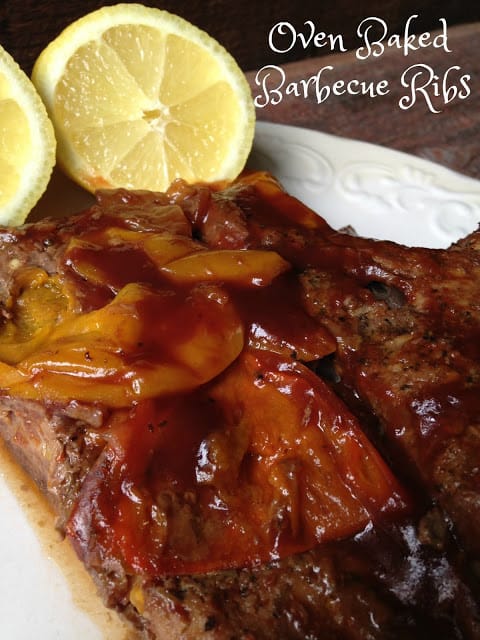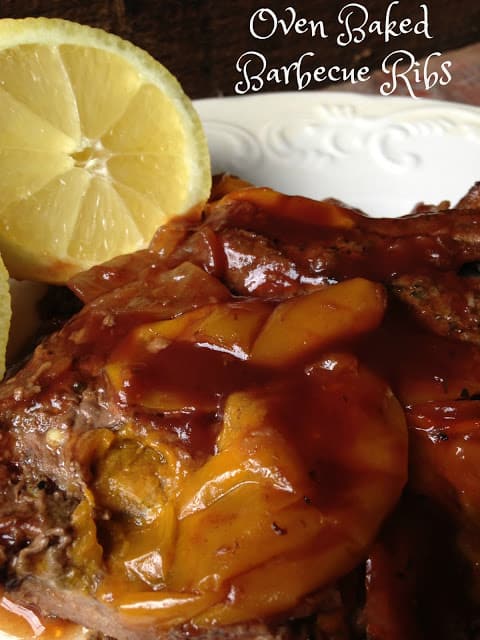 Barbecue Sauce
When making BBQ ribs, I personally prefer to use a bottle bbq sauce. Now I have made my own sauce many times, but with all the different kinds of bbq sauce on the market today, why make your own, right? Why limit yourself, when you can literally try a new kind of bbq sauce for everyday of the year! I mean really, have you ever noticed or counted all the different kinds of bbq sauce at your local grocery store…it's crazy. Crazy in a good way, but still crazy:) Serve these delicious oven baked ribs with mashed potatoes or long grain white rice and a side of corn on the cob.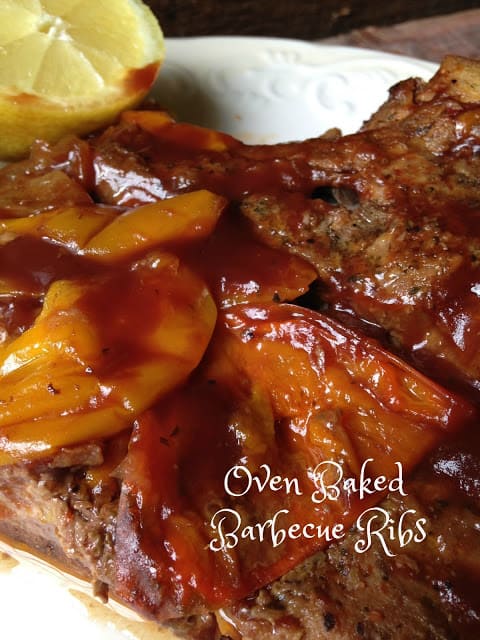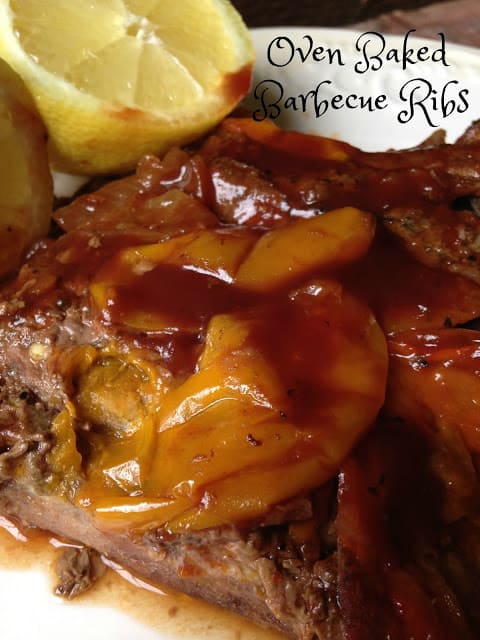 Outdoor Indoor
This recipe calls for using Country Style Pork Ribs. I prefer to use the country style ribs mainly because they're meatier. When baked in the oven or crock pot, country style ribs become super tender. When grilling ribs on an outdoor grill, I have found that if you grill the ribs first on an outdoor grill, will allow for some on the fat to burn off. About the time you'd start to baste the ribs with sauce, bring them inside, place in a deep side pan such as a roasting pan, pour on your favorite sauce and bake in the oven at 325 to 350 degrees for 45 minutes to an hour.
Country Style Ribs
Spare Ribs come from the rib section of the hog. They have longer bones with more meat per bone. Country or Western Ribs are more in the pork chop family. They're cut from the shoulder area of the hog and the very end of the loin. They are thicker and have more fat than the spare or baby back rib. Country-style ribs are cut from the blade end of the loin close to the pork shoulder. They are meatier than other rib cuts. They're usually bone-less but can contain some bones.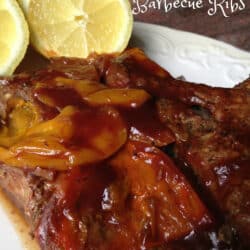 Oven Baked Barbecue Ribs
Ingredients
3

pounds

country style pork spare ribs

12

mini sweet peppers

,

cut in half, membranes and seeds removed

2

medium sweet onions

,

peeled and quartered

8

cloves

garlic

,

peeled and left whole

2

tablespoons

Montreal steak seasoning blend

1

bottle of your favorite barbecue sauce
Instructions
Heat oven to 300 degrees.

In a large roasting pan, layer mini sweet peppers, onions, garlic and ribs.

Sprinkle with Montreal seasoning and repeat layers twice.

Cover pan with double thickness of aluminium foil.

Bake for 2 1/2 to 3 hours.

Remove pan from oven, drain juices. Turn heat up to 350 degrees.

Pour barbecue sauce over all. Cover pan with clean sheets of foil.

Bake for an additional hour.