Wild West Beans
We may earn money or products from the companies mentioned in this post.
Wild West Beans
Feeling Adventurous? Wild West Beans are the answer. For that true Cowboy Experience make wild west beans in a cast iron, Dutch oven, over an open fire. You'll be singing, "Home, Home on the Range" in no time. Don't have a cast iron, Dutch oven or an open fire? No problem…make these delicious beans in your oven or even in a crock-pot. Wild West Beans or any baked beans for that matter are always welcome at any event.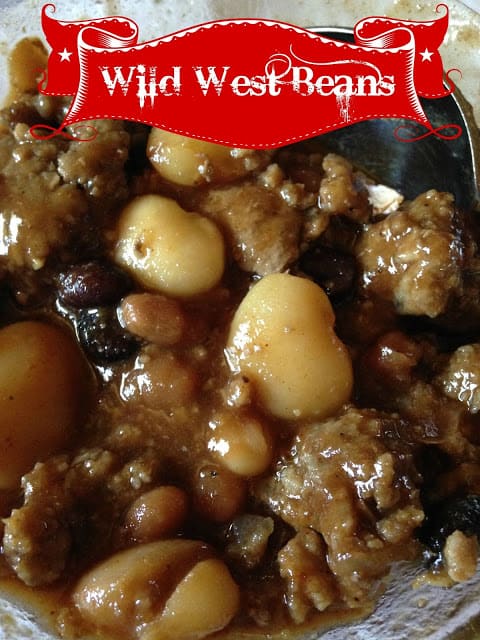 Beans By Another Name
"Wild West Beans" are sometimes called "Calico Beans." We have shared many "bean"recipes here on Turnips 2 Tangerines and this is one of my favorites. Made with ground beef, cans of pork n' beans, bacon, honey barbecue sauce, kidney beans, black beans, butter beans and anything else you like. One nice thing about beans, there really isn't anyway that you can possible ruin a pot o' beans! Plus everyone seems to love beans.

Baked Beans
Baked Beans are great to serve for any occasion but backyard barbecues and game day parties are the norm for baked beans. I don't think I've ever been to a backyard barbecue where beans weren't served! The next time you need a hearty party recipe for baked beans, give try this recipe for Wild West Beans. Another favorite recipe and one you can make is this recipe for Old Fashioned Baked Beans.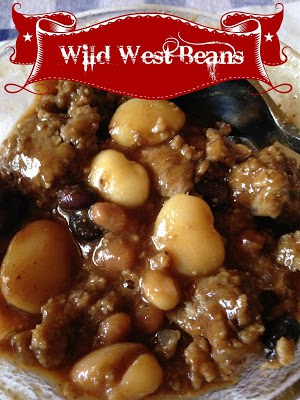 Dried Beans
Dried Beans are available prepackaged or in bulk. Some of the more popular dried beans are the Black Bean, Chickpea, Kidney Bean, Pink Bean, Pinto Bean and Great Northern Beans. Dried beans usually should be soaked in water for several hours or overnight to rehydrate them before cooking. Beans labeled 'quick cooking' have been pre-soaked and re-dried before before packaging. They require no pre-soaking and take less time to prepare.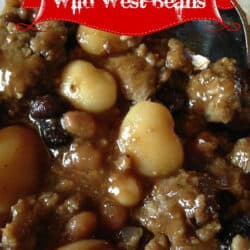 Wild West Beans
This recipe goes by many different names such as calico bean bake.
Ingredients
1

pound

ground beef

1

large

onion, chopped

3/4

pound

sliced bacon, chopped

4

15 oz each cans

pork and beans

1

18 oz bottle

honey barbecue sauce

1/2

cup

ketchup

2

tablespoons

prepared yellow mustard

1

16 oz can

kidney beans, drained

1

15 oz can

small butter beans, drained

1

15 oz can

black beans, drained

1/2

cup

packed brown sugar

2

tablespoons

honey

2

tablespoons

cider vinegar

1

tablespoon

liquid smoke

1/2

teaspoon

each salt and pepper

1

teaspoon

chili powder
Instructions
In a large skillet, brown beef and bacon over medium heat.

Add onion and cook until tender, 10 minutes; remove from heat.

Transfer beef mixture to a 5-quart dutch oven.

Add all remaining ingredients, mix thoroughly.

Cover and bake at 350° for 1 hour and 30 minutes or until heated through.