Smoked Ham Hocks with Black Beans
We may earn money or products from the companies mentioned in this post.
Smoked Ham Hocks with Black Beans Or Brazilian Feijoada
Believe it or not, this recipe was inspired by my calendar. That's right my calendar, the month of June to be exact. I picked up a calendar at Menards when I was shopping there last February. I think it the calendar was .50 cents. So far I have made four recipes from this calendar. Not bad! I find the best recipes in some of the lest likely places.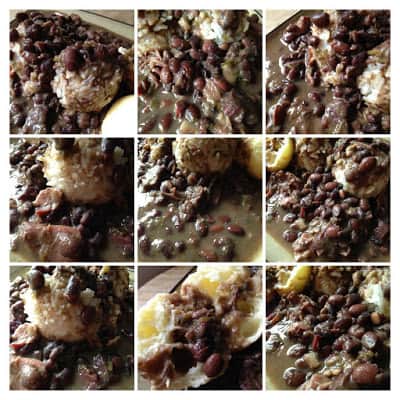 What is Feijoada? (I found two definitions)
1. Feijoada pronounced [fay-ZWAH-da] or [fey-jwah-duh] Is a delicious, traditional, Brazilian stew made of pork and black beans and is traditionally served over rice with a side of fresh greens and orange slices.
2. Feijoada pronounced [fay-ZHWAH-duh] Brazil's most famous regional dish, feijoada is an assortment platter of thinly sliced meats, such as sausages, pigs feet and ears, beef and smoked tongue accompanied by side dishes of rice, black beans, shredded kale or collard greens, hearts of palm, orange slices and hot peppers.
Feijoada