Slow Cooker Hungarian Goulash
We may earn money or products from the companies mentioned in this post.
Slow Cooker Hungarian Goulash
On my recent trip to my favorite grocery store, the meat department was having a special on Hungarian sausage. Since I had never tried Hungarian sausage before, I quickly picked up a package. Trigs Smokehouse is well known for their delicious sausage and bratwurst, so I knew it was going to be good, and it is. Slow Cooker Hungarian Goulash, is smoky, spicy and delicious.  If you get a chance to visit the north woods of Wisconsin, stop at Trig's
Add Lentils
I couldn't think of a better way to showcase this spicy sausage, than in a 'goulash' or 'stew.' This 'goulash' also has another favorite ingredient of ours, dried lentils. Lentils are great to use in any stew-style, slow cooker recipe, they don't need to be pre-soaked or pre-cooked before adding to the slow cooker. Lentils only need to be rinsed and they lentils cook up beautifully. Add extra fiber and vitamins, at a very low cost by adding lentils. Use any type of smoky, spicy sausage in this recipe, if you can't find Hungarian sausage.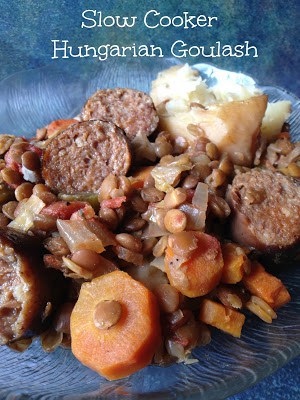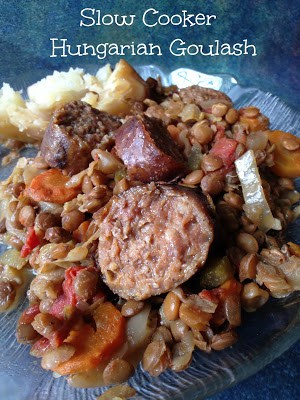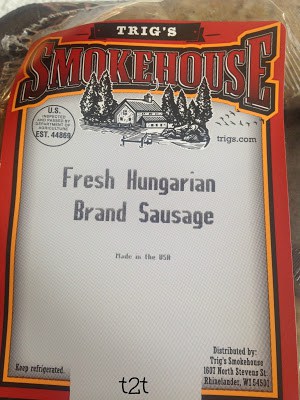 Paprika Facts, 
Used as a seasoning and garnish for a whole slew not stew of dishes. Paprika is a powder made by grinding aromatic sweet red pepper pods. The pods are quite tough, so several grindings are necessary to produce. Most paprika comes from Spain, South America, California and Hungry. If paprika is a relatively a new spice to you, pick up several different kinds of paprika and see which is your favorite. Bulk food stores are a great place to start or order online at one of the many online spice stores, American Spice.
Hungarian paprika is considered by many to be superior. Indeed, Hungarian cuisine has long used paprika as a mainstay flavoring rather than simply as a garnish. Pimenton is a special Spanish paprika made from peppers that have been slowly smoked and dried over oak fires. The process gives the peppers a rich, smokey quality. There are three-versions of pimenton; sweet and mild, bittersweet-medium hot and hot.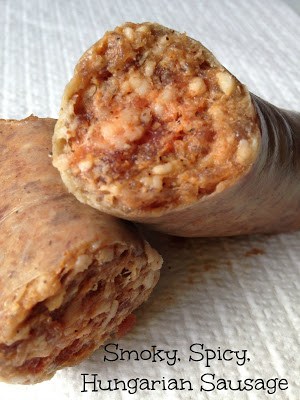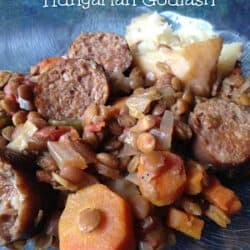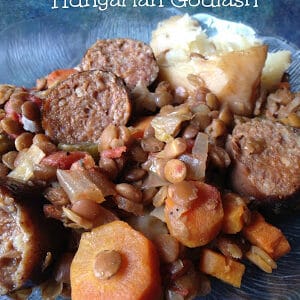 Slow Cooker Hungarian Goulash
A delicious, slow cooker stew.
Ingredients
4

tablespoons

butter, melted

1

cup

onions. chopped

1

pound

package dried brown lentils, picked over, rinsed and drained

4

carrots, peeled and sliced

2

stalks

celery, diced

4

cloves

garlic, minced

1

14.5 oz can

diced tomatoes

1

small

head cabbage, shredded

2

pounds

Hungarian sausage, cut into 1/2 inch pieces

1

teaspoon

Worcestershire sauce

1

teaspoon

hot sauce

2

teaspoons

Hungarian paprika

,

sweet

1/2

teaspoon

garlic powder

1/2

teaspoon

onion powder

1/2

teaspoon

salt

1/4

teaspoon

celery seed

1/4

teaspoon

freshly ground pepper

1/4

teaspoon

ground nutmeg

2

tablespoon

apple cider vinegar

1/4

cup

dark brown sugar

4 to 6

small

red potatoes, peeled

1

32 oz carton

chicken stock or broth
Instructions
In a slow cooker layer butter, onions, lentils, carrots, celery, garlic, can of diced tomatoes and shredded cabbage. Gently mix together. Lay kielbasa pieces on top. Top with Worcestershire sauce, hot sauce, paprika, garlic powder, onion powder, salt, celery seed, pepper, nutmeg and apple cider vinegar. Sprinkle top with dark brown sugar. Add potatoes, pour chicken stock or broth over all. Cover and cook on low for 8 to 10 hours or until lentils are tender.