Peanut Butter and Chocolate Bread
We may earn money or products from the companies mentioned in this post.
Peanut Butter and Chocolate Bread
If you like Peanut Butter and Chocolate together and even if you don't, you will love this bread. The taste is reminiscent of peanut butter chocolate chip cookies. Peanut Butter and Chocolate bread has it all. The right amount of  mini chocolate chips and peanut butter chips, the added crunch from chopped dry-roasted peanuts and the subtle flavor of peanut butter. It's super delicious and different.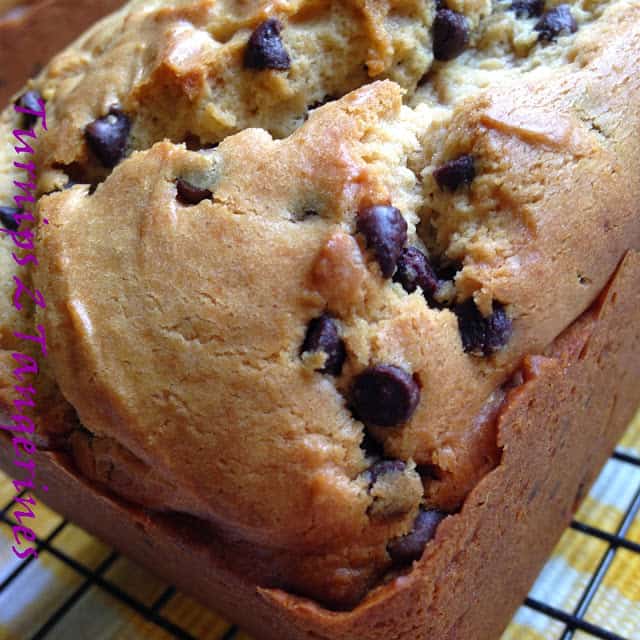 Quick Breads
I am a huge fan of quick breads and this bread is a nice change from the typical quick bread recipes. Try something a little out of the ordinary and give this bread a try. You won't be disappointed. When most people think of quick bread they think of banana bread, zucchini bread and cranberry bread but there are literally tons of quick bread recipes to choose from. Top slices of this bread with your favorite jam, jelly, cream cheese or my favorite, Nutella.
What Are Quick Breads?
Bread that is quick to make because it doesn't require kneading or rising time. That's because the leavener on quick breads is usually baking powder or baking soda. Which when combined with moisture, starts the rising process immediately. In the case of double-acting baking powder, oven heat causes a second burst of rising powder. Eggs can also be used to leaven quick breads. This genre includes most biscuits, muffins, popovers and a wide variety of sweets and savory loaf breads.
Banana Nut Bread
One of my earliest memories of savory a bite of quick bread would be on Thanksgiving. Every year on Thanksgiving my mom Aggie would make a loaf of banana nut bread. I loved it and still do. Aggie never made pumpkin bread or cranberry bread but we always had banana nut bread. Aggie always said that the best banana bread is made with the most over-ripe bananas you can find.
Every once in awhile you can buy a bag of over-ripe bananas at the grocery store for like a $1.00. The next the you spot one of these bags in the produce department, scoop it up. When you get home, throw the bananas in a ziplock freezer baggie and freeze. The bananas can be peeled or unpeeled. When you're ready to make banana bread, banana muffins or even banana cake you will already have the bananas!
How To Use Frozen Bananas
Follow these simple steps when using frozen bananas. Personally speaking, I always un-thaw the frozen bananas before using them so I'm not sure how the bread or whatever turns out using frozen bananas. Take out as many bananas the recipe calls form, usually 2 per loaf of bread, place the baggie back in the freezer. Bananas keep this way will last at least 6 months.
Place a colander over a bowl and put the bananas in the colander. Cover the bananas with plastic wrap if peeled. Put the bowl in the refrigerator overnight. Put the bowl in the refrigerator overnight to drain. In the morning, peel the bananas if unpeeled, discard water in bottom of bowl and proceed with the recipe.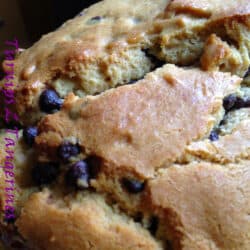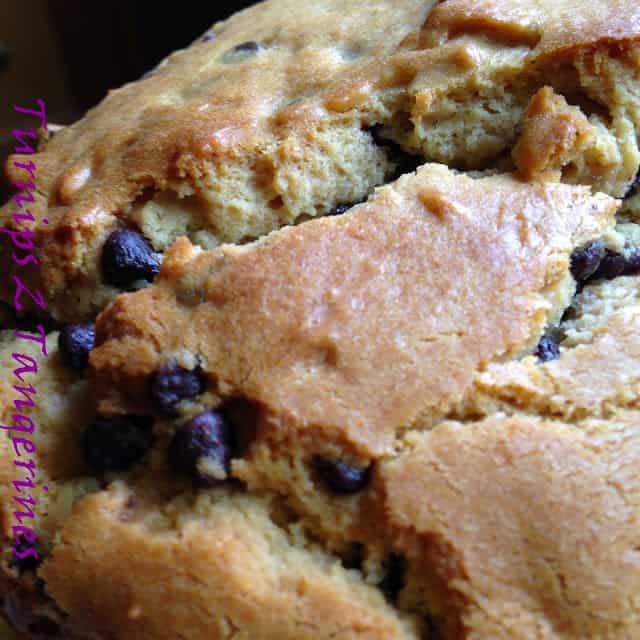 Peanut Butter and Chocolate Bread
A delicious and different bread:)
Ingredients
3

cups

flour

2

teaspoons

baking powder

1/2

teaspoon

baking soda

1/2

teaspoon

salt

1

cup

creamy peanut butter

1/2

cup

butter, softened

1/2

cup

sugar

1/2

cup

packed brown sugar

2

eggs

1 1/2

cups

buttermilk

2

teaspoons

vanilla extract

1

cup

mini chocolate chips

1/2

cup

peanut butter chips

1/3 to 1/2

cup

chopped dry roasted peanuts
Instructions
Grease bottom and 1-inch up the sides of two 8 x 4 x 2 inch loaf pans. Set aside.

In a medium bowl combine, flour, baking powder, baking soda, and salt. Set aside.

In a very large bowl, beat peanut butter and butter with an electric mixer on medium speed for 30 seconds or until combined. Add the sugars; beat on medium speed until light and fluffy. Beat in eggs, one at a time. Combine buttermilk and vanilla. Add buttermilk mixture and flour mixture alternately to peanut butter mixture. Beat well after each addition. Stir in mini chocolate chips, peanut butter chips and chopped dry roasted peanuts. Divide batter evenly between pans.

Bake at 350º for 45 to 50 minutes or until toothpick inserted near center comes out clean. (some melted chocolate may stick to toothpick)

Remove from oven and cool bread in pans on wire rack for 10 minutes. Remove loaves from pans, cool completely on wire racks.

Store each loaf in foil or in plastic wrap.
Nutrition
Serving:
1
g
,
Calories:
436
kcal
,
Carbohydrates:
48
g
,
Protein:
11
g
,
Fat:
23
g
,
Saturated Fat:
9
g
,
Cholesterol:
41
mg
,
Sodium:
337
mg
,
Potassium:
279
mg
,
Fiber:
3
g
,
Sugar:
25
g
,
Vitamin A:
270
IU
,
Vitamin C:
0.1
mg
,
Calcium:
86
mg
,
Iron:
2
mg
Roasted Garlic Spread with Three Cheeses-Football Friday is a favorite recipe here on Turnips 2 Tangerines:) Peanut Butter and Chocolate Bread is packed full of my favorite ingredients, Peanut Butter and Chocolate.