Peanut Butter Balls
We may earn money or products from the companies mentioned in this post.
Peanut Butter Balls
I
can't even tell you how many times I've made
this recipe for
Peanut Butter Balls. Nor
can I
count how many peanut butter balls I've eaten over the years.
Way too many that's for certain.
In fact, I
had to take
a
10 year hiatus from making them because
I just couldn't stomach them anymore. Even though
that might have been due to the
drinking beer while making peanut butter balls one year, the
two don't go together!
Back to Making Balls
A few years ago I decided to get back on the horse and make balls again for the holidays. My daughter-in-law Kim loves peanut butter and chocolate. She told me once she'd like to take a bath in peanut butter and chocolate. I said she didn't have to go that far! That year I gave the kids an assortment of homemade candy and included peanut butter balls. Kim took one bite and said,"I have to have the recipe." We've been making balls for Christmas ever since.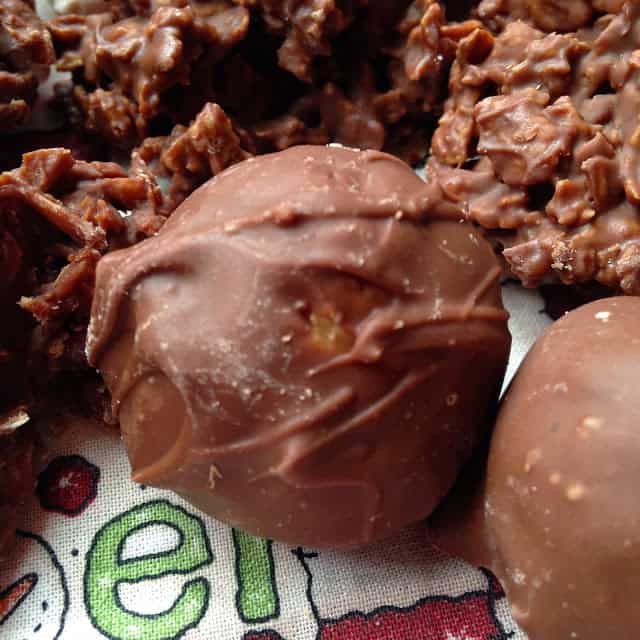 Christmas Candy
Christmas Candy Making time is here and we have included family favorites like this recipe for p-butter  balls, (as my grandson calls them). Some of the recipes have come from other sources like Taste of Home but all of the recipes have been taste tested by us. Rich Buttery Caramels is one such recipe. It comes from a Taste of Home Annual Cookbook and it's fantastic. We hope this recipe becomes a holiday favorite in your family too.
UP NEXT: Look After Your Kitchen, So It Can Look After You
Popular Brand
This recipe for peanut butter balls is similar to the popular pb cups candy that you find at the checkout in any grocery or convenient store. If you fancy pb cups then you'll love these pb cups.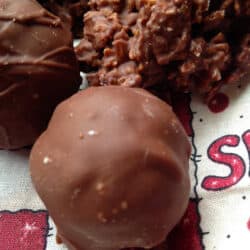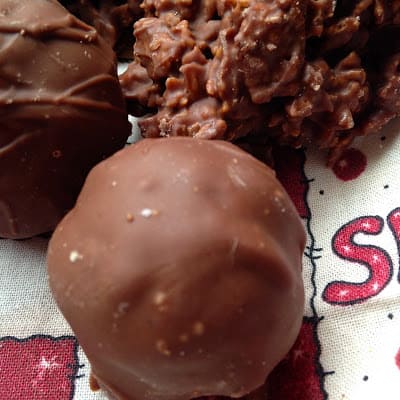 Peanut Butter Balls
Peanut Butter Balls are a traditional Christmas candy in my family.
Ingredients
1/2

cup

butter, softened

2 1/3

cups

confectioners' sugar

1

cup

graham cracker crumbs

1

cup

creamy or chunky peanut butter

1/2

teaspoon

vanilla extract

16

ounces 

milk chocolate, use a good quality dipping chocolate

,

Ambrosia
Instructions
In a large bowl cream butter. Gradually add confectioners' sugar, cracker crumbs, peanut butter, and vanilla. Shape dough into balls. Place on wax paper lined baking sheets. Refrigerate 30 minutes or up to 2 hours.

Place chocolate in a large glass bowl, melt in the microwave on high power for 45 seconds, stir. Repeat until chocolate is smooth and creamy. Coat chilled balls in melted chocolate. Place on waxed paper to harden.

When chocolate has harden, store balls in tightly covered container.
For this recipe we used Skippy Peanut Butter and Honey Maid Graham Crackers.