Mini Dirt Chocolate Pudding Cups
We may earn money or products from the companies mentioned in this post.
Mini Dirt Chocolate Pudding Cups
I made this recipe in early May and I totally forgot to post the recipe. To be honest, I thought I already had. So as the saying goes, better late than never! I originally made this recipe because my grandkids were going to spend Memorial Day weekend with us. (like I said, this post is from May) I have to admit, my hubby and I thought that these Mini Dirt Chocolate Pudding Cups were pretty darn good. In fact, we loved them.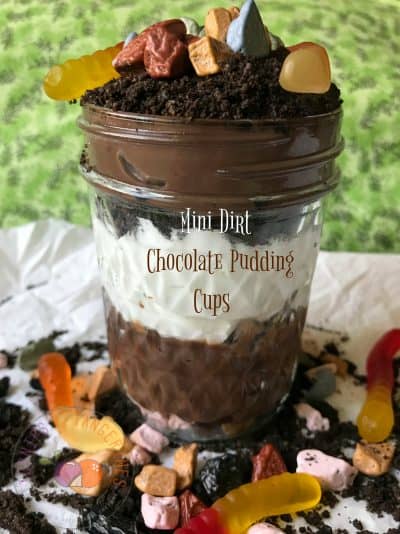 My Inspiration
My inspiration for this recipe came in the form of rocks. Chocolate rocks to be exact. Not far from where I live is a really neat, (do people still say 'neat' anymore?) candy store called Sweet Memories Candy & Ice Cream Shoppe . It's located in Lakewood WI and it's a local landmark and a 'must stop at' stop for travelers heading up north for the weekend. One day I spotted chocolate rocks in the self serve bulk candy section. Hmm.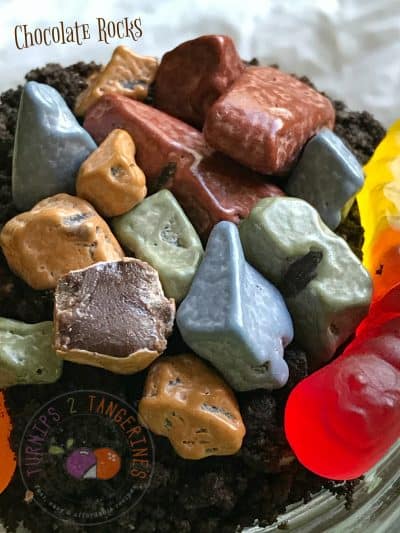 Mini Pudding Cups
Not only do these mini dirt cups contain chocolate candy rocks, the 'dirt' is crushed oreo cookies and the worms, with the cute smiley faces are gummi worms. We used Jello Brand cook n' serve chocolate pudding and pie filling but to save time substitute instant pudding mix. Cool-whip or any brand of frozen whipped topping can be used. This will keep things nice and simple. Or as Willow would say, "Easy peasy, lemon, squeezy!"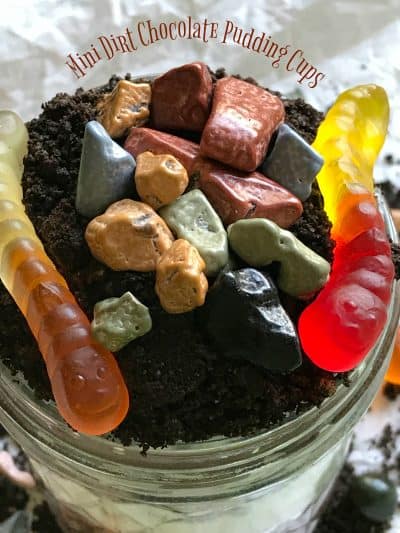 Oreo Cookies
It's no secret that here on Turnips 2 Tangerines we love cookies. Oreo cookies are no exception. I've always had a thing for Oreo cookies, making them my favorite 'packaged' cookie. Not Chips Ahoy, Nutter Butters, or Fudge Strip cookies. The Queen of the cookie aisle for me is Oreo cookies. The only thing is, I wish they'd leave them alone already! Even though I do like the mint flavored, peanut butter flavored and holiday peppermint:)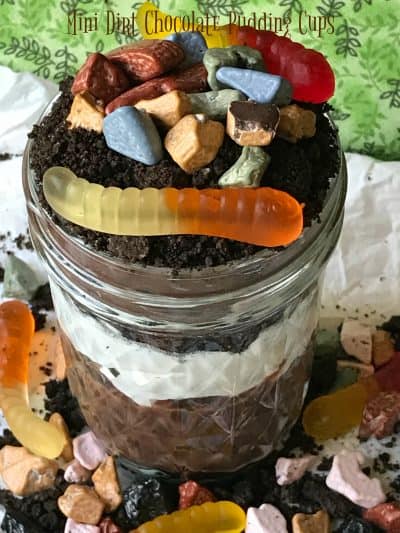 Speaking of Cookies
Last year at the Dollar Tree, I found these super delicious Peppermint Rippin' Good Cookies. I mean these babies are beyond delicious. My only regret was I didn't clear the shelves when I had the chance. I went back to the Dollar Tree in Antigo WI three days later and they were gone. Seriously, I thought I was going to cry. If you happen to find these cookies at the Dollar Tree near you, pick up a couple of packages!! If you're a fan of peppermint and chocolate, these Rippin' Good Cookies Rock!!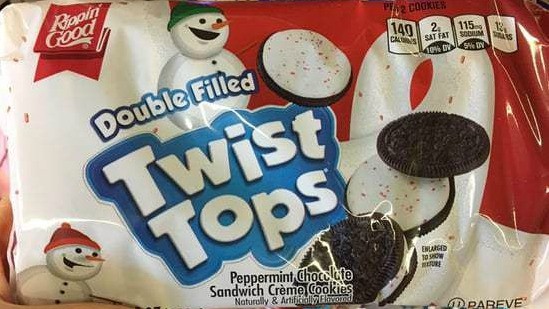 Rippin' Good Cookies
For over 85 years, Ripon WI. has been known as Cookietown. It is said that when the wind blows from the north, the city smells like cookies. Ripon residents even baked the "world's largest cookie" which was featured on the cover of the "Guinness Book of Records." In 19 Horace Bumby establishes Ripon Foods Inc. with a single oven and 25 employees and Rippin' Good Cookies was born, putting Cookietown or Ripon WI on the map.
A Brief Timeline
In the early 80's Ripon Foods bought Heritage Wafers, Ltd., adding sugar wafers to their list of 40 kinds of cookies. In 1999 the St. Louise based company Ralcorp Holdings, Inc. buys Ripon Foods. It agrees to operate Ripon foods within its consumer foods subsidiary company Bremmer. Bremmer manufactures crackers, cookies, snack nuts, mayonnaise and salad dressings.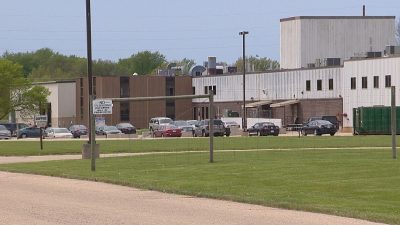 In 2012, ConAgra Foods, Inc. completes its acquisition of Ralcorp Holdings, Inc., making the combined company one of the largest packaged food companies in North America. In 2015, ConAgra announces its plan to close the Ripon west plant which manufactures cookies. At the end of 2016, the east wafer-making plant is also closed. This brings an end to a long history of cookie making in Ripon WI, or does it?
In May, 2017, Fox 11 News reported that the Ripon Cookie Plant was reopening. The New York based company, Simple Natural Foods, purchased one of the closed cookie factories in Ripon. Workers at the former Ripon East plant will be producing wafer cookie products similar to those previously produced as Rippin' Good cookies. Some of the new cookies will be healthier varieties. Rippin' Good makes Rippin' Good Cookies once again!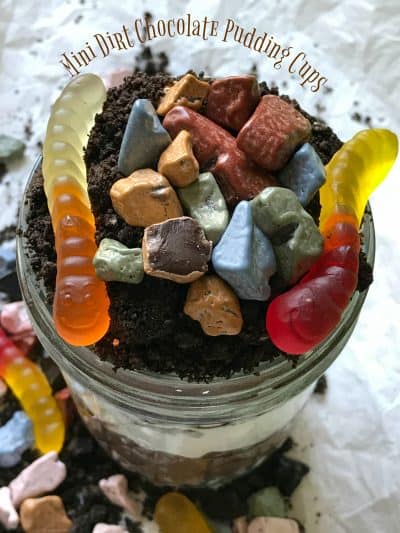 Glass Jars
Make mini dirt pudding cups in (4) 4 oz. clear glass canning jars. It's a fun way to show off the layers of this kid friendly dessert. Place a layer of chocolate rocks on the bottom of the jars. Spoon chocolate pudding on top of the rocks, then the whipped topping and crushed oreo cookies. Repeat the layers again, starting with the rocks and ending with crushed oreos. Decorate the top with crushed oreos, chocolate rocks and gummi worms.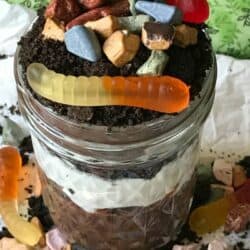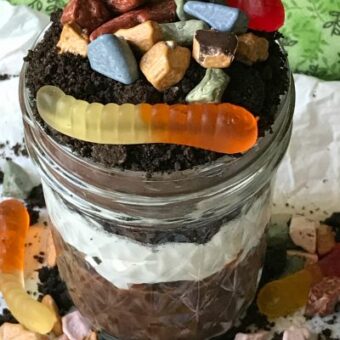 Mini Dirt Chocolate Pudding Cups
Mini Chocolate Pudding Cups are super delicious dessert cups for all ages.
Ingredients
1

3.4 oz

package chocolate pudding and pie mix, cook n' serve or instant

2

cups

milk

1

3.5 oz package

mini oreo's

2

cups

frozen whipped topping, thawed

3

oz package

gummi worms

1

cup

chocolate candy rocks

4

4 oz

canning jars
Instructions
Place mini oreo's in a large zip-lock baggies. Using rolling pin, crush cookies. Set aside.

Make pudding. Stir mix into milk in medium saucepan, stirring constantly until mixture thickens slightly. Remove from heat. Serve warm or chilled. Pudding thickens as it cools.

When pudding has cooled completely make pudding cups.

Scatter a few chocolate rocks on the bottom of the glass jars. Layer pudding, whipped topping and crushed oreo cookies. Repeat layers, rocks, pudding, whipped topping and ending with crushed oreo's. Decorate the top with gummi worms and chocolate rocks.
Do you love Oreo cookies as much as we do? Take a look at these…Easy Oreo Cheesecake Filled Shells, Birthday Cake Cookies n' Cream Fudge and Chocolate Covered Oreo Cookies.