We may earn money or products from the companies mentioned in this post.
Smoked Ham Hocks with Black Beans Or Brazilian Feijoada
Believe it or not, this recipe was inspired by my calendar. That's right my calendar, the month of June to be exact. I picked up a calendar at Menards when I was shopping there last February. I think it the calendar was .50 cents. So far I have made four recipes from this calendar. Not bad! I find the best recipes in some of the lest likely places.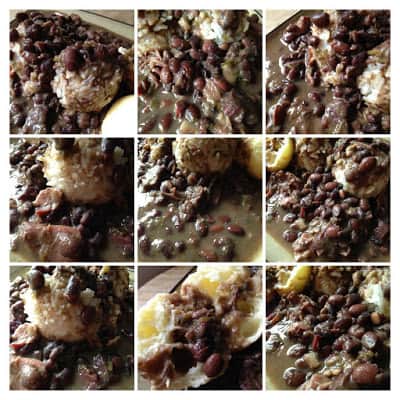 What is Feijoada? (I found two definitions)
1. Feijoada pronounced [fay-ZWAH-da] or [fey-jwah-duh] Is a delicious, traditional, Brazilian stew made of pork and black beans and is traditionally served over rice with a side of fresh greens and orange slices.
2. Feijoada pronounced [fay-ZHWAH-duh] Brazil's most famous regional dish, feijoada is an assortment platter of thinly sliced meats, such as sausages, pigs feet and ears, beef and smoked tongue accompanied by side dishes of rice, black beans, shredded kale or collard greens, hearts of palm, orange slices and hot peppers.
Feijoada
 We made the first definition, a traditional Brazilian stew. We served this delicious 'stew' over rice for a hearty meal. Feijoada is often served with Brazilian Cheese Rolls. Brazilian cheese rolls are exceptional and should definitely be added to your menu repertoire. Cheesy, chewy, easy and delicious,  Feijoada and Brazilian Cheese Rolls are meant for each other. Like all good stews, you need something to 'dip' into the stew. The cheese rolls are perfect for soaking up all the delicious 'gravy' made from simmering the ham hocks, beans and all the other goodies for several hours. Give both recipes a try as soon as possible. Here is the recipe for 
Brazilian Cheese Rolls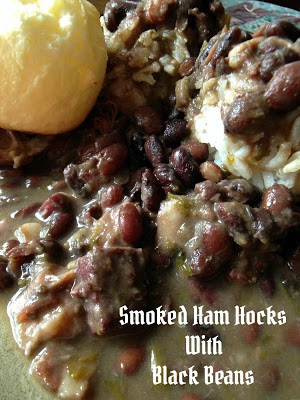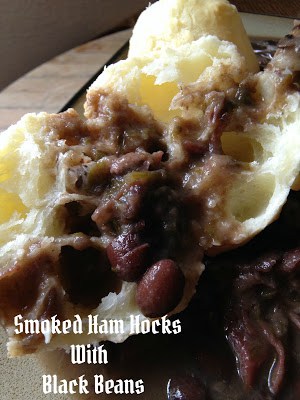 Smoked Ham Hocks with Black Beans or Feijoada
This Brazilian Stew is delicious.
Ingredients
1

16 oz package

dry black beans, soaked 6 to 8 hours or overnight

water

2

tablespoons

olive oil

1 1/2

cups

chopped onions

1

large

leek, cleaned and sliced

4

cloves

garlic, minced

4 

smoked

ham hocks

8

ounces

diced ham

4 

bay leaves

1/2

teaspoon

ground coriander

salt and pepper, to taste

1/2

cup

chopped fresh cilantro

1/2

cup

chopped fresh parsley

1/2

pound

thickly sliced bacon, diced

cooked rice for serving
Directions
Place beans in a Dutch oven. Cover with water. Allow to soak for 6 to 8 hours.

Drain beans, set aside until needed.

Heat oil in a large soup pot.

Add chopped onion, sliced leeks and garlic; cook and stir until softened, about 4 minutes. Pour in the soaked, drained beans and fill with enough clean water to cover beans by 3 inches.

Add smoked ham hocks, diced ham, bay leaves, coriander, salt and pepper to taste. Bring to a boil, reduce heat to medium-low and simmer covered for 2 hours or until beans are tender and meat pulls off the bone.

Remove ham hocks and set aside until cool enough to handle. Remove meat from ham hocks and chop into bite-size pieces. Add back to bean mixture.

Fry bacon in a small skillet until crispy. Drain bacon on paper towel, add to pork/bean mixture. Season with salt and pepper if needed. Simmer uncovered for 1 hour.

Serve over rice or with Brazilian cheese rolls