We may earn money or products from the companies mentioned in this post.
Ham Salad Sandwich
Ham Salad Sandwich belong to that Elite Group of Classic Lunch Time Sandwiches; Peanut Butter and Jelly, Bologna, Tuna Salad, Grilled Cheese,
Ham and Cheese, B.L.T, Chicken Salad, Turkey Club and Egg Salad. Serve Ham Salad Sandwiches with potato chips, a dill pickle spear and a couple of cookies for a real lunchtime classic.  To round out this lunchtime classic sandwich, add a cup of your favorite soup.
Add a Cup of Soup
Adding a cup of your favorite soup to round out this meal is a must. Classic sandwiches seem to always be paired with a classic soup. A few classic soup and sandwich combinations are; Grilled Cheese and Tomato Soup, Ham and Cheese Sandwich with Split Pea, Egg Salad and Chicken Noodle Soup, Turkey Club and Vegetable and Tuna Salad with Vegetable Beef.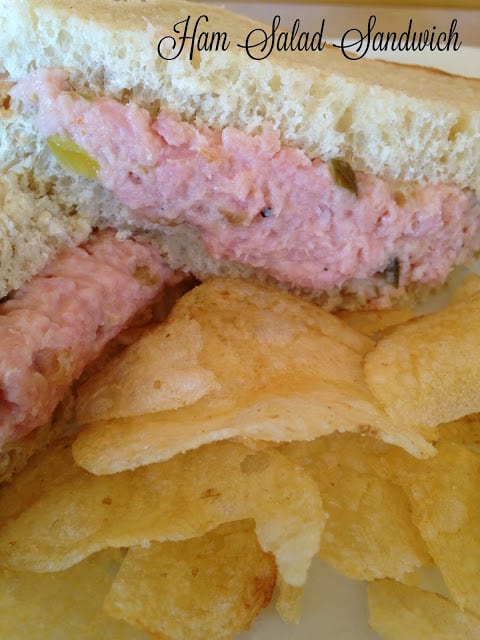 Ground Ham
This recipe calls for ground ham. You can easily grind your own ham using left-over ham. This recipe is great to make when you have left-over holiday Easter or Christmas ham. If you can't find spicy pickle relish or you don't like things spicy, simply substitute regular pickle relish. We used Famous Dave's Signature Spicy Pickle Relish in this recipe. We also love is on a grilled hot dog or bratwurst.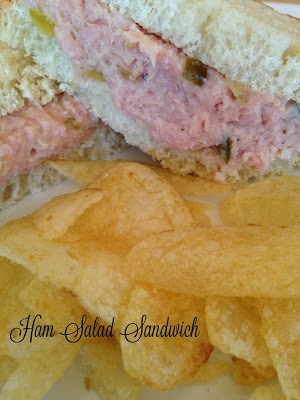 For this recipe we used Famous Dave's Spicy Pickle Relish.
Ingredients
2 1/4 cups




ground ham

4 heaping tablespoons




spicy pickle relish

1/4 teaspoon




fresh ground pepper

3 to 4 heaping tablespoons




mayonnaise or miracle whip

slices of bread,




of your choice

pickle




spears

potato




chips
Cooking Directions
Mix all ingredients together in a medium bowl.
Spread sandwich spread on bread slices.
Serve with potato chips and a pickle spear.
Recipes On Tap:
Blarney Stones aka Peanut Squares take some time to make but they are so worth it. If you like the peanut squares found in bakeries and in the bakery department of your favorite grocery store, you are going to love homemade peanut squares.