Eggs in Tomato Pasta Nests
We may earn money or products from the companies mentioned in this post.
Eggs in Tomato Pasta Nests
Eggs in Tomato Pasta Nests or Eggs in Purgatory are delicious for brunch, lunch or dinner. This impressive meal looks difficult to prepare but this recipe comes together in under an hour. Serve Eggs in Purgatory with fresh fruit for brunch, lunch or dinner. We can't think of a better way to eat an egg. Eggs in Purgatory refers to eggs poached in a spicy tomato style sauce. Since this recipe isn't a classic version of eggs in purgatory, we'll save that recipe for a later date, we can just call this recipe eggs in tomato pasta nests:)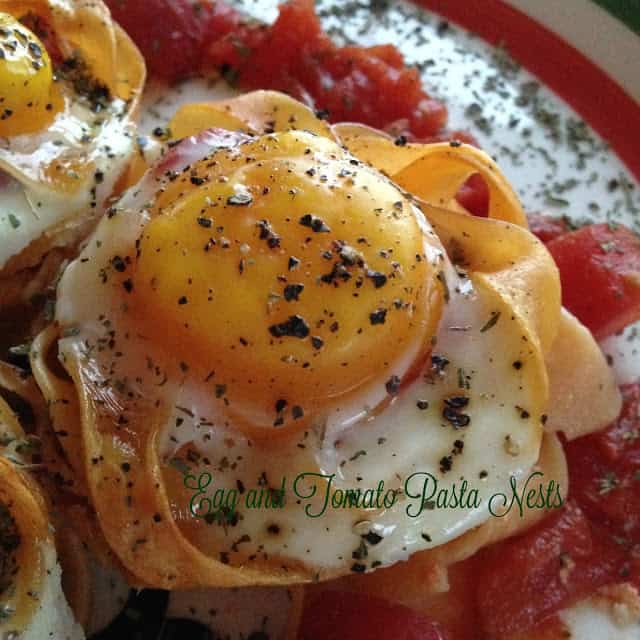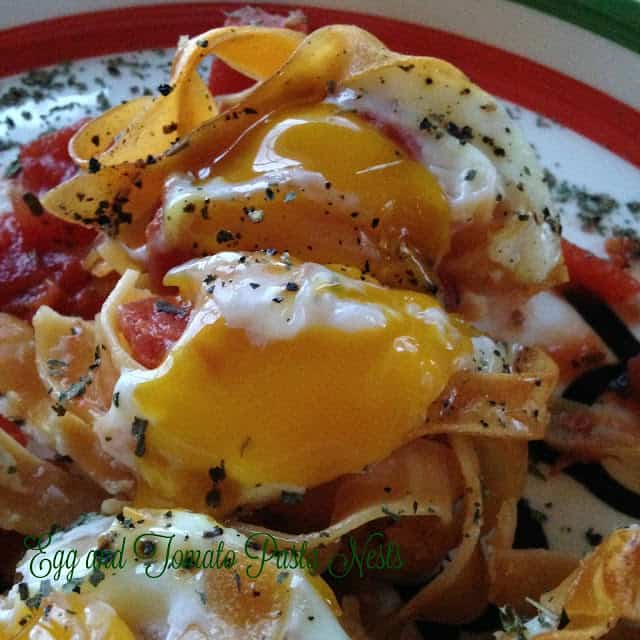 Pasta Nests
You can easily make your own fettuccine nests, using tomato fettuccine (recipe follows) or use packaged, ready-made tomato fettuccine nests like this recipe calls for. I bought a package containing 6 tomato fettuccine nests from Aldi. Aldi also had spinach flavored fettuccine nests and pumpkin flavored fettuccine nests. Each package contained 6 "nests" and sold for under $2.00 per package. Recipe Idea: Purchase one package of each: spinach, tomato and squash. Prepare two or three of each 'flavor' of fettuccine nests and proceed with the recipe.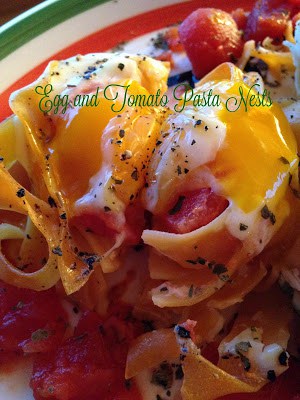 Serve with
Serve Eggs in Tomato Pasta Nests with this simple Honey Berry Fruit Salad and you'll have the brunch or dinner to serve any day of the week. This recipe is perfect to serve on those lazy Saturday or Sunday mornings. Instead of the usual bacon, eggs, toast and cinnamon rolls, serve eggs in tomato pasta nests for a nice change of pace.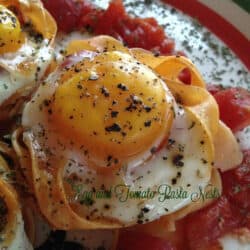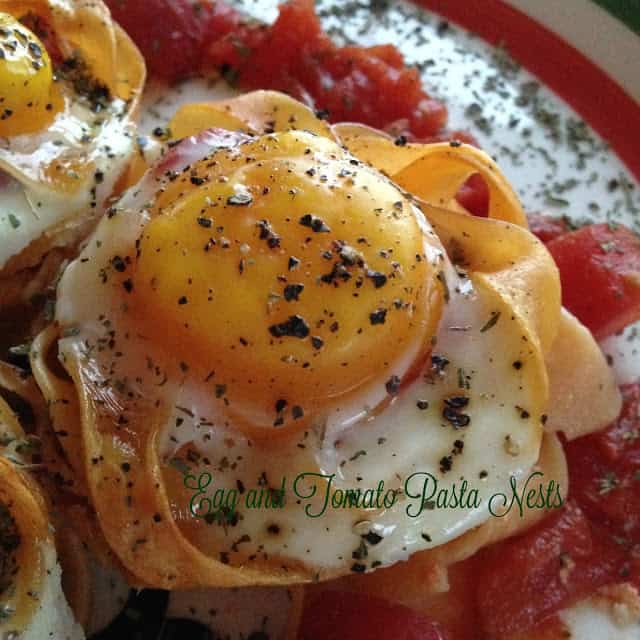 Eggs in Tomato Pasta Nests
Great to serve for breakfast, brunch, lunch or anytime!
Ingredients
6

fettuccine al pomodoro (tomato pasta nests)

,

or make your own*

2

tablespoons

olive oil

1

clove

garlic, crushed

1/4

teaspoon

crushed red pepper flakes

1

14 1/2 oz can

basil, garlic and oregano diced tomatoes, undrained

6

eggs

salt and pepper, to taste

1/4

cup

grated Parmesan cheese

8

ounces

tomato flavored fettuccine*

2

tablespoons

olive oil*
Instructions
Preheat oven to 325 Lightly grease a standard size muffin or cupcake tin*

Fill a large pasta pot with water, add 1 tablespoon salt. Bring to a boil.

Add pasta nests and boil for 6 to 9 minutes or just until al dente. Drain and set aside.

Meanwhile, heat a medium non-stick saute' pan over medium-low heat. Add oil, heat until warm, add garlic and red pepper flakes. Stir in can of tomatoes, heat through. Keep warm.

Loosely fill each muffin cup with a pasta nest and gently, using a small spoon create a small well in the center by pushing the pasta to the outside edges. Spoon 1 teaspoon or more of tomato mixture into each pasta nest.

Crack an egg into a small bowl, gently slip egg into center of pasta nest on top of tomato mixture.

Repeat for each nest. (Some of the egg white might spill over onto the outer portion of the muffin tin, don't worry, the egg white will cook when tin is placed in the oven)

Season eggs with a pinch of salt and pepper. Sprinkle with Parmesan cheese.

Bake egg nests in oven for 20 to 25 minutes or until eggs are just set with no uncooked whites surrounding the yolks

To serve, place "nests" on a plate with a spoonful of tomato mixture. Garnish with a drizzle of olive oil, a sprinkle of dried basil and extra Parmesan cheese. Jumbo size muffin tin works great for this recipe.

Make Tomato Fettuccine Nests:

*Bring large pot of salted water to a boil over high-heat. Add the pasta and cook until tender but still firm to the bite, al dente, stirring occasionally about 8 to 10 minutes. Drain pasta and place in a large bowl, drizzle with olive oil. Twirl 1/2 cupfuls of cooked fettuccine around tongs or a large fork. Transfer to prepared muffin tin cups and proceed with recipe.