We may earn money or products from the companies mentioned in this post.
Goat Cheese and Honey Crostini
Easy, Tangy, Sweet, Crunchy and Delicious. Welcome Back to Football Friday and the Game Day Recipe. Goat Cheese and Honey Crostini will become your new "go to" appetizer. This is one of my personal recipes. It amazes me that only three ingredients can become so delicious. Three of my favorite variations on this recipe are; blueberry-vanilla goat cheese with blueberry honey, fig and olive goat cheese with buckwheat honey and lemon goat cheese with ginger honey.
Purchase Local
With only four ingredients, this simple yet delicious appetizer couldn't get any easier. Purchase a French baguette at your favorite bakery. Slice it diagonally into 1/2 inch slices, brush the slices with olive oil and bake until crisp, 5-8 minutes. Spread the slices with your favorite garlic and herb goat cheese, and drizzle with some honey. Since there are only a handful of ingredients in this "recipe," we went with local honey and goat cheese.
Local Goat Cheese and Honey
Two of our favorites are Montchevre and La Clare Family Creamery.  Montchevre and La Clare Family goat cheese can be purchased at Trigs in Rhinelander WI or stop at their cheese shops or purchase online. We have several favorite honey "spots" but on our last trip to Rhinelander we stopped at Hansen Honey Farm and purchased some honey. Located on Highway 8, Hansen Honey Farm Has super fantastic honey.
Georgian Bay Honey
While on a recent trip to Canada, visiting my friend Cindy in Wiarton Ontario, we stopped at Georgian Bay Honey Farm. Located in Owen Sound Ontario, I was fortunate enough to bring some of their fabulous honey home with me. The next time I visit Cindy, I'm going to drive and fill my car with this golden liquid!! For more information, contact Georgian Bay Honey Farm  Email: [email protected]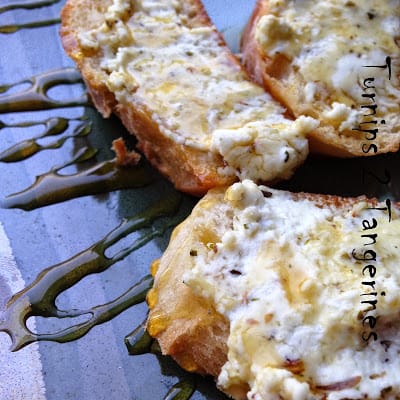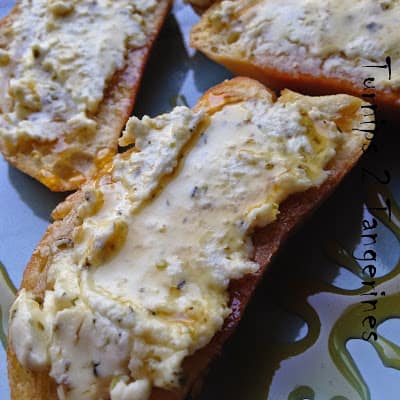 Goat Cheese and Honey Crostini
Super easy and so delicious!
Cuisine:
All-American, French
Keyword:
goat cheese, honey
Ingredients
1

French baguette

2 to 4

tablespoons

olive oil

6 or 8

ounces

garlic and herb goat cheese

2 to 4

tablespoons

honey, for drizzle
Directions
With a serrated knife, cut baguette into diagonal 1/2 inch slices. Place slices on a baking sheet lined with parchment paper. Lightly brush baguette slices with olive oil. Turn slices over, and brush with olive oil.

Bake at 375º for 5 to 8 minutes. Remove from oven, cool 5 minutes.

Spread garlic and herb goat cheese on toasted bread slices. Return to the oven and bake until cheese is melted, 8 to 10 minutes. Watch carefully. Remove from oven.

Drizzle honey over cheese/bread slices. Let stand 5 minutes.

Transfer slices to a serving plate.
Serve Goat Cheese and Honey Crostini with glasses of chilled white wine such as a Moscato. For the main dish serve Spareribs Cantonese