We may earn money or products from the companies mentioned in this post.
Classic Chili or Wisconsin Style Chili
This is our recipe for Classic Chili or Wisconsin Style Chili. It's a recipe I have been making for many years. I always made a big pot of this delicious chili every year on Halloween. Nothing hits the spot better than a hot, steamy bowl of chili when you come in from the cold. Serve with lots of  buttered saltine crackers and a sprinkle of shredded sharp cheddar cheese. Doesn't get much better than that! This chili is perfect.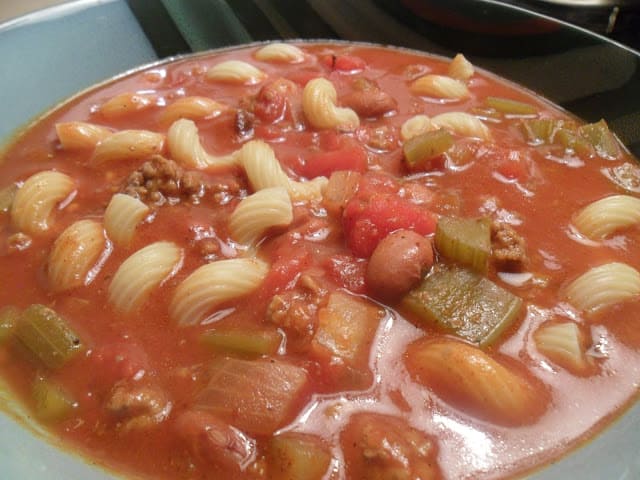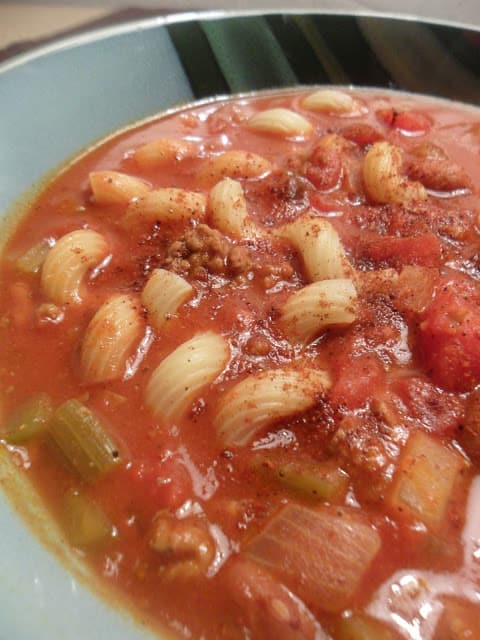 Recipe Has Changed Over Time
My sister Barb gave me this recipe many years ago. The recipe was very basic and since then I have tweaked this recipe several times. It's still a very simple recipe but very delicious all the same. Bowls of chili are great to serve during or after football games, ice skating or after a day of snowmobiling. Bring a thermos along with you when you go hunting or ice fishing. This chili recipe will warm you up and hit the spot every time.
Wisconsin Style Chili
If you aren't from the Upper Midwest you are probably wondering why this recipe is called Wisconsin Style Chili.  If you are from the Upper Midwest, you know why:) Here in the Upper Midwest, and definitely in my family, chili isn't chili unless it has noodles or elbow macaroni added to it. Another Upper Midwest absolute must, the only beans added to chili are kidney beans. With that being said, here are a few other "rules"
A Few Rules
Classic Wisconsin Style is never served "over" the noodles, noodles are added to the chili. Grated cheddar cheese can be served on top of the chili, but this is a recent development (at least in my family). The only beans used are light or dark red kidney beans. Chili powder is usually the only seasoning added besides salt and pepper. Always add chopped onion and celery, maybe chopped green peppers. Ground beef is the meat of choice.
Optional Ingredients
The recipe below for  Classic Chili or Wisconsin Style Chili, that my sister Barb gave me 40 years ago. The ingredients that have an * after it, indicates that ingredient was added over the years. Never ever serve Wisconsin Style chili with oyster crackers. Saltines only! Give both recipes a try, the classic version and the spicier version. Let me know which one you like best:)
I guess it would be a fair statement to say, that this recipe with the added ingredients (* after it) breaks a few of the "rules." Yes, That would be correct. But sometimes rules are meant to be broken! Another recipe that will hit the spot on a cold day, Easy Tortellini Lentil Soup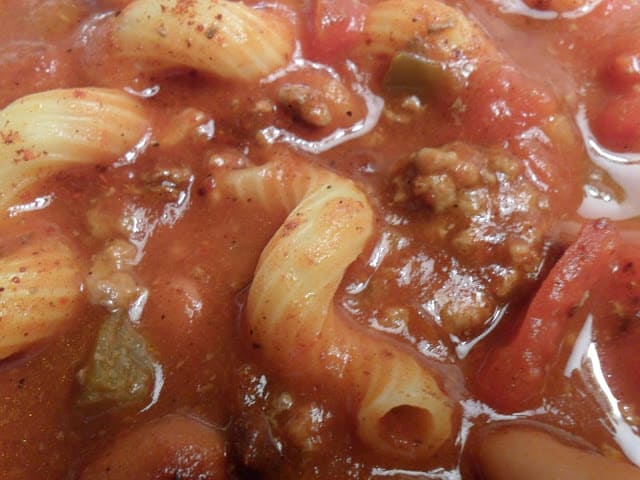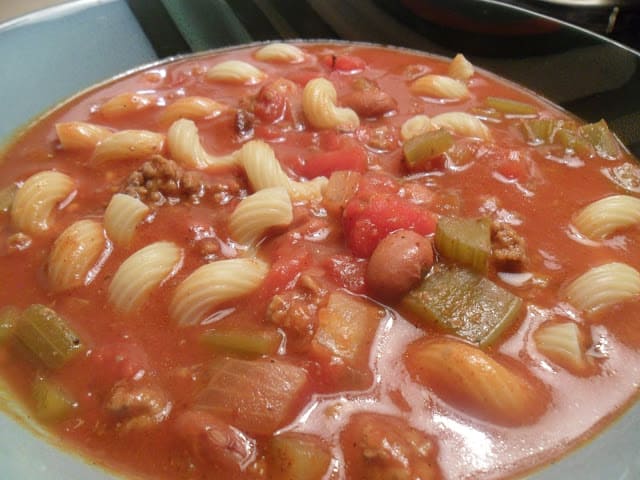 Classic Chili or Wisconsin Style Chil
A delicious and hearty chili that is perfect on a cold evening.
Ingredients
2 1/2

pounds

ground beef

1/2

pound

ground Italian sausage*

4

ribs

celery, chopped

1

medium

onion, chopped

1

green pepper, chopped

3

cloves

garlic, minced*

1

46 oz can

tomato juice

1

28 oz can

diced tomatoes with juice

1

14 oz can

diced tomatoes with diced green chilies*

1

4 oz can

diced green chilies*

2

10 3/4 oz cans

condensed tomato soup, undiluted

1

soup can water

1

14 oz can

beef broth*

1

16 oz can

kidney beans

1

15 oz can

black beans*

2

16 oz cans

chili beans in chili sauce, hot or mild*

2 to 4

tablespoons

chili powder

1/2

teaspoon

red pepper flakes*

3

bay leaves*

2

tablespoons

brown sugar

1

envelope chili seasoning mix

(McCormick)*

salt and pepper to taste

2

cups

cavatappi noodles or noodles of your choice, cooked and drained

shredded extra sharp cheddar cheese*
Directions
In a large soup pot, brown ground beef, sausage, celery, onion, green pepper and garlic over medium heat until meat is no longer pink. Drain. Add tomato juice, diced tomatoes, diced tomatoes with green chilies, diced green chilies, tomato soup, water, beef broth, kidney beans, black beans, chili beans, chili powder, red pepper flakes, bay leaves, brown sugar, envelope chili seasoning mix, salt and pepper.

Bring to a boil, reduce heat, cover and simmer for 1 hour or longer.

Stir in noodles, cook, uncovered for 10 minutes or until heated through.

Before serving, discard bay leaves and top bowls of chili with shredded cheese.
Recipe Notes
My sister gave me this recipe many years ago. All ingredients with an * after it have been added to the original recipe over the years.