Cranberry Oatmeal Sourdough Scones
We may earn money or products from the companies mentioned in this post.
Cranberry Oatmeal Sourdough Scones 
Get into the holiday spirit early this year and make these delicious scones. Cranberry Oatmeal Sourdough Scones are dotted with a fall favorite ingredient; cranberries. Cranberry and orange is a classic flavor combination. The two ingredients compliment each other beautifully. Top the scones with a light drizzle of orange powdered sugar glaze. The glaze adds just the right amount of sweetness.
Stock Up
We love cranberries here at Turnips 2 Tangerines and have several recipes containing both the fresh and dried varieties. When cranberries are in season, buy a few extra bags of cranberries to freeze. Simply throw them in the freezer in the same bag they came in. When the urge strikes, you'll  have extra cranberries on hand. Bags of cranberries are relatively inexpensive so stock up!!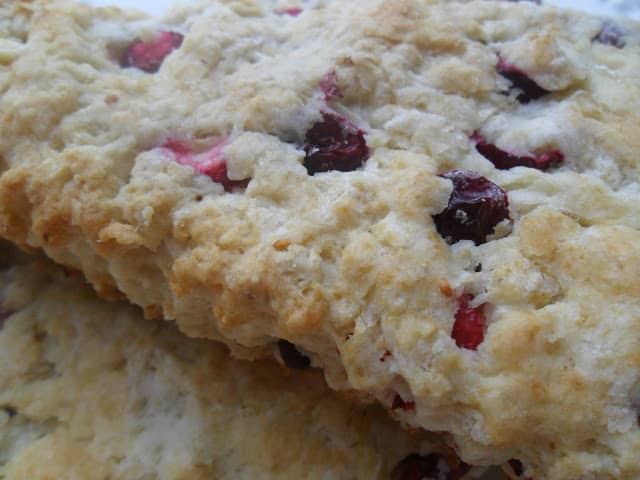 Cranberry Season
Cranberry Season in Wisconsin is marked with festivals, parades and recipe contests. Wisconsin is one of the leading producers of this little bouncy berry and we are very proud of that fact. There are cranberry bogs sprinkled throughout Wisconsin. If you're ever visiting Wisconsin in the fall, which is when we harvest cranberries, stop by a cranberry bog and take a tour. You'll be fascinated.
Looking for another cranberry recipe? We've got you covered. Why not make a pie filling? Cherry Cranberry Pie Filling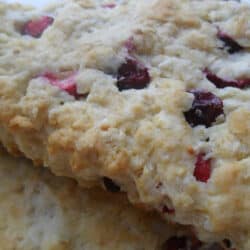 Cranberry Oatmeal Sourdough Scones with Orange Glaze
A classic taste sensation.
Ingredients
2 1/2

cup

flour

1

cup 

rolled oats

1/3

cup 

sugar

1

tablespoon

plus 1 teaspoon baking powder

1/2

teaspoon

salt

1/2

teaspoon 

baking soda

1/2

cup

butter, cold and cubed

1

egg, lightly beaten

2/3

cup

apple juice

2

tablespoon

sour cream or yogurt

2

tablespoon

orange juice

1

tablespoon 

orange zest

2/3

cup

active sourdough starter

1/2

cup

chopped fresh cranberries

1 1/2

cups

confectioners sugar

2 to 3

tablespoons

orange juice
Instructions
Preheat oven to 425º  Line baking sheet with parchment paper.

In large bowl combine flour, oats, sugar, baking powder, salt and baking soda.

With pastry blender cut in butter until mixture resembles coarse crumbs.

In small bowl combine egg, apple juice, yogurt, orange juice and orange zest.

Add egg mixture, sourdough starter and chopped cranberries to flour mixture. Mix lightly.

Turn out dough onto a well floured surface. Knead 8 to 10 times. Pat dough into a 8 to 10 inch circle.

Cut into 8 wedges. Place on parchment lined baking sheet.

Bake for 12 to 15 minutes. Transfer to a wire rack.

Make Orange Glaze: Stir together confectioners' sugar and orange juice until desired consistency.

Drizzle scones with orange glaze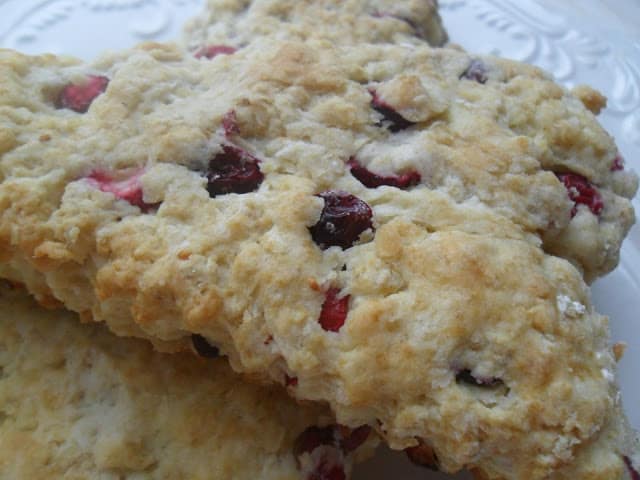 Ocean Spray
 is one of the leading producers of cranberry products.
Do you like blueberries? Do you like lemons? How about scones, you like scones too? Then you are going to flip for over these sensational scones because they have all three Fresh Blueberry Lemon Scones.