Zombie Chocolate Pretzel Eyes
We may earn money or products from the companies mentioned in this post.
Zombie Chocolate Pretzel Eyes
It's October! Halloween Recipe Time. With only 4 ingredients and ready in under 10 minutes, Zombie Chocolate Pretzel Eyes are the perfect start to October Fun. Made with mini pretzels, in any shape you like, yellow or green candy melts, candy eyeballs and sprinkles in any color. That is all that is needed to make zombie chocolate pretzel eyes. Fast, easy and super fun. Did I say delicious? They're that too.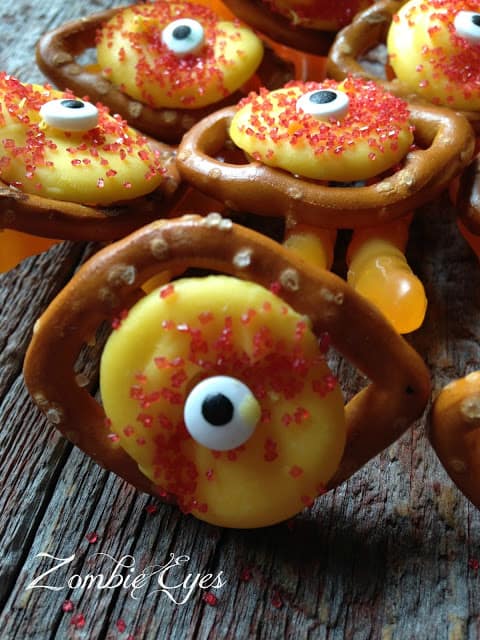 What Are Candy Melts?
Candy melts are a often recommended for easy candy making or coating cake pops. They come in many colors and have a plain vaguely milky flavor. Many people make the mistake of thinking that Candy Melts are chocolate since they are often used in candy making but they aren't chocolate. They're made with a combination of sugar and vegetable fats but absolutely no cocoa butter. Candy melts don't deliver that chocolate flavor but candy melts, melt great and look super. White chocolate fills in nicely if you aren't a fan of candy melts.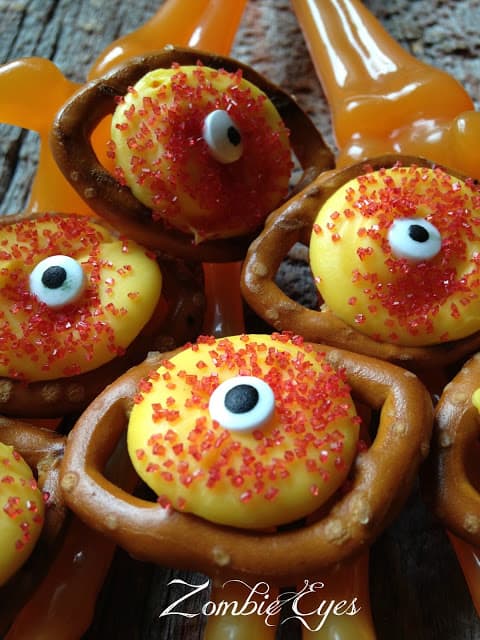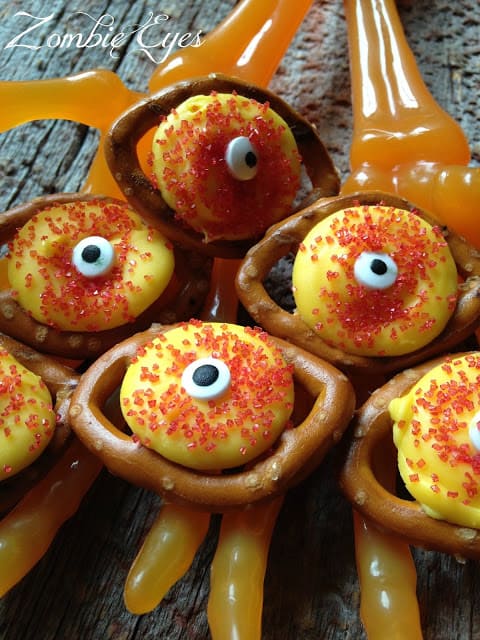 Zombie Eyes
Zombie eyes can be made with green or purple candy melts. Use colored sugar crystals that compliment the candy melt colors, for instance red sugar crystals would look great with the purple candy melts and green candy melts would look great with yellow sugar crystals. Any shape of mini pretzel will work but we went with the football shape mini pretzel. It looked more "eye" shaped to me.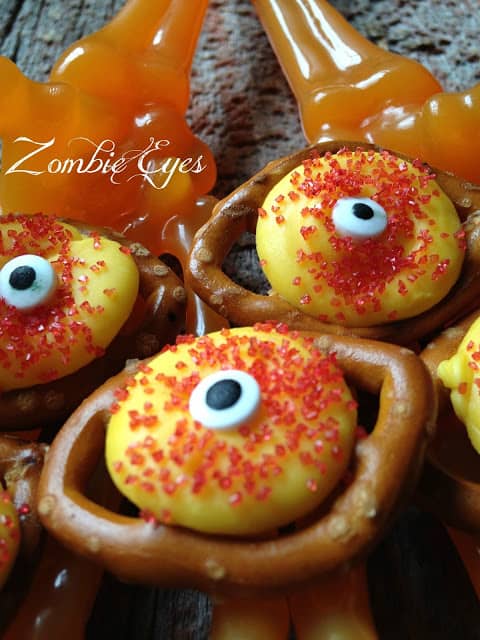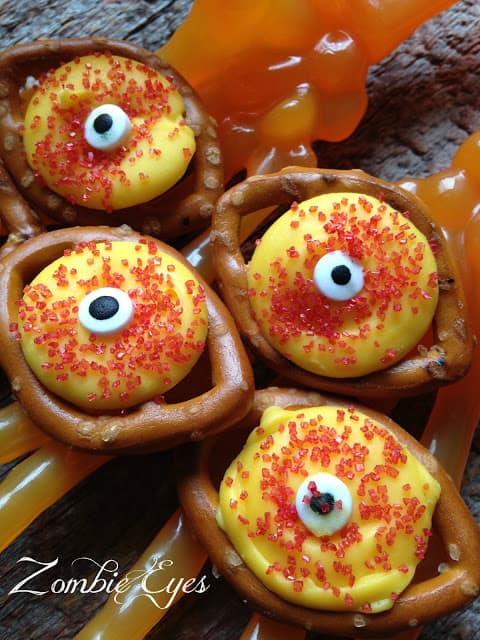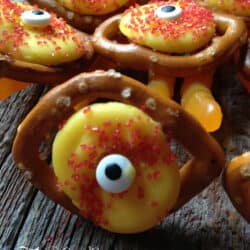 Zombie Chocolate Pretzel Eyes
Ingredients
12

yellow candy melts

,

Wilton

12

candy eyeballs

,

Wilton

12

football shaped pretzels

,

Rold Gold

red sugar crystals
Instructions
On a microwave safe plate place pretzels.

Place one candy melt in the middle of each pretzel.

Microwave for 20 seconds or until chocolate is slightly soft.

Remove from microwave oven.

Immediately place one candy eyeball in the middle of each candy melt, lightly pressing down.

Do this while the candy melts are still warm and melted.

Sprinkle with red sugar crystals.
Notes
Recipe Note: If you aren't a fan of candy melt or you want a more chocolaty flavor to your eyes, substitute Ghirardelli white chocolate coating wafers instead of the candy melts and use red sprinkles. 
Green Bay Packer Pretzel Bites are a fantastic and delicious snack perfect for any football game. Can be made in any 'team' color. For this recipe we used Utz Pretzels. Not a fan of candy melts?  Want a more chocolaty flavor? Try Ghirardelli White Chocolate Coating Wafers.