Zesty Southwest Stuffed Avocado
We may earn money or products from the companies mentioned in this post.
Zesty Southwest Stuffed Avocado
This recipe is the first of three recipes that I have entered in the BLENDABELLA Summer Blogger Recipe Challenge. Zesty Southwest Stuffed Avocado is made with BLENDABELLA Zesty Mexican. Zesty Mexican blend is combined with chorizo sausage, fresco queso cheese, fresh cilantro, lime juice and southwest grain salad mix. This zesty mixture is combined together, stuffed into an avocado half then baked.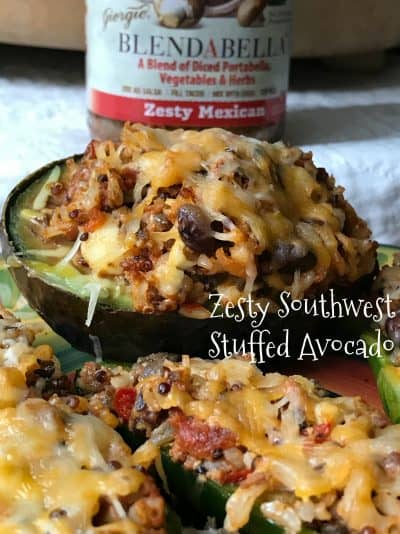 Giorgio-Family Owned
Giorgio is a family owned business for over 90 years. In 1928, Giorgio began the tradition of growing "America's Favorite Mushroom" with the construction of their first mushroom house in Temple, Pennsylvania. Over 90 years and 3 generations later, Giorgio continues a strong commitment to bringing a high quality product to the marketplace.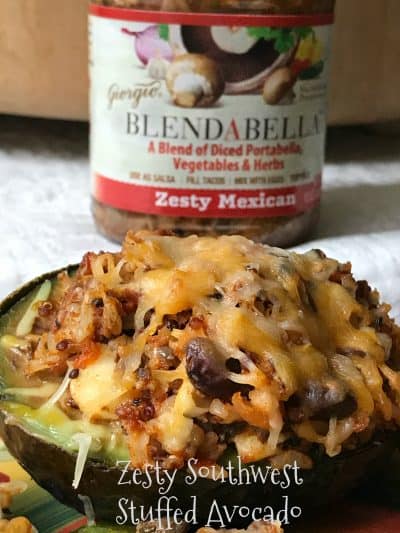 Mushroom Facts
Mushrooms are well known for their nutritional benefits. Fresh portabella mushrooms are naturally low in calories, fat free, low in sodium and cholesterol free. Rich in nutrients including Vitamin B3 and the antioxidant selenium. Giorgio mushrooms are valued for their fresh, delicious, savory and meaty taste. Giorgio mushrooms are sold at grocery stores and markets in the produce department throughout the US.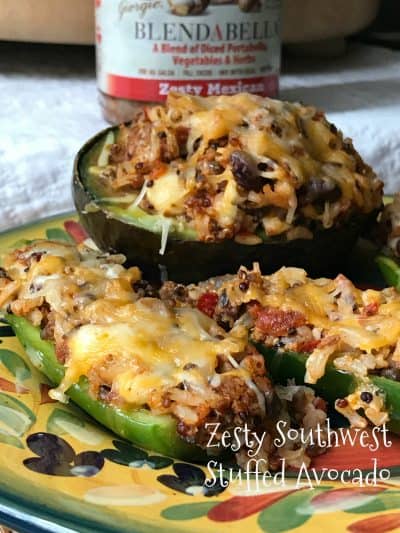 New Day for Mushrooms
Giorgio's BLENDABELLA combines many of the benefits of fresh, mushrooms and delivers them in three regional flavor options. Zesty Mexican, Coconut Thai and Rustic Tuscan are the new way to use mushrooms. All three are a blend of diced portabella mushrooms, vegetables and herbs. Each "flavor" has it's own unique flavors and distinctive taste. It's a new day for mushrooms, with new flavor sensations.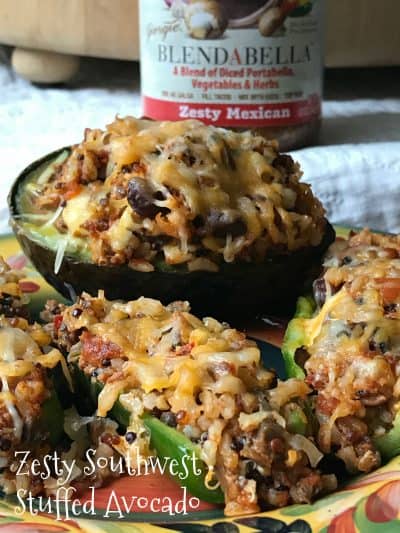 Three Delicious Flavors
Giorgio BLENDABELLA Coconut Thai is a delicious blend of mushrooms, red onion, red pepper, coconut milk, jalapeno pepper, pureed ginger, lemon grass, cilantro, garlic, key lime juice and herbs.
Giorgio BLENDABELLA Zesty Mexican is a zesty blend of mushrooms, tomatoes, red onion, bell peppers, tomato paste, jalapeno mash and herbs.
Giorgio BLENDABELLA Rustic Tuscan is an Italian influenced mix of mushrooms, onions, green peppers, red peppers, garbanzo beans, sun-dried tomatoes, Parmesan cheese and herbs.
Follow and Purchase
Follow Giorgio BLENDABELLA on Facebook, Twitter, Instagram and Pinterest. To learn more about Giorgio BLENDABELLA go to BLENDABELLA and to purchase BLENDABELLA online go to: Buy Giorgio BLENDABELLA. The filling used in this recipe to stuff the avocados, is also great piled high in jalapenos or poblano peppers.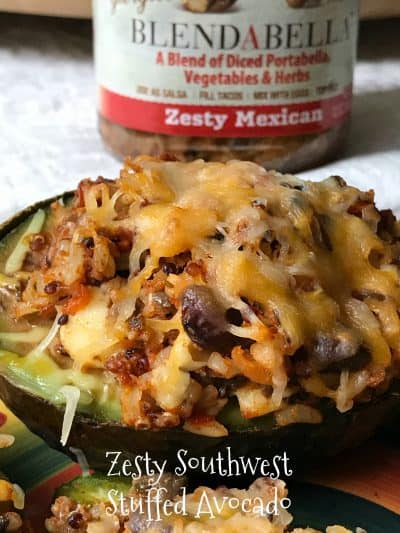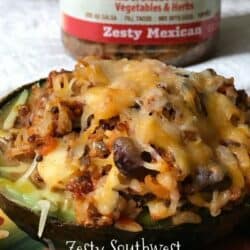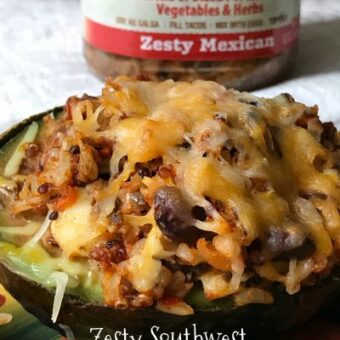 Zesty Southwest Stuffed Avocado
This recipe was is made with Giorgio BLENDABELLA Zesty Mexican. Zesty Southwest Stuffed Avocado is also made with Southwest Grain Salad Mix and Chorizo Sausage. These Stuffed Avocados are packed full of flavor and are sure to please.
Ingredients
1 lb

chorizo sausage

1

12 oz jar

Zesty Mexican BLENDABELLA

6

cups

water

1

5.5 oz package

southwest grain salad, (your favorite brand)

5

oz

fresco queso cheese, crumbled

1

lime, juice from

1/2

cup

chopped cilantro

4

avocados, cut-in half, pits removed

1

cup

shredded Mexican-style cheese blend
Instructions
Preheat oven to 375 degrees. Lightly spray baking dish with non-stick cooking spray. Set aside.

In a large skillet brown chorizo sausage, drain. Stir in Zesty Mexican BLENDABELLA, let simmer on low for 10 minutes. Remove form heat, set aside.

Bring 6 cups of water to a boil in a medium saucepan. Empty pouch of grains into boiling water; gently boil, uncovered for 17-20 minutes. Set chipotle vinaigrette aside for another use. Carefully drain cooked grains into a colander. Rinse under cold running water until the grains have cooled, 1-2 minutes. Allow grains to drain until dripping stops. Place grains in a large mixing bowl.

Add the sausage mixture to the grains, combine. Toss crumbled queso cheese, lime juice and cilanto with sausage/grain mixture.

Pile filling mixture into avocado halves. Carefully place filled avocados in prepared baking dish. Sprinkle avocado halves with Mexican-style shredded cheese.

Bake at 375 for 30 to 45 minutes or until cheese has melted and filling is heated through.
Notes
Recipe Note: Replace the avocado halves in this recipe with jalapeno or pobalano peppers that have had the seeds and membranes removed. Fill and proceed according to directions. *This recipe was tested with Earthly Grains Southwest Grain Salad. This salad has a variety of grains and rice; brown rice, quinoa, black beans, corn and red peppers. Aldi.