Yakisoba Soy Ginger Noodle Salad with Shrimp
We may earn money or products from the companies mentioned in this post.
Yakisoba Soy Ginger Noodle Salad with Shrimp
Here at Turnips 2 Tangerines we are taking the: Fortune Asian Noodle Blogger Recipe Challenge! We received Yakisoba Soy Ginger Noodles and
we have come up with a delicious salad. Made with Yakisoba Soy Ginger Noodles, mandarin oranges, sesame Asian chopped salad and shrimp. A simple and easy salad that is perfect for the warm summer months. The sauce or dressing in this salad comes from the noodles, so all that is needed is a tablespoon or two of soy sauce. Thank You JSL Foods!!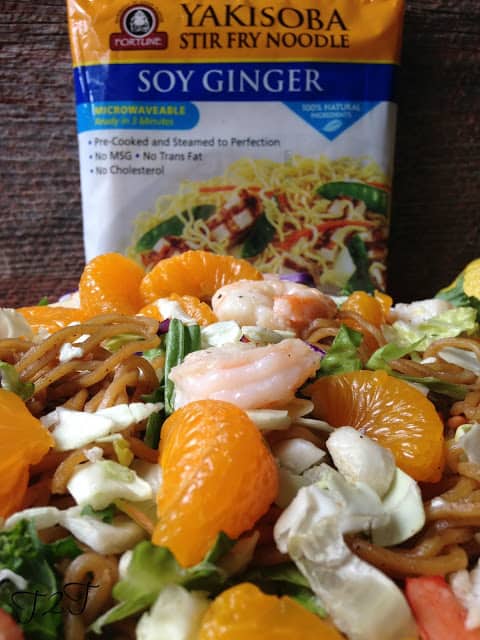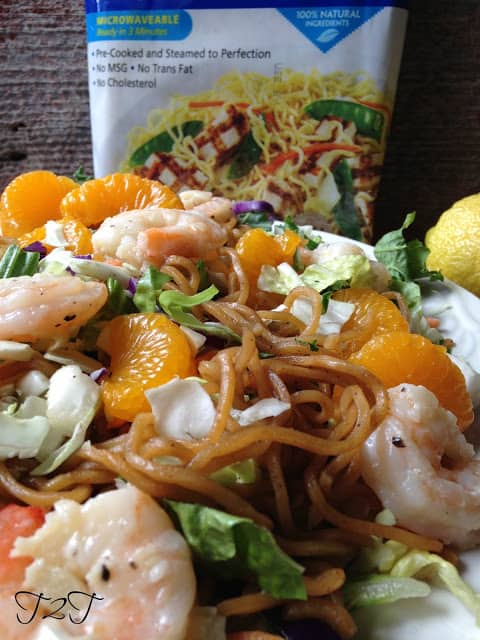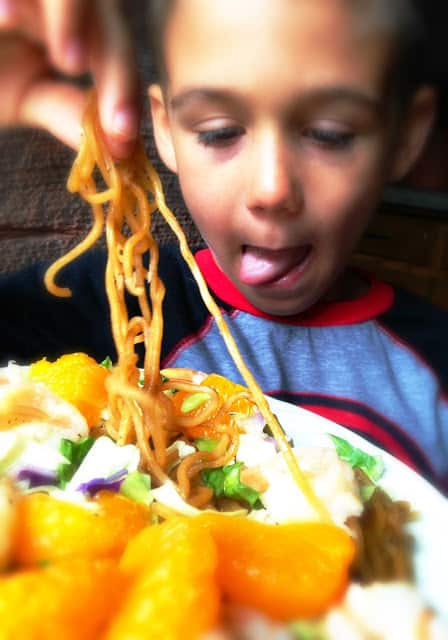 Recipe Note:
I would like to thank my grandson E-man, for partaking in my photo taking. Not only was he a great model, he was also my taste tester. Need I say he loved this simple yet delicious salad. Thanks E-man! This salad is not only delicious, it's good for your too. As you can see from the photo above, even kids like this salad. I will admit though, E-man wasn't too thrilled with the shrimp part but he certainly loved the noodle part.
JSL Foods
You can follow JSL Foods on twitter here: JSL Foods
Facebook here: JSL Foods Facebook . 
JSL Food Products can be purchased at Target.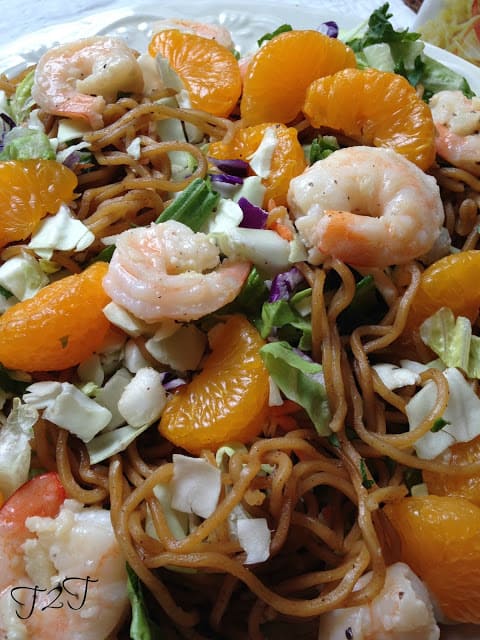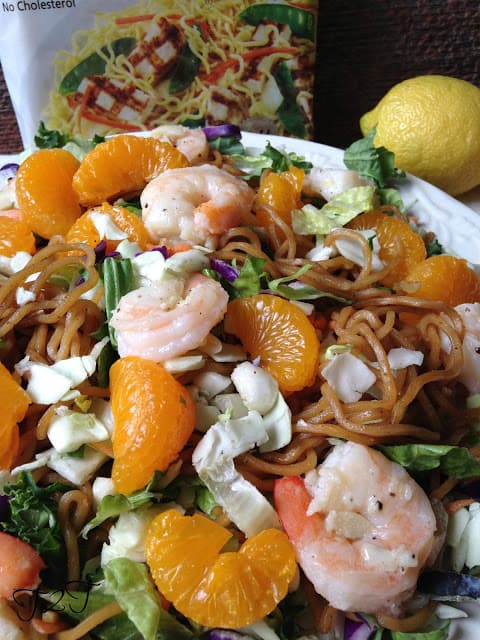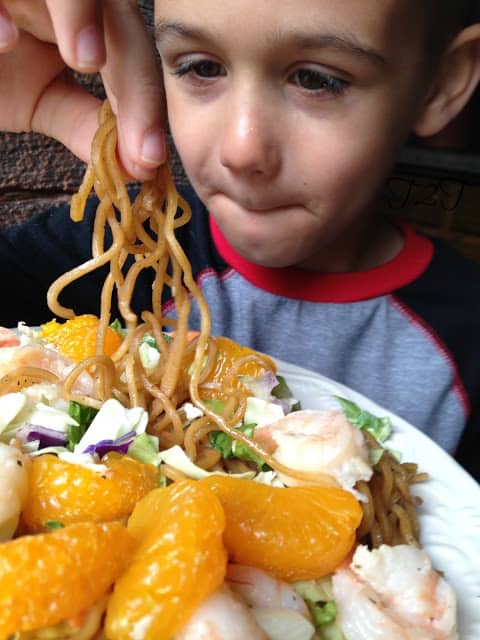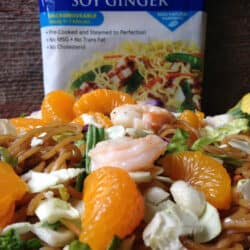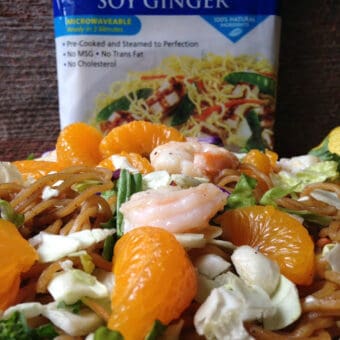 Yakisoba Soy Ginger Noodle Salad with Shrimp
A delightful salad bursting with flavor.
Ingredients
1

pound

shrimp

4

tablespoons

olive oil

4

cloves

garlic, minced

juice from 2 lemons

1

teaspoon

lemon zest

1

tablespoon

fresh grated ginger

3

packages

Yakisoba Stir Fry Noodles, Soy Ginger

1

package

chopped salad kit, Sesame Asian, set dressing aside for another use.

1

15 oz can

mandarin oranges, drained

1 to 2

tablespoons

soy sauce
Instructions
Clean and devein shrimp, remove shells on the tails, set cleaned shrimp aside.

In a small saute' pan, heat oil over medium heat until hot.

Add minced garlic, and saute' 2 to 4 minutes.

Add shrimp and saute' until shrimp is pink, about 5 minutes, stirring constantly.

Squeeze lemon juice over shrimp/garlic mixture, add lemon zest and grated ginger, stir and remove from heat.

Set aside. Make Yakisoba Stir Fry Noodles Soy Ginger according to package directions.

Pour noodles into a large bowl. Top noodles with the shrimp/garlic mixture, chopped sesame Asian salad kit, and mandarin oranges. Gently toss together, drizzle 1 or 2 tablespoons soy sauce over salad.

Divide salad between 4 to 6 salad bowls.
Shrimp
Here at T2T we have made several recipes featuring Shrimp. We thought you might like to try these recipes for shrimp also. Shrimp Noodle Supreme,Shrimp Salad Stuffed Avocado,  Wasabi Stuffed Shrimp and Special Shrimp Bake are just a few of our favorites. This delicious crustacean is America's favorite shellfish. Most of the shrimp in the US comes from bordering waters, the Atlantic and Pacific Coasts and the Gulf Coast.