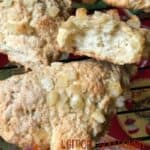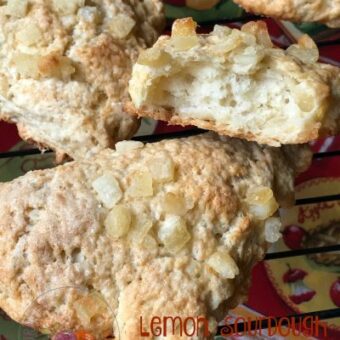 Print
Lemon Sourdough Scones
These scones, with a texture much lighter than a traditional scone, are easy to make and are perfect with your morning coffee
Into a mixing bowl, sift together flour, sugar, salt, baking soda and baking powder. Cut in the butter with a pastry blender or two knives until the mixture resembles coarse meal. Stir in candied lemon peel.

Break egg into a 1-cup measuring cup, beat lightly with a fork, then fill the cup with starter (adjust amount of starter if necessary to make mixture equal 1 cup) Add this mixture and the lemon extract to the dry ingredients and mix lightly just until combined. Turn out onto a lightly floured board and gently knead 8 to 10 times. Knead in up to 1/4 cup more flour if needed to keep dough from sticking (dough should be very soft)

Gently pat dough into a circle about 8" in diameter. Using a floured knife, cut into 8 wedges. Brush tops with milk, sprinkle with sugar. Sprinkle tops of scones with candied lemon peel. Carefully transfer wedges (use a spatula or pie server) to a lightly greased baking sheet, placing them at least 2" apart. Bake at 400 degrees for 15 to 20 minutes, or until golden. Transfer to a rack to cool slightly before serving.