White Christmas Lasagna
We may earn money or products from the companies mentioned in this post.
White Christmas Lasagna
White Christmas Lasagna is made with cooked cubed chicken, chopped spinach and broccoli, Alfredo sauce, and lots of cheese. A few years back I started making lasagna for our Christmas Eve dinner. Over the years I have made several different styles of 'red sauce' lasagna but I have never made a 'white sauce' lasagna. A white lasagna can be made with poultry such as chicken or turkey and it can also be made with seafood.
Seafood Lasagna
Another style of lasagna I have yet to make is seafood lasagna. Seafood Lasagna is a white sauce lasagna made by using bay scallops, shrimp, crab or haddock. It is basically made the same way as a traditional lasagna is, except seafood replaces the meat. In my family, about of of us like seafood and the other half does not. That probably is the main reason why I have not made seafood lasagna…yet. Maybe next Christmas.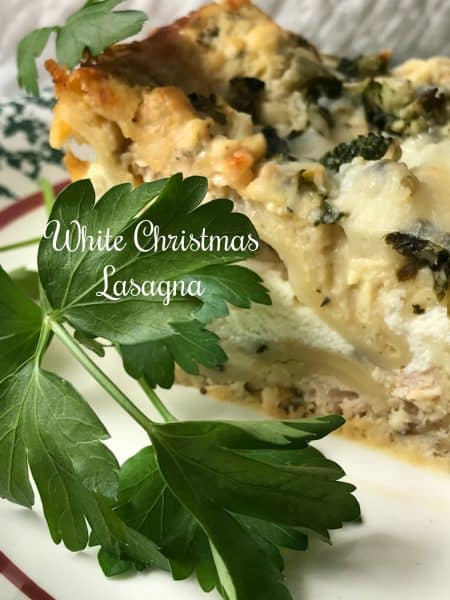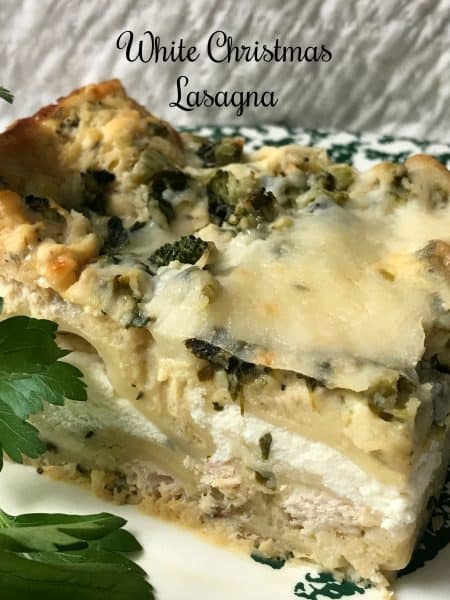 White Sauce, Red Sauce..
White lasagna is obviously "white" which is achieved by using Alfredo sauce, cream of chicken soup, or by making a white cheese sauce. This recipe calls for all three, a white cheese sauce, Alfredo sauce and cream of chicken soup. I also added some cubed cream cheese, just to make sure the sauce was nice and creamy. Of course lasagna isn't lasagna without the addition of lots and lots of cheese. I decided to go with shredded mozzarella cheese, shredded Montery Jack cheese and an Italian shredded cheese blend.
So Good
I love lasagna, usually with a red sauce but this recipe turned out really, really, super good! It got me thinking, what has taken me so long to give white lasagna a try. Shame on me! It took me over 35 years to get my red sauce "just right" and it took me just a few days to get this white sauce recipe "just right." I hope you give this recipe a try, your going to love it too! Serve White Christmas Lasagna with a Chardonnay from California or 🇨🇱 Chile. Want to serve an Italian wine? Try a Soave Classico or Trebbiano IGT.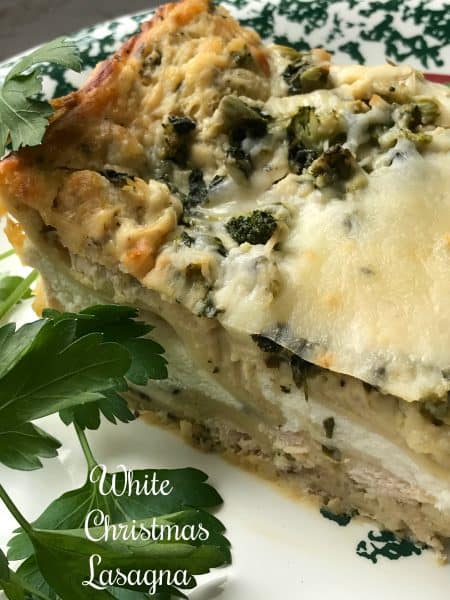 Here are a few of our Favorite T2T Lasagna Recipes
Overnight Ham, Cheese and Egg Lasagna, Stuffed Rigatoni Lasagna, Eggplant Lasagna, Lasagna Spinach Roll Ups,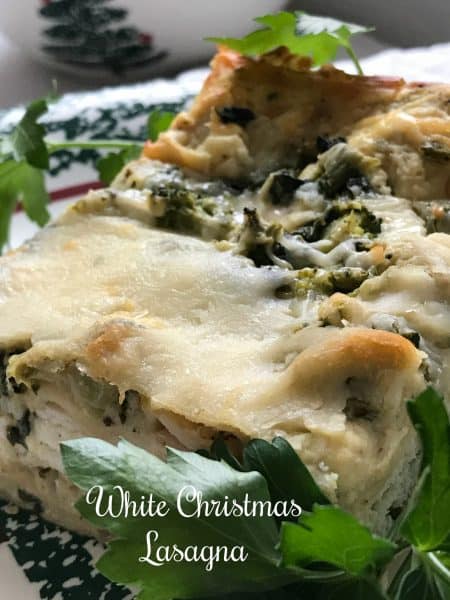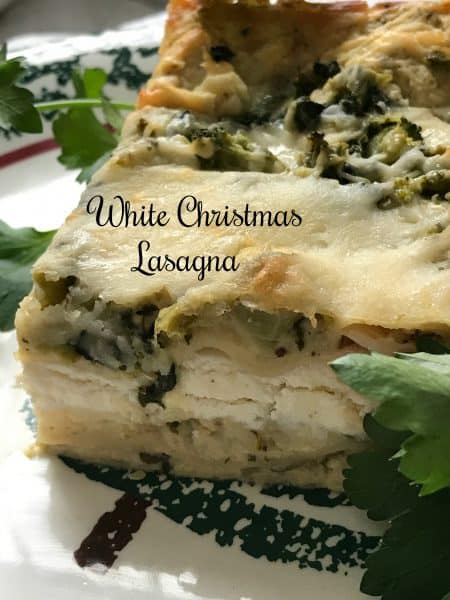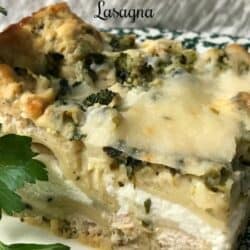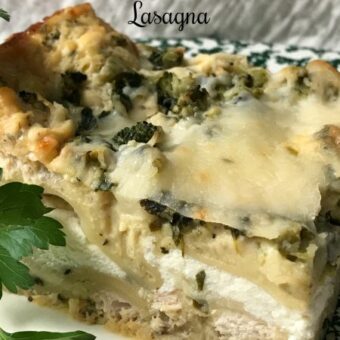 White Christmas Lasagna
A delicious lasagna made with chicken, spinach, broccoli, white cheese sauce and lots of shredded cheese.
Ingredients
1/4

cup

butter

2

tablespoons

oil

1

medium

onion, chopped

2 or 3

garlic cloves, minced

1/2

cup

flour

1

teaspoon

salt

1

cup

chicken broth

1

cup

milk or evaporated milk

1/2

cup

white wine or chicken broth

4

cups

shredded mozzarella cheese, divided

1

cup

grated Parmesan cheese

1

12 oz jar

Alfredo sauce

1

3 ounce package

cream cheese, cubed

1

10 oz can

cream of chicken soup

1

teaspoon

dried basil

1

teaspoon

dried oregano

1/2

teaspoon

white pepper

1

teaspoon

herbs de provence

3

cups

cubed cooked chicken

1

15 ounce carton

ricotta cheese

1 1/2

cups

shredded Montery Jack cheese

1/4

cup

minced flat-leaf Italian parsley

1

9 ounce package

oven ready lasagna noodles

1

10 ounce package

frozen spinach, thawed and drained well

1

cup

frozen chopped broccoli, thawed and drained well
Instructions
In a saucepan, melt butter over medium heat. Stir in oil. Saute onion and garlic until tender. Stir in flour and salt; cook until bubbly. Gradually stir in chicken broth, milk and wine. Bring to a boil, stirring constantly. Boil 1 minute. Stir in 2 cups shredded mozzarella cheese, 1/2 cup Parmesan cheese, Alfredo sauce, cubed cream cheese, cream of chicken soup, basil, oregano, white pepper and herbs de provence, stir until cheese is melted. Stir in chicken, remove from heat and set aside.

In a medium bowl, combine ricotta cheese, shredded Montery Jack cheese and parsley, set aside.

Spread one-quarter of the cheese/chicken mixture into a lightly greased 13 x 9 x 2-inch baking dish; cover with one-third of the noodles. Top with 1/3 of the cheese/chicken mixture, ricotta mixture, half of the spinach/broccoli, and 1 cup mozzarella cheese.

Repeat layers noodles, cheese/chicken, ricotta mixture, spinach/broccoli, mozzarella cheese. Top with remaining noodles and remaining cheese/chicken mixture. Sprinkle with remaining Parmesan cheese and any remaining cheeses.

Bake, covered at 350 degrees for 30 minutes. Uncover and continue to bake an additional 30 minutes. Let stand 10 to 15 minutes before cutting.
Notes
A wonderful and delicious alternative to a traditional lasagna recipe.