White Chocolate Cherry Walnut Fudge
We may earn money or products from the companies mentioned in this post.
White Chocolate Cherry Walnut Fudge
The holiday season just wouldn't be the same without fudge. This holiday season, it's all about fudge. This year except to see a recipe for each of our favorite 'flavors' of fudge. Chocolate Peanut Butter, Chocolate Mint, Maple Nut, and White Chocolate Cherry Walnut Fudge. This white chocolate fudge is creamy, silky and satiny smooth with pieces of chopped walnuts and coarsely chopped dried cherries.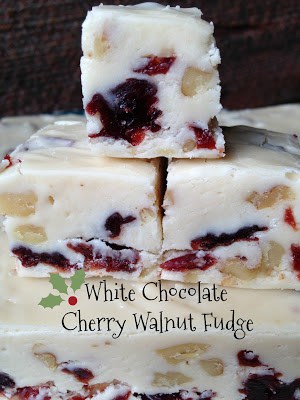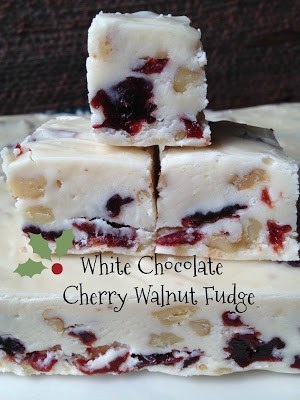 White Chocolate Fudge
White Chocolate Cherry Walnut Fudge is made with evaporated milk, mini marshmallows, white chocolate chips, coarsely chopped dried cherries and walnuts. Don't think you like white chocolate or you're not a white chocolate fan? Well, think again! I always thought I wasn't a fan of white chocolate either, until I started making white chocolate fudge. Now I can't get enough of the stuff! I have jumped on the white chocolate train and I'm lovin' it.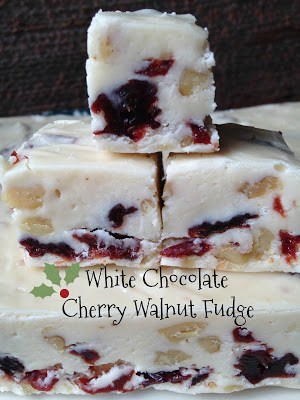 What is Fudge Exactly?
Fudge is a creamy, semisoft candy most often made with sugar, butter or cream, corn syrup and various flavorings. The most popular fudge flavor is chocolate. However, maple flavored fudge made with maple syrup, butterscotch flavor made with brown sugar or dark corn syrup and vanilla are also favorites. Over the years though, peanut butter and peppermint fudge have become super popular.
Fudge can be made plain and creamy or contain other add in ingredients. Add in ingredients include nuts, chocolate chips, candied or dried fruit, crushed candy canes and peanut butter candied pieces. Fudge may be cooked or uncooked, but both styles must be allowed to set before cutting. It's best to store fudge in the refrigerator. This will keep the fudge firm therefore discourage any melting.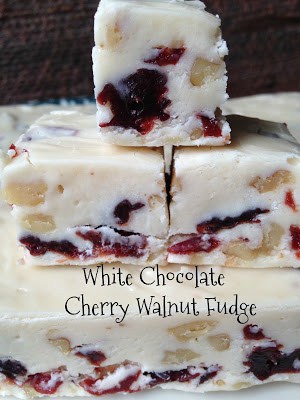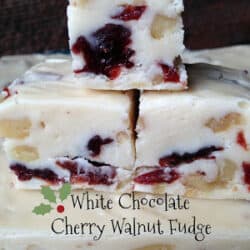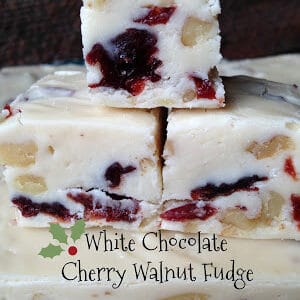 White Chocolate Cherry Walnut Fudge
A delicious white chocolate fudge,
Ingredients
2

tablespoons

butter, plus 1/2 tablespoon to grease pan

1

5 oz can

evaporated milk

1 1/2

cups

granulated sugar

1/8

teaspoon

salt

2 1/2

cups

mini marshmallows

2

cups

white chocolate chips

1/3

cup

chopped walnuts

1/3

cup

dried cherries, coarsely chopped

1

teaspoon

vanilla extract
Instructions
Line an 8 x 8 baking pan with heavy duty foil; grease the foil with 1/2 tablespoon softened butter.

Measure 2 tablespoons butter, evaporated milk, sugar, and salt in a medium saucepan. Bring to a boil over medium heat, then boil for 4 to 5 minutes, stirring constantly.

Remove from heat and stir in marshmallows and white chocolate chips; keep stirring until marshmallows and white chocolate chips are completely melted. Quickly stir in walnuts, cherries and vanilla extract.

Pour into prepared pan. Chill in the refrigerator for at least 4 hours or until firm. Cut into squares.

Store in the refrigerator, wrapped in plastic.
Did you like this recipe for White Chocolate Cherry Fudge? Then give these a try too. Maple Walnut Fudge, Candy Cane Fudge and White Chocolate Candy Corn Fudge.
This recipe was was made with Nestle.