White Bean Spinach Soup
We may earn money or products from the companies mentioned in this post.
White Bean Spinach Soup
Serve this old-fashioned soup with thick slices of buttered country-style bread. White Bean Spinach Soup is great to serve anytime. It's a light and delicious soup that's good for you too. The perfect soup to serve on a cold, winters day. Made with dried, soaked great northern beans, low sodium chicken broth, (substitute vegetable stock for a meatless option) fresh baby spinach, orange sweet peppers, celery, carrots and onions this soup is a fantastic dinner option if you're watching calories.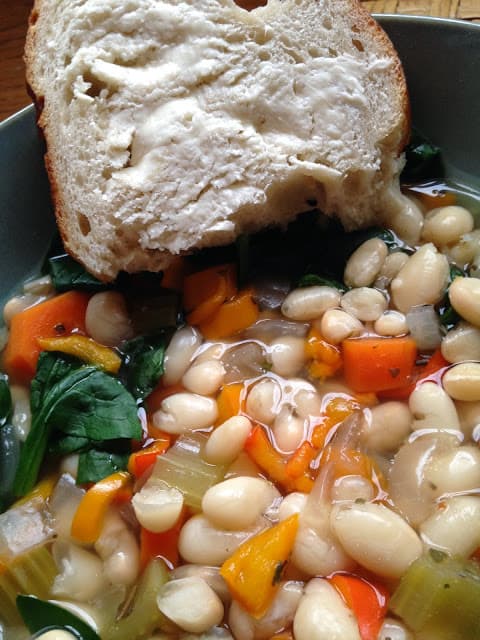 Dried Beans
Great Northern beans are a large white bean that resembles the lima bean in shape but has a delicate, distinctive flavor. They're grown primarily in the Midwest and are generally available dried. As with other dried beans, they must be soaked before cooking. They're particular popular in baked bean dishes and can be substituted for any white beans in most recipes.
For White Bean Spinach Soup we used great northern beans from Camellia. Camellia Brand Great Northern Beans are cream-colored, have a delicate, nutty flavor are are popular in soups, stews and casseroles. They can be mixed with pinto beans or served as a substitute for navy beans and cannellini beans. Like all beans, Camellia's Dried Beans are non-GMO, gluten-free and meet the "Hayward Standard" the name growers give bean quality standard.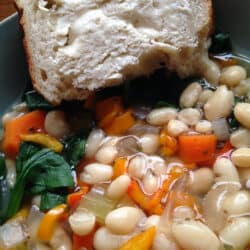 White Bean Spinach Soup
Ingredients
1

cup

dried great northern beans, sorted and rinsed

6

cups

water to cover beans

8

cups

water for soup

4

cups

lower-sodium chicken broth

2 1/2

cups

fresh baby spinach leaves*

3

mini

orange sweet peppers, sliced

2

medium

carrots, peeled and sliced

1

small

sweet onion, diced

3

cloves

garlic, minced

2

stalks

celery, diced

3

bay leaves

2

teaspoons

dried oregano leaves

1

teaspoon

dried sage leaves

1/2

teaspoon

each salt and pepper
Instructions
In a large soup pot, combine the soaked beans with 8 cups water.

Bring to a boil, lower the heat and simmer covered for 2 to 2 1/2 hours or until beans are tender. Do Not Drain Water. Add to the cooked beans; chicken broth, 2 cups spinach leaves, sweet peppers, carrots, onion, garlic, celery, bay leaves, oregano, sage, salt and pepper. Simmer until veggies are tender. Discard bay leaves. Using a fork, slightly mash some of the the beans against side of pan. Before serving, divide remaining 1/2 cup baby spinach leaves between soup bowls. Ladle hot soup into bowls.
Beans:
Quick-soak method:
In a large saucepan, combine beans and 6 cups water.
Bring to a boil.
Lower the heat and simmer, uncovered, for 2 minutes.
Remove from heat. Cover and let stand for 1 hour.
Overnight-soak method:
Combine beans and 6 cups water in a large glass bowl.
Let stand in a cool place at least 8 hours or overnight.  (I like to use the overnight method.)
Drain and thoroughly rinse beans.
Recipe Notes
Try these two sensational recipes: Pork Chops with Mushroom Risotto  and  Grilled Peppers and Portobello Mushrooms.  For this recipe we used pre-washed, packaged baby spinach leaves.
Did You Know? Do some taste-testing of various brands of Dijon mustard. Not only do they vary in color, from bright yellow to brownish yellow, but their flavor vary as well.