Watermelon with Balsamic Reduction
We may earn money or products from the companies mentioned in this post.
Watermelon with Balsamic Reduction
Just when you think you couldn't possibly improve on something, a recipe comes along and completely changes your mind. This is one such recipe. Watermelon with Balsamic Reduction is absolutely fantastic:) Balsamic vinegar reduction becomes thick, sweet and syrupy. It doesn't taste anything like plain balsamic vinegar, so even people who don't necessarily like balsamic vinegar, let's say someone like Kim:) will most certainly like balsamic vinegar reduction. Balsamic vinegar reduction is super duper simple to make. A good rule of thumb to follow is: 1/4 cup balsamic vinegar to 1 tablespoon packed brown sugar. Simply stir together the vinegar and brown sugar in a small saucepan. Heat over medium to medium-high heat until nice and bubbly. Simmer for 6 to 8 minutes, stirring constantly. Cool and drizzle over watermelon.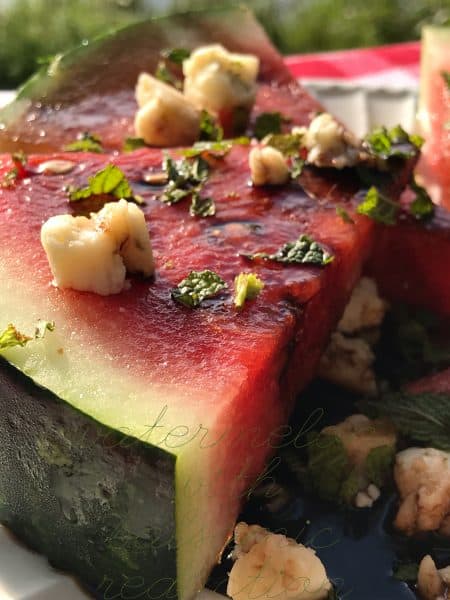 Fresh Mint
I can't stress enough the importance of using fresh mint in this recipe. Mint and watermelon is a match made in heaven and this simple recipe showcases that fact. I'm lucky to grow fresh mint so I always have mint on hand. If you don't grow mint, don't fret, it's easy! Plant mint in a large flower pot and set out on a porch or patio in full sun. Water accordingly and pinch off or cut off what you need using a scissors. One thing to remember about mint, do not, never ever, plant mint in your garden. Mint is super invasive and will take over your garden, fast! Mint grows from long tap roots that spread under ground, making it highly invasive. It can take over your garden quickly. For that reason, it's best to grow mint contained in a container.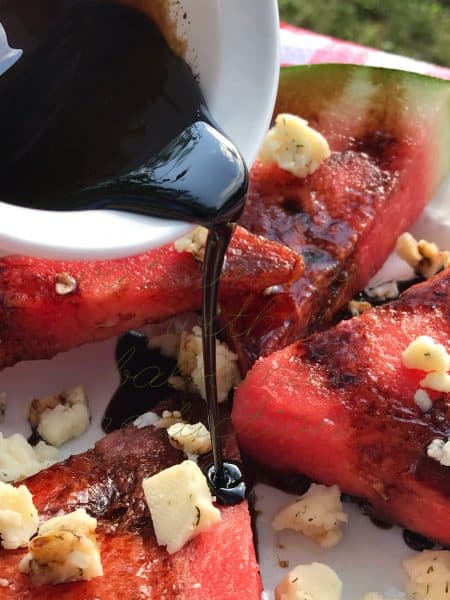 A Word About Watermelon
Native to Africa, the watermelon is considered less sophisticated than other types of melons because it lacks flavor complexity and has a watery texture. But there are those who wouldn't trade a slice of watermelon on a hot summer day for anything. Though there are many watermelon varieties, they all share the characteristic sweet, juicy, crisp flesh. Watermelons come in a variety of shapes and colors, with rinds ranging from solid-colored to striped. The seeds may be speckled or solid and variously colored, black, brown, green, red or white. Seedless watermelons actually do, more often than not, have a few scattered seeds. What seeds there are, however, are small, soft and edible. All parts of the watermelon can be used. Asians love the seeds roasted and the pickled rind is a favorite in many parts of the world. If you're interested in finding out more about watermelons and other types of melons there are some excellent online resources.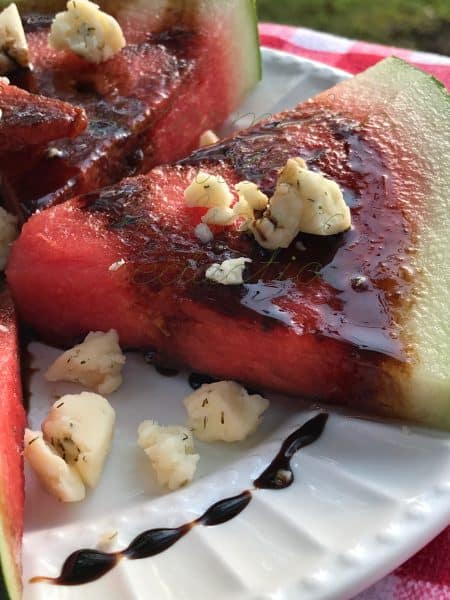 The Cheese
The cheese you choose to top your watermelon with is entirely up to you. Goat cheese, feta cheese, blue cheese, or gorgonzola cheese all work nicely. Since the only cheese I had in my refrigerator was a block of Dill Havarti cheese, that's what I went with. You don't need much cheese, a few crumbles really per watermelon wedge but the cheese will add an extra layer of flavor. Havarti is a Danish cheese that is mild yet tangy when young but as the cheese ages the flavor intensifies and sharpens. Havarti can be plain or flavored with any of a variety of seasonings including dill, caraway seeds, chives, jalapeño peppers and various herbs and spices.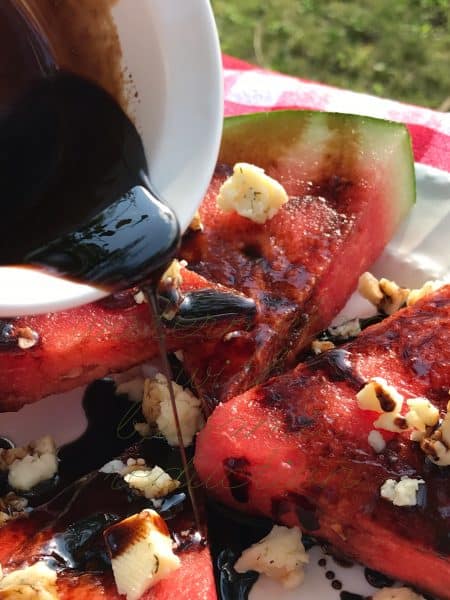 Simple Sweet Watermelon Salad and Watermelon Rind Pickles are two examples of delicious recipes made with that cool and refreshing summertime  favorite, Watermelon.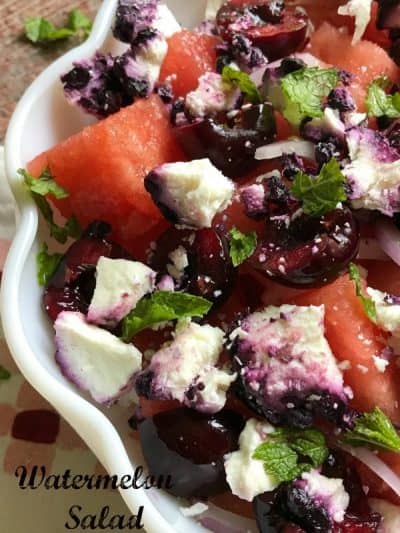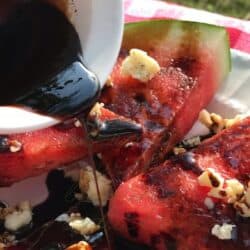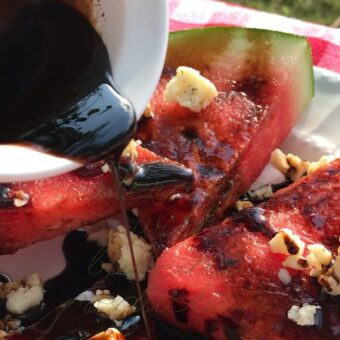 Watermelon with Balsamic Reduction
Ingredients
1

large

watermelon

1/4

cup

balsamic vinegar

1

tablespoon

packed brown sugar

1/2

cup

dill havarti cheese, crumbled

1/4

cup

fresh mint leaves, coarsely chopped
Instructions
In a small saucepan, stir together balsamic vinegar and packed brown sugar until sugar dissolves. Heat over medium heat until bubbly. Simmer, stirring constantly until vinegar mixture becomes thick and syrupy, 6-8 minutes. Set aside to cool.

Cut watermelon in half. Cut thick slices of watermelon; cut each slice into 4 triangles.

Arrange watermelon triangles on a serving platter. Drizzle with balsamic reduction, sprinkle with cheese and mint.
Nutrition
Serving:
1
g
,
Calories:
251
kcal
,
Carbohydrates:
61
g
,
Protein:
5
g
,
Fat:
2
g
,
Saturated Fat:
1
g
,
Cholesterol:
2
mg
,
Sodium:
29
mg
,
Potassium:
863
mg
,
Fiber:
3
g
,
Sugar:
50
g
,
Vitamin A:
4365
IU
,
Vitamin C:
61.4
mg
,
Calcium:
74
mg
,
Iron:
2
mg