Watermelon Rind Pickles Rewind
We may earn money or products from the companies mentioned in this post.
Watermelon Rind Pickles Rewind
Watermelon Rind Pickles Rewind is a recap of the recipe I shared with you in late summer. Personally, I feel that watermelon rind pickles are more of a southern favorite than a northern favorite. Why do I say that? No one I know or have asked, has ever heard of  watermelon rind pickles. Very popular in the southern states, watermelon rind pickles can be found on tables at every occasion from backyard bbq's to church picnics.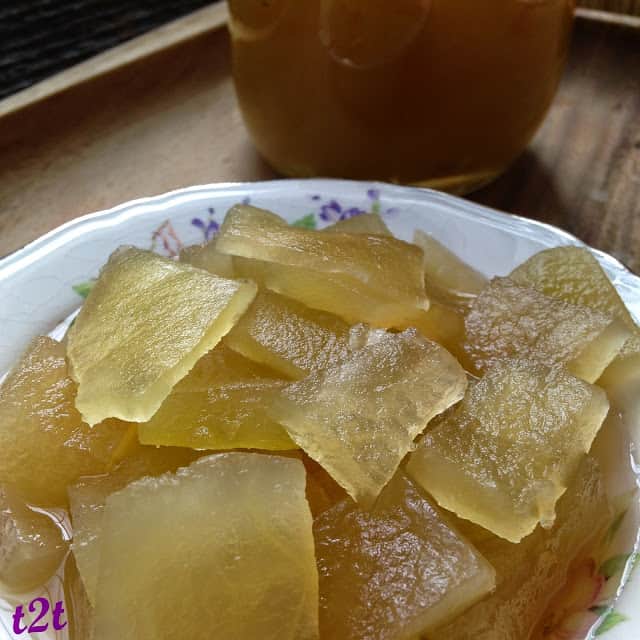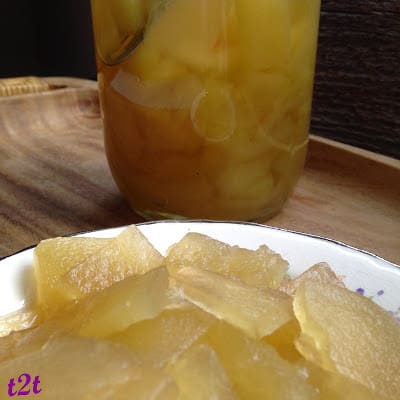 New to Us
In August of last year, I decided to 'can' Watermelon Rind Pickles for the very first time. I was first introduced to watermelon rind pickles when I worked at the Cracker Barrel Old Country Store. This recipe for watermelon rind pickles was found in a cookbook called: "Like Grandma Used To Make" by Reader's Digest for Taste of Home. In my August post, I stated that I would be serving the watermelon rind pickles during our Thanksgiving Day Dinner but our plans changed at the last minute. So on New Year's Eve we decided to open a jar. Not knowing what to expect, we each sampled a piece.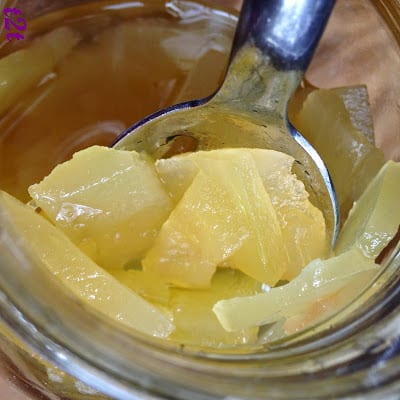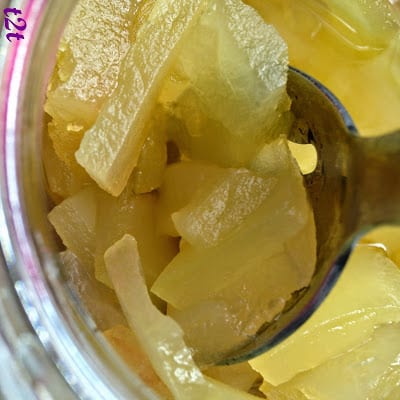 Sweet, Crisp and Fruity
The watermelon rind pickles didn't taste anything like a pickle. As you might expect. Nor did they taste anything like a watermelon. Which you might also expect. The flavor of these watermelon rind pickles is similar to that of an apple or a pear, a cross between the two really. In my humble culinary opinion. Watermelon Rind Pickles have a texture that is crisp but very tender and soft not mushy. They have a natural sweetness, almost like applesauce. I'm not sure if all watermelon rind pickles taste this way, but this recipe made a very sweet, crisp, tender and delicious "pickle" Would I make this recipe again? Most definitely!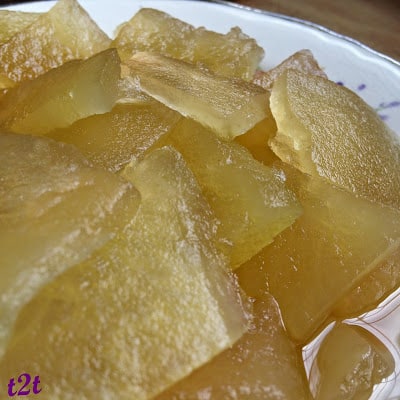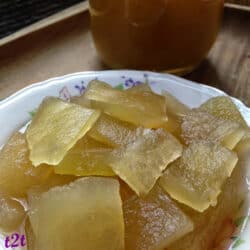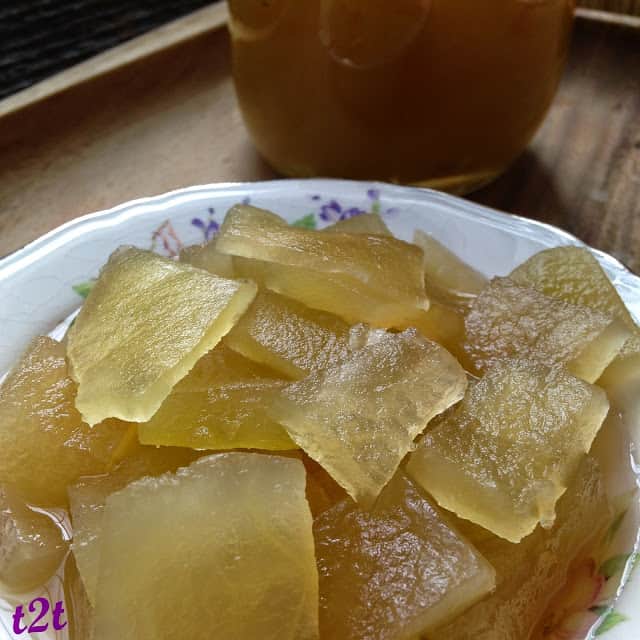 Watermelon Rind Pickles
Ingredients
5

pounds

watermelon rind

6

cups

water

1/3

cup

pickling salt

3

cups

sugar

1 1/2

cups

white vinegar

1 1/2

cups

water

2

tablespoons

pickling seasoning, make a bouquet garni

juice from 2 lemons
Instructions
Cut the green and pink parts from watermelon rind; discard green and pink parts. Cut the white part of the rind into 1-inch pieces; measuring 9 cups. Transfer the rind to a large bowl. Combine the 6 cups water and pickling salt; pour over watermelon rind (add more water, if necessary, to cover rinLet stand at room temperature for 8 hours or overnight. Drain; rinse rind.

In a large Dutch oven, cover watermelon rind with cold water. Bring to a boil. Lower heat and simmer, covered, for 20 to 25 minutes or until tender. Drain.

In a 6-quart to 8-quart kettle or Dutch oven, stir together the sugar, vinegar, the 1-1/2 cups water, and pickling bouquet garni. Bring to a boil. Lower the heat and simmer, uncovered, for 10 minutes.

Add the watermelon rind and lemon juice to the kettle. Bring to a boil. Lower the heat and simmer, covered, for 25 minutes or until rind is clear. Discard bouquet garni.
Recipes On Tap
Watermelon Rind Pickles and Watermelon Radish Salad. For canning directions go to: Watermelon Rind Pickles. 
For this recipe we used Morton Pickling Salt. After all, when it rains, it pours:)