Watermelon Radish Salad
We may earn money or products from the companies mentioned in this post.
Watermelon Radish Salad
This salad should be called Christmas salad because it has all of the classic Christmas colors, Red, Green and White. Red" from the Watermelon Radish, "Green" from the Cucumber and Avocado and "White" from the Garlic and Herb Goat Cheese. Watermelon Radish Salad is a tangy, spicy and sweet salad that is pure heaven. Different but so good.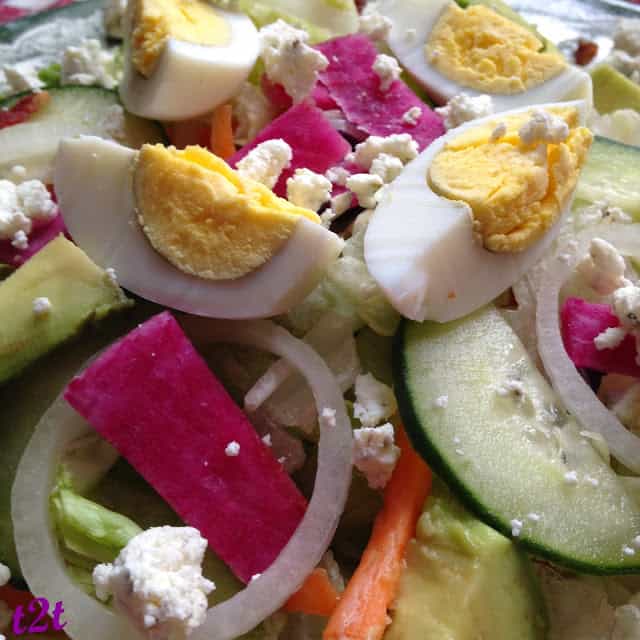 Stop at the Farm
I recently stopped at 
Nicolet Farms
to see if they had horseradish root. I found potatoes, beets, onions, and a a few other root vegetables instead. They didn't have any horseradish root but they did have black radishes and watermelon radish. I picked up a watermelon radish, a "new" to me vegetable. Not sure what to do with this "new" to me radish, so by the time I got home, I was hungry! Salad came to mind, and it turned out delicious.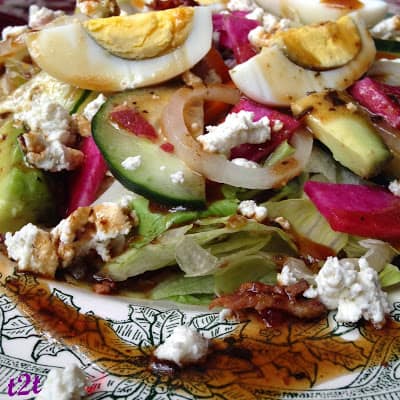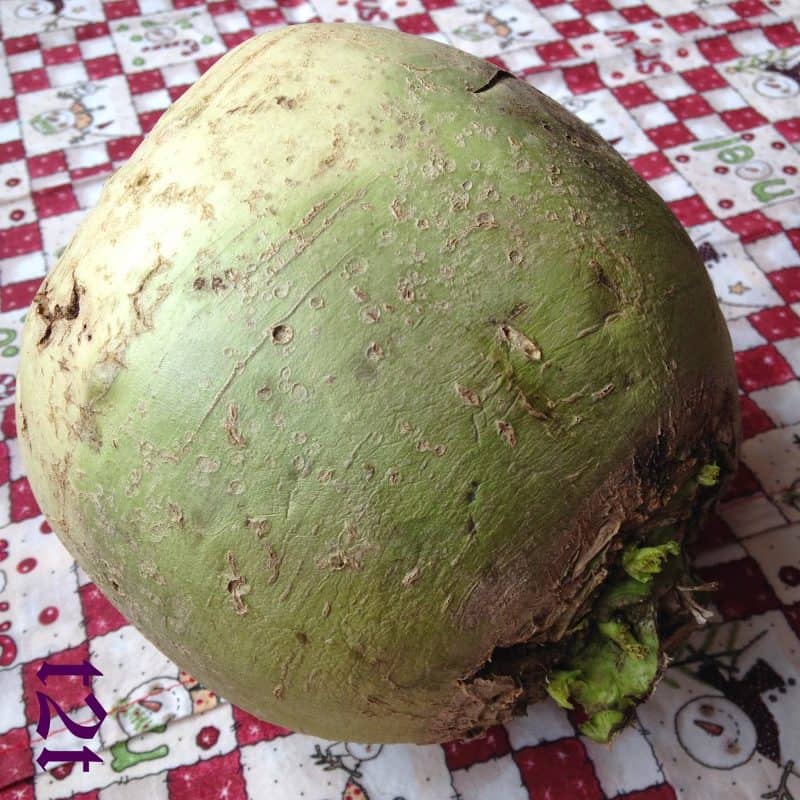 What is a Watermelon Radish?
A watermelon radish is a root vegetable. It's an heirloom Chinese Daikon radish and a member of the mustard family. It ranges in size from a golf ball to that of a soft ball. The radish I purchased is the size of a large soft ball! Sometimes called "Rose Heart Radish" or "Red Meat Radish." they're available year round, but are most commonly available in spring or late fall.
Watermelon radish are creamy white to light celery green on the outside and the inside has a rose to magenta color. Even though it's called watermelon radish, it doesn't taste like watermelon. It's called watermelon due to it's color contrast, which is similar to that of a watermelon. Sweet, crisp, refreshing, this new to me radish adds a splash of color to any salad. It was different yet subtle enough that it gave the salad a unique flavor.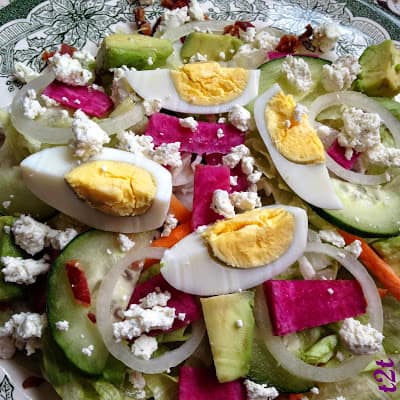 The Flavor
Watermelon radish has a mild, earthy flavor with only a slight peppery taste. It has a smooth crisp texture and a nice crunch. It can be served fresh or cooked, hot or cold. This colorful radish pairs well with fennel, apple, feta, chevre, bacon, white fish, cucumbers, mild salad greens, cooked eggs and vinaigrette.
This Salad
This delicious salad has a great blend of flavors, the avocado adds a nice creaminess, garlic and herb goat cheese adds a wonderful tang, bacon adds a rich smokiness and the crunchiness comes from the sliced onions, watermelon radish and cucumber. For me, egg wedges are a must on any salad.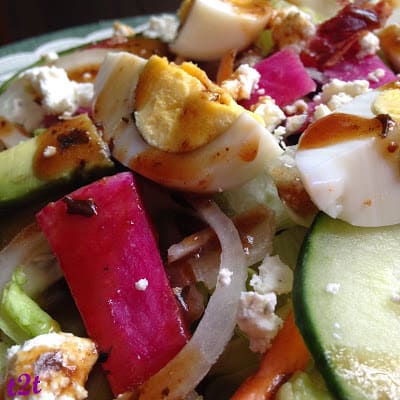 Few Secrets
The secret to making this salad special is thinly slicing the onion, watermelon radish, and cucumber. This allows the flavors to blend together, without allowing one flavor to take over. Balsamic Vinaigrette dressing is light and fruity perfect for this salad. You can make your own dressing or to save time, I like to use a bottled vinaigrette. My favorite for this salad is: Kraft Sweet Balsamic Vinaigrette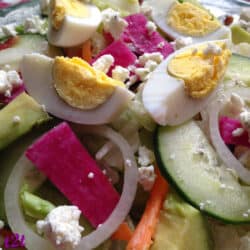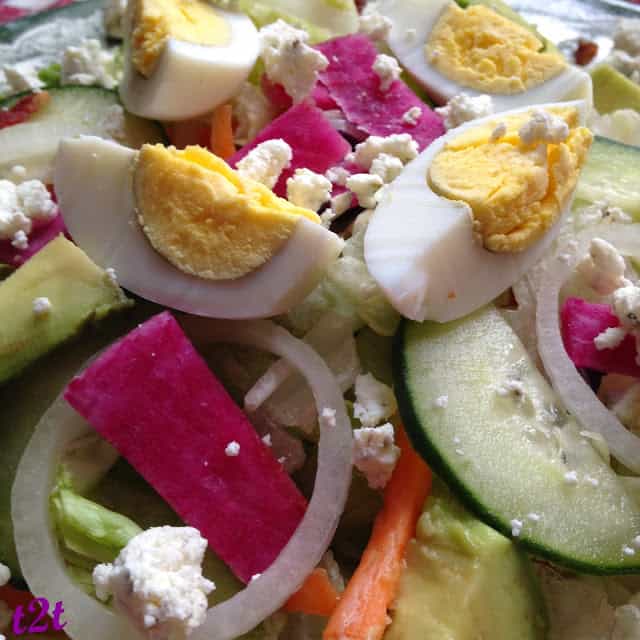 Watermelon Radish Salad
A delightful and delicious tasting salad.
Ingredients
1

bag

iceberg garden salad mix

1/2

small

onion

,

thinly sliced and separated into rings

1/2

small

watermelon radish, thinly sliced and cut into bite size pieces.

1

avocado, peeled and cubed

1

small

English cucumber, thinly sliced

8

slices

crispy bacon, crumbled

4

hard boiled eggs

,

peeled and each cut into 4 wedges

4

ounces

garlic and herb goat cheese, crumbled

sweet balsamic vinaigrette or vinaigrette of your choice
Instructions
Divide salad mix between 4 serving plates.

Top salad greens with onions watermelon radish, avocado and cucumber.

Divide crumbled bacon between plates, roughly 2 slices per serving.

Top salads with 1 quartered egg per serving, top each serving with crumbled garlic and herb goat cheese.

Serve with a Balsamic Vinaigrette or Vinaigrette of your choice.