Warm Peach Blueberry Shortcake
We may earn money or products from the companies mentioned in this post.
Warm Peach Blueberry Shortcake
I'm taking part in The Lang's Chocolates Keystone Pantry Allulose Recipe Challenge. For my participation in this recipe challenge, I received a 3 lb. container of Keystone Pantry Allulose to create my recipe. Warm Peach Blueberry Shortcake is a delicious recipe using Allulose. Peaches and blueberries are warmed in a Allulose simple syrup, while home-made shortcakes made with Allulose bake in the oven. Whipped cream is sweetened with Allulose and is the finishing touch on our Warm Peach Blueberry Shortcake.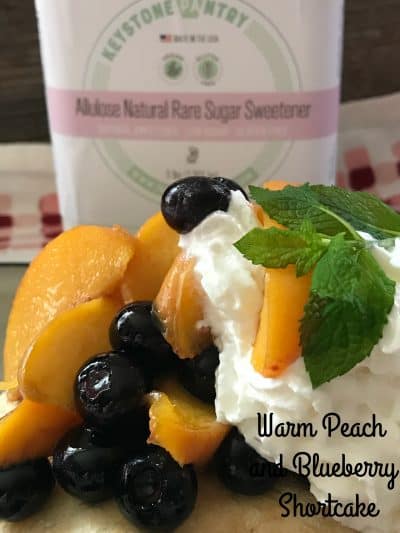 Understanding Allulose
Allulose is a rare natural sugar found in very small quantities in dates, figs, raisins and wheat. It is also present in very small amounts in familiar brown caramelized products including caramel sauce, maple syrup, and brown sugar. While a natural product it is produced industrially from starch. Allulose is better for you than using sugar. It is a very low-calorie natural sweetener, with 95 % fewer calories than sugar.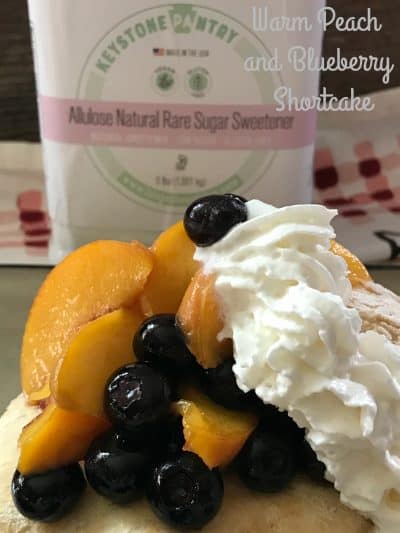 Benefits of Allulose
Allulose is not metabolized, so it is not a body fuel source. It doesn't spike blood sugar or insulin levels and has a very low Glycemic index. It has zero net carbs and some studies show it can reduce blood sugar levels. Only 21 calories per 100 grams, less than 1 calorie per teaspoon, that can help combat obesity and works with certain diets. (Keto, Paleo, Vegan)
Keystone Pantry Brand Allulose
To learn more about Allulose and to order Allulose online, go to Keystone Pantry. Allulose is available in both powdered/crystalline forms or as a liquid syrup. Confectionery products using Allulose are available from Lang's Chocolates and Keystone Pantry Products Please follow Langs Chocolates on all social media sites: Lang's Chocolates Facebook Page and Lang's Chocolates Instagram Page.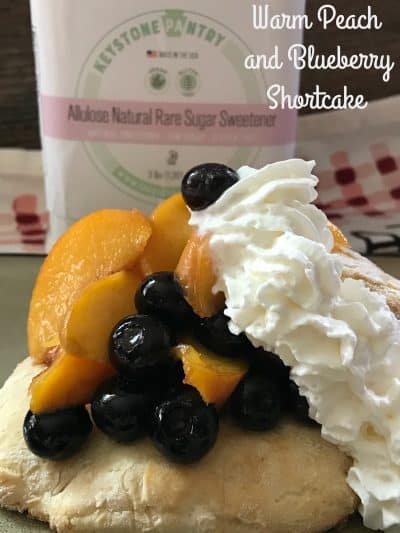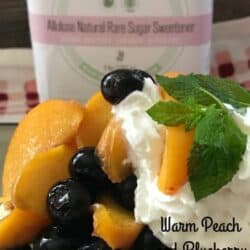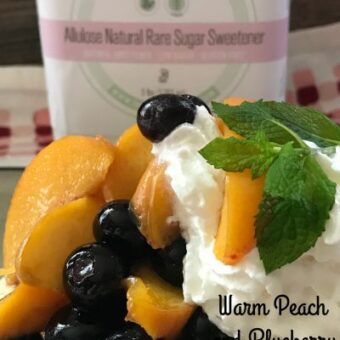 Warm Peach Blueberry Shortcake
Warm and Delicious. Peach Blueberry Shortcakes are made with Keystone Pantry Allulose Sugar Substitute.
Ingredients
2

pounds

ripe peaches, cut into slices

1/2

cup

sugar (Allulose)

1/4

teaspoon

ground nutmeg

1/2

teaspoon

almond extract

1

cup

fresh blueberries

2

cups

whipping cream

3

tablespoons

sugar (Allulose)

2 1/2

cups

all-purpose flour

1/4

cup

sugar (Allulose)

4

teaspoons

baking powder

3/4

cup

butter, cut into pieces

2

large

eggs, lightly beaten

1

cup

sour cream

1

teaspoon

vanilla extract

fresh mint, garnish
Instructions
Gently stir together peaches, sugar, nutmeg and almond extract in a medium saucepan; cook over medium heat, stirring often, 3 to 4 minutes or until sugar dissolves. Remove from heat, stir in blueberries, return to heat and cook an additional 3 minutes. Remove from heat. Set aside.

Beat whipping cream at medium speed with an electric mixer until foamy; gradually beat in 3 tablespoons sugar at high speed until stiff peaks form. Cover and chill.

Combine flour, 1/4 cup sugar, and baking powder in a large bowl; cut in 3/4 cup butter with a pastry blender or fork until crumbly.

Stir together eggs, sour cream, and vanilla until blended; add to flour mixture, stirring just until dry ingredients are moistened.

Turn dough out onto a lightly floured surface, and knead 10 times. Pat dough into a 9-inch square; cut into 9 (3-inch) squares. and place on a lightly greased baking sheet.

Bake at 450 degrees for 12-15 minutes or until golden; remove from oven. Split squares in half, horizontally.

To serve: Spoon fruit mixture evenly onto warm shortcake bottoms; cover with shortcake tops. Top with fruit and sweetened whipped cream. Garnish with fresh mint if desired.
Make strawberry "shortcake" differently and use chocolate Waffles instead. Chocolate Waffles with Strawberries