Venison Stock
We may earn money or products from the companies mentioned in this post.
Venison Stock
Venison stock is a great alternative to beef stock. If you have a hunter in your family or your hubby has friends that hunt, like mine does, have them set aside some meaty venison bones for you, so you can make this stock too. Venison stock can be used in any recipe where beef stock is called for. You can also use venison stock on its own to make wonderful soups, stew or sauces. Stop back in a few weeks when I will be sharing a recipe for Venison Vegetable Noodle Soup.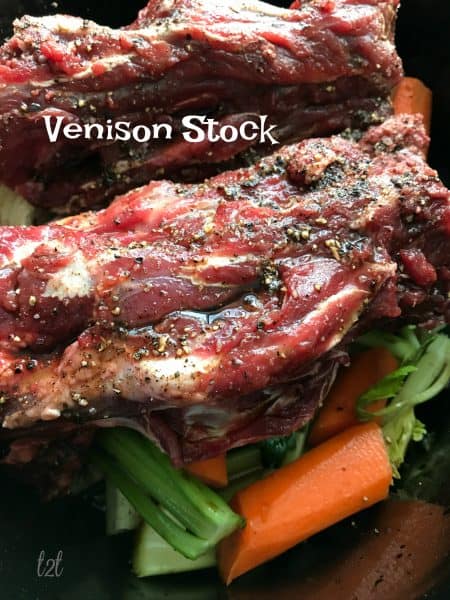 Nice and Easy
Making venison stock is as easy as making beef, turkey or any bone stock. Simmering  meaty bones in water with aromatic vegetables such as; celery, onions, and carrots. Adding salt, pepper, spices and/or bay leaves is really all there is to it. I always strain my stock with a double thickness of cheesecloth, let the it cool completely and skim off any fat that rises to the surface. I then freeze my broth until needed. This recipe calls for simmering the stock in a slow cooker or crock-pot. You can easily make this stock on top of the stove in a large stock pot or even in an instant pot, a.k.a. pressure cooker.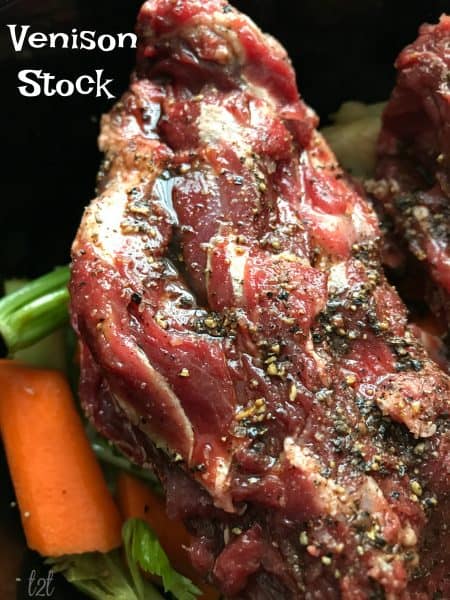 Homemade Stock
Once you taste homemade stock, chances are you won't go back to canned. Canned is okay in a pinch but most canned broth or stock is mainly water and salt. Homemade stock is packed full of flavor and the taste is delicious. Homemade stock can transform an ordinary recipe into a culinary masterpiece. If you are a fan of French Onion Soup, you have got to try it with homemade stock. It's out of this world! Hmm, I wonder what French Onion Soup would taste like if it was made with venison stock….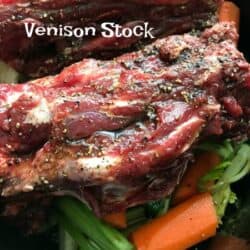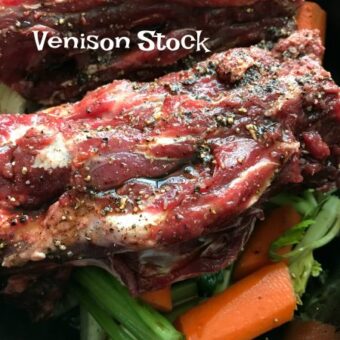 Venison Stock
Venison Stock adds a heartiness to soups, stews and sauce.
Ingredients
4

pounds

meaty venison bones

2

large

onions, sliced and quarted

3

large

carrots, peeled and cut into thirds

1/2

bunch

celery, rinsed and chopped

1/4

cup

Worcestershire sauce

1/4

cup

soy sauce

salt and pepper, to taste

3

bay leaves

water to cover
Instructions
Place all ingredients in 5 quart crock pot. Heat on high for 2 1/2 hours. Turn crock pot to low, add enough water to cover bones and vegetables. Cook on low for 6 to 8 hours.

Strain stock through several layers of cheesecloth, discard any solids, Let stock cool completely. Strain broth again through several layers of cheesecloth into a large plastic container. Freeze until needed.
Notes
*Depending on the size and quantity of your meaty venison bones, you may need to use two 5-quart crock-pots* *If you plan on freezing the broth before using, clean, ice cream pails work great*
Try this delicious recipe for Venison Pot Roast