Venison Pot Roast in Slow Cooker
We may earn money or products from the companies mentioned in this post.
Venison Pot Roast in Slow Cooker
Are you an Avid hunter? Do you know an avid? Are you looking for new and delicious ways to serve venison? Then give this recipe a try. Venison pot roast in slow cooker is made with onions, mushrooms, potatoes and carrots becomes tender and very flavorful. The gravy made with red wine and beefy onion soup is so delicious. Long hours of slow cooking really makes this meal sensational. Slow Cooker Oxtail Stew is another slow cooker meal you'll want to try.
In Culinary Terms
In culinary terms, "Venison" refers to meat that can be from deer, elk, moose, caribou and antelope. Elk and moose have a mild, almost sweet, beef flavor while deer venison has a more gamey flavor and is very lean. This recipe calls for a venison roast but you can substitute a beef roast or any other "venison" roast if you prefer. This recipe for venison roast made in the slow cooker will change your mind about venison. It's super delicious!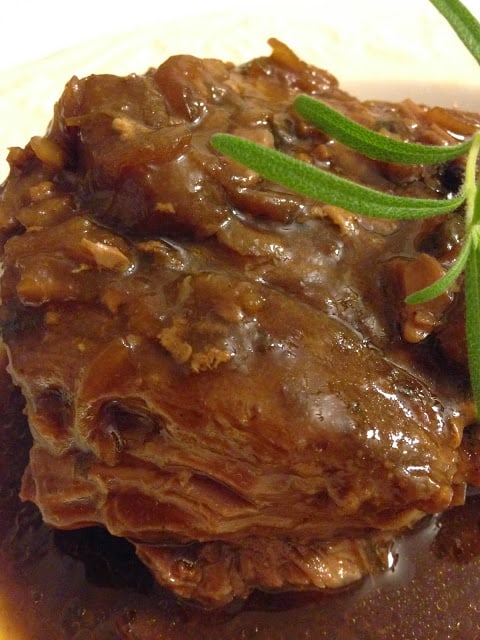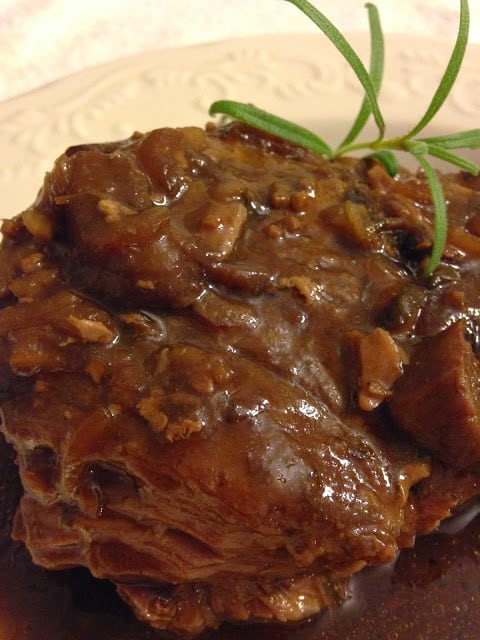 Slow Cooker
This recipe needs to cook in the slow cooker for 8-10 hours, making it the perfect "make ahead" meal for those busy Saturdays filled with winter fun.
You and your family will come home to the wonderful aroma of this delicious venison roast cooking. You can serve tender slices of roast, along with  mashed potatoes or extra wide buttered egg noodles. Spoon the delicious gravy over all, add a steamed vegetable and you'll have a memorable meal.
Up Next: Roasted Potatoes and Sweet Potatoes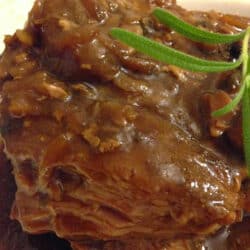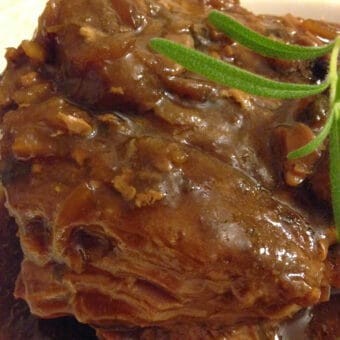 Venison Roast in Slow Cooker
The perfect recipe to feature venison roast.
Ingredients
3 1/2 to 4

pounds

venison roast

5

whole

cloves garlic

3

tablespoons

flour

1/2

teaspoon

salt

1/2

teaspoon

pepper

1

teaspoon

garlic powder

1

teaspoon

onion powder

1

teaspoon

dried thyme

2

tablespoons

oil

1

medium

onion, chopped

8

ounces

mushrooms, sliced

2

bay leaves

1

package

beefy-mushroom soup mix (dry)

1

cup

apple juice or red wine

1

cup

beef broth

2

teaspoons

dried rosemary, crushed

1

tablespoon

Worcestershire sauce

2

tablespoons

heaping tomato paste

6

medium

carrots, peeled and cut in half

6

potatoes, peeled and left whole
Instructions
Cut 5 deep slits in roast. Place a garlic clove in each slit. Pierce roast in several places with a metal meat fork.

Combine in a large resealable plastic baggie: flour, salt, pepper, garlic powder, onion powder and thyme. Rub mixture over entire roast. Cover and refrigerate for 2 hours.

Drizzle 2 tablespoons oil in the bottom of a slow cooker. Place roast in slow cooker. Add chopped onion, sliced mushrooms and bay leaves. Sprinkle beefy-mushroom soup mix over venison mixture.

In a medium bowl, whisk together apple juice or red wine, beef broth, rosemary, Worcestershire sauce and tomato paste. Pour over meat mixture. Add carrots and potatoes.

Put on the cover and turn slow cooker to low Cook 8 to 10 hours.
For this recipe we used Liptons Beefy Mushroom Soup