Vegetable Bundles
We may earn money or products from the companies mentioned in this post.
Vegetable Bundles
Vegetable bundles are perfect for Easter or any Holiday dinner. Super easy vegetables bundles are perfect anytime. You can assemble these bundles before your guests arrive, then cook them in a matter of minutes. Everyone gets their own bundle of vegetables. Right before serving, drizzle the vegetable bundles with a thick balsamic vinegar reduction. A balsamic reduction will add so much flavor and brilliant color.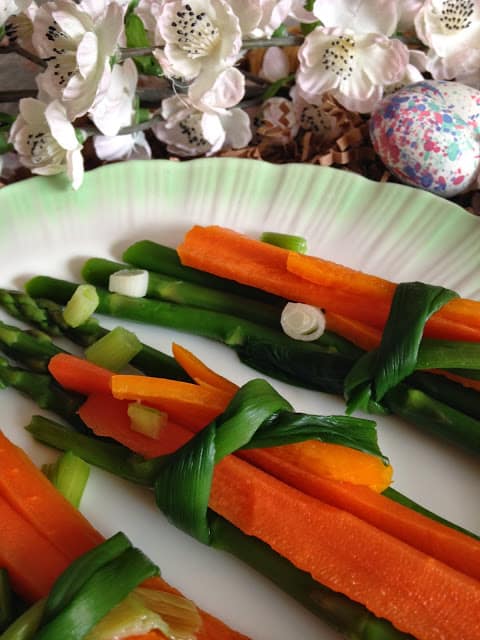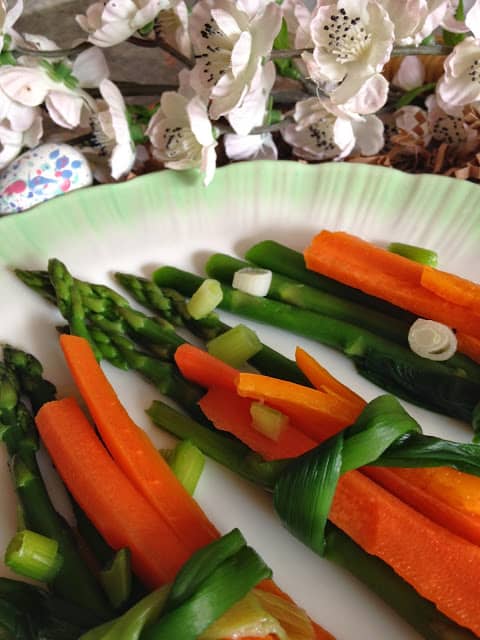 Balsamic Vinegar
Balsamic Vinegar hails from Italy made in and around the areas of Modena and Reggio Emilia. It's produced from white Trebbiano grapes, the 'must' of which is cooked and concentrated until a deep, dark and rich. The vinegar continues to gain its dark color and pungent sweetness from a lengthy period of aging in barrels of various woods, such as chestnut, juniper, and mulberry. We made our balsamic vinegar reduction using World Market Balsamic Vinegar
Balsamic Reduction
It's super easy to made balsamic reduction. No fancy ingredients needed, only 1 cup of good quality balsamic vinegar. That's it! The directions aren't difficult at all either. Simply pour balsamic vinegar into a small saucepan. Turn heat to medium high and bring vinegar to a boil. Once boiling, reduce to simmer and let simmer for about 5-7 minutes or until vinegar has reduced down. Stir occasionally. It has reduce down if it coats the back of a spoon. Let cool completely. Store in an air-tight bottle in the refrigerator.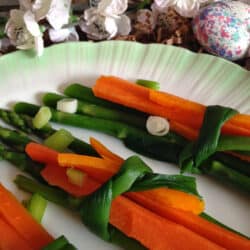 Vegetable Bundles
Vegetable Bundles for each serving. Everyone will get their own vegetable bundle.
Ingredients
4 to 6

green onions

1

cup

water

bowl of ice water

1

pound

thin asparagus, trimmed

1

medium

sweet red pepper, julienne

1

medium

sweet yellow pepper, julienne

2

medium

medium carrots, julienne

1

cup

chicken broth

1/2

cup

white wine

4

tablespoons

butter

1/3

cup

fresh grated Parmesan cheese
Instructions
Trim both ends of onions; cut the green tops into 7-inch lengths.

In a saucepan, bring 1 cup water to a boil. Add onion tops; boil for 1 minute or until softened. Drain and immediately place onion tops in ice water. Drain and pat dry. Chop white portion of onions and set aside.

Divide asparagus, peppers, and carrots into 12 bundles. Tie each bundle with a blanched green onion top. In a large skillet, place chicken broth, white wine and chopped onion. Bring to boil. Add vegetable bundles. Cook, uncovered, for 5 to 7 minutes or until vegetables are tender and liquid is reduced by two-thirds. Carefully remove bundles with a slotted spoon to a serving plate. Add butter to skillet; cook and stir until melted. Spoon over bundles.

Sprinkle with grated Parmesan cheese.

Yield: 12 bundles.
Nutrition
Serving:
1
g
,
Calories:
74
kcal
,
Carbohydrates:
5
g
,
Protein:
2
g
,
Fat:
5
g
,
Saturated Fat:
3
g
,
Cholesterol:
12
mg
,
Sodium:
161
mg
,
Potassium:
201
mg
,
Fiber:
2
g
,
Sugar:
2
g
,
Vitamin A:
2555
IU
,
Vitamin C:
36.8
mg
,
Calcium:
57
mg
,
Iron:
1.2
mg
*Use asparagus spears that are 1/4 inch in diameter, if larger than that, cut spears in half. Fresh Asparagus 101.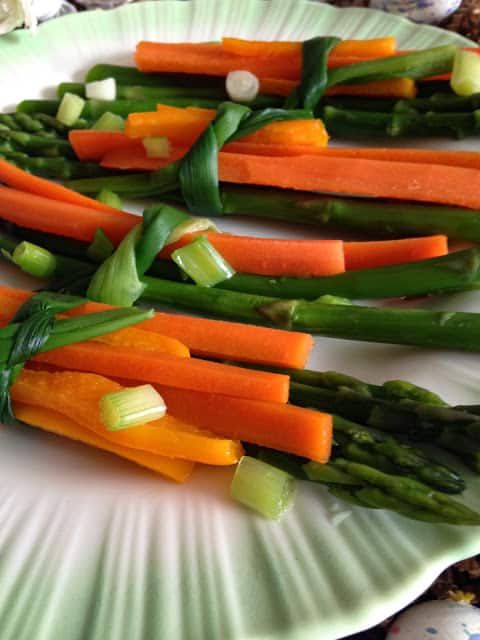 Kitchen Tip~ To quickly thaw frozen spinach, place in colander; rinse with cool water until thawed. Drain well, squeeze dry with paper towels.