Ultimate Grilled Potatoes Recipe
We may earn money or products from the companies mentioned in this post.
Ultimate Grilled Potatoes Recipe
I don't know that any side dish in the world can beat perfectly grilled potatoes? Fluffy on the inside, golden-brown and crispy on the outside. This recipe makes the most beautifully grilled potatoes for guaranteed incredible results every time. Not only are these potatoes grilled to perfection, but they're infused with my favorite herb in the whole world: fresh rosemary. If you don't have fresh rosemary, you can use dried herbs instead. You'll need about half the amount of dried rosemary as fresh. Ultimate Grilled Potatoes Recipe is so good, you'll want to make again and again.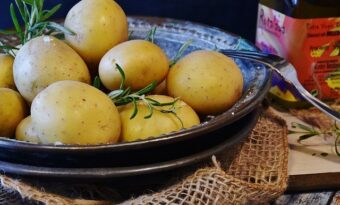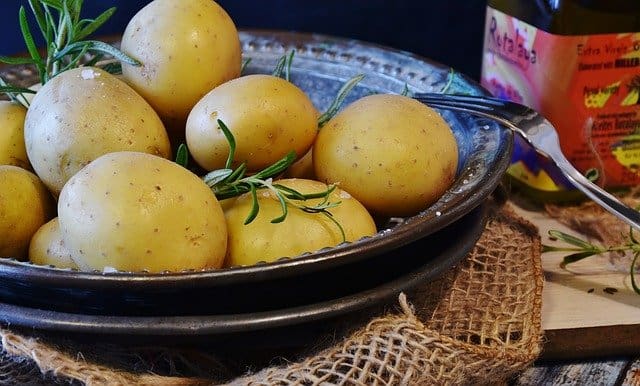 Flavors that Pop!
Ultimate Grilled Potatoes are perfectly colored and seasoned with smoked paprika. You can also use regular paprika, but I absolutely adore the extra flavors of smoked paprika and use it in almost every dish I cook. To really make the flavors in this ultimate grilled potato recipe pop, I also add plenty of garlic and beautifully grilled onions.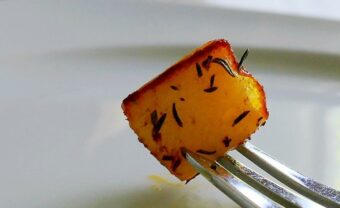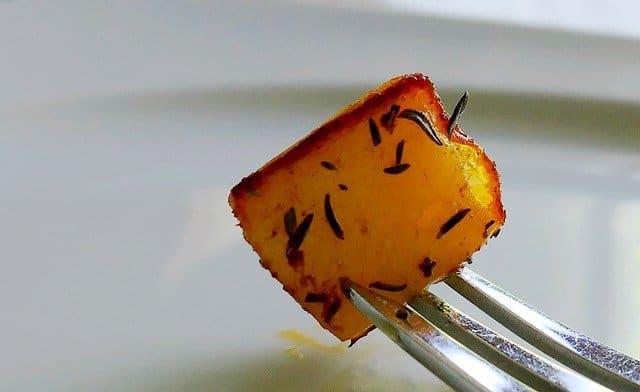 This creates a flavor sensation that nobody will be able to resist! Grilled potatoes make the perfect side dish to pretty much any main course. I've even been known to make myself a naughty plate of them to snack on in front of the telly – move over, popcorn!
Healthy Too..
In addition to being absolutely delicious and indescribably morish. Grilled potatoes are surprisingly healthy too, coming in at just 99 calories and 3 Weight Watchers Freestyle SP per serving! They're also gluten-free and, because I don't use butter in my grilled potatoes, they're even vegan-friendly! So nobody needs to be left out when serving this incredible side dish.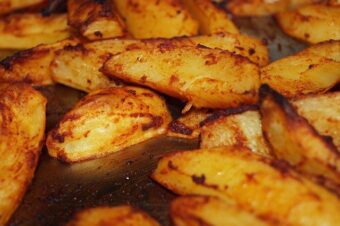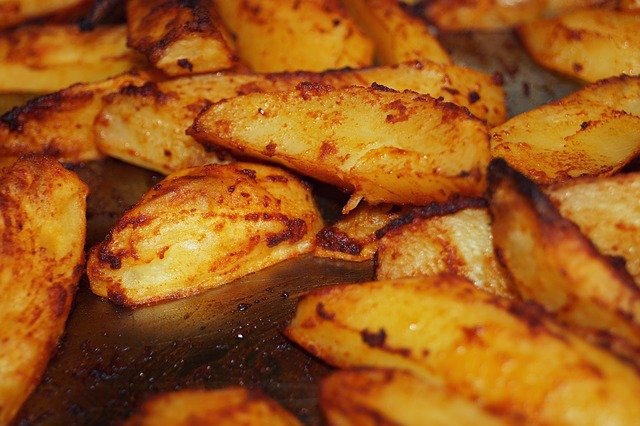 This recipe is absolutely amazing and almost doesn't need an entrée! However, if you want to make a meal out of it, serve grilled potatoes with everything from grilled chicken kababs to grilled salmon. Vegetarians can also enjoy it with grilled zucchini or even alongside veggie (or vegan) lasagne.
Great Holiday Side Dish
Ultimate grilled potatoes are such a firm favorite in my household, that I'm always asked to bring them to family gatherings and social events. I generally like to make the potato mixture at home, wrap it in foil, then bring my foil potato parcel with me. I take it to Thanksgiving, Christmas, or any other social event and cook them there. Often, the potatoes are eaten up within minutes of unwrapping – even I have to be quick to get any, no matter how much I make!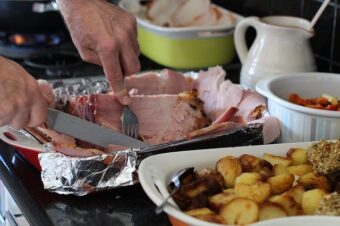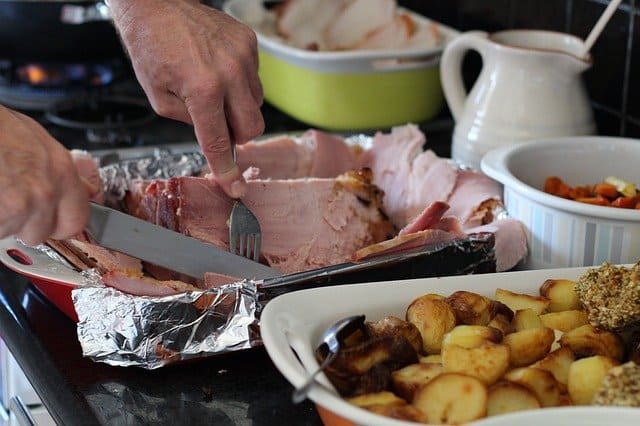 Grilled Potatoes with Onions, Garlic, Rosemary, and Smoked Paprika Recipe
These grilled potatoes are so tasty they can be eaten on their own or with any main course. You won't be able to get enough!
Ingredients
1

lb

russet potatoes, cut into 1" chunks

1

medium onion, cut into small chunks

6

cloves

garlic, peeled and sliced into thirds

1

tablespoon

plus 1 teaspoon olive oil

3

teaspoons

fresh rosemary, leaves removed

,

(use half if you're using dried rosemary)

½

teaspoon

smoked or regular paprika

½

teaspoon

salt

½

teaspoon

ground pepper
Instructions
Preheat the grill to medium while you prep your veggies.

Add the potatoes, onion, garlic, and olive oil to a large bowl and toss to coat. Add the rosemary, smoked paprika, salt and pepper. Toss thoroughly to coat.

Take two foil pieces (24" long each) and form an X shape, overlapping the two pieces in the middle.

Place the potato mixture (herbs and all) into the middle of the foil X, rearranging to ensure everything is an even height (not a pile).

Wrap the foil around the potatoes, pinching in the middle to create a seal. Take the third piece of foil and wrap it around the potato package to prevent any drips.

Place the potato package on a cast-iron griddle and grill for 20 minutes.

After 20 minutes, flip the package over and cook for another 20 minutes.

Check the potatoes are tender and golden brown, cook for longer if needed, or serve hot.

Be careful when opening the foil package, as hot steam will escape and can burn!

If your main course needs a little more time, leave the potatoes in the foil but off the heat – they will stay warm for up to 15 minutes!

Nutritional Information
Notes
Per 0.5 cup serving:
• Calories: 98.8 kcal
• Carbohydrates: 16.4g
• Protein: 0.4g
• Fat: 3.1g
• Saturated Fat: 0.4g
• Sodium: 197.7mg
• Fiber: 0.6g
• Sugar: 0.9g
Because I don't use butter when making my grilled potatoes, this recipe is suitable for vegans, so literally, nobody needs to feel left out or forced to ignore the irresistible aroma these potatoes give off! The recipe is even gluten-free for extra-inclusivity.
Nutrition
Calories:
93
kcal
,
Carbohydrates:
17
g
,
Protein:
2
g
,
Fat:
2
g
,
Saturated Fat:
1
g
,
Polyunsaturated Fat:
1
g
,
Monounsaturated Fat:
2
g
,
Sodium:
199
mg
,
Potassium:
360
mg
,
Fiber:
1
g
,
Sugar:
1
g
,
Vitamin A:
86
IU
,
Vitamin C:
7
mg
,
Calcium:
21
mg
,
Iron:
1
mg
More Potato Recipes
Images used from Pixabay