Twenty-four Hour Salad
We may earn money or products from the companies mentioned in this post.
Twenty-four Hour Salad
Seven Layer Salad, Overnight Salad, 24 Hour Salad, or Twenty-Four Hour Salad. This salad goes by many different names but whatever the name it goes by and whatever name you call it, it's delicious. It's the perfect summertime make ahead salad that everyone seems to love, even kids! Twenty-four hour salad is the perfect salad to bring along to your upcoming 4th of July celebrations. It's great to serve at football parties too.
Glass Punch Bowl
Twenty-four hour salad looks great served in a large glass bowl or even better yet…an old, inexpensive punch bowl found at any thrift store or at your local Goodwill store. You might even come across a punch bowl at a rummage sale, if your into that sort of summertime activity. I bought my super large, glass punch bowl at Goodwill a few years ago (without the cups) for $1.99.
Fill it, Bring It And
What do I mean by Fill It, Bring It and Leave It? When I get invited to a party, whether it's a super bowl party, baby shower, birthday party or 4th of July party and I'm asked to bring a dish to pass, I fill it, bring it and leave it. The first thing I do is decide what I'm going to bring, then I head to the nearest Goodwill and buy the correct size "vehicle" I will need for my dish. Goodwill Industries Vehicle in this sentence means bowl, platter, dish etc.
Leave It
Fill the "correct size vehicle" with your "dish to pass," bring your "dish to pass" to the party you've been invited too and when you're ready to leave the party, leave the dish with whomever is hosting the party. You'll no longer have to worry about getting your pan, bowl etc. back nor does the host or hostess have to worry about getting your bowl etc. back to you. Do what I do, just say, "Don't worry about the dish, just keep it:)"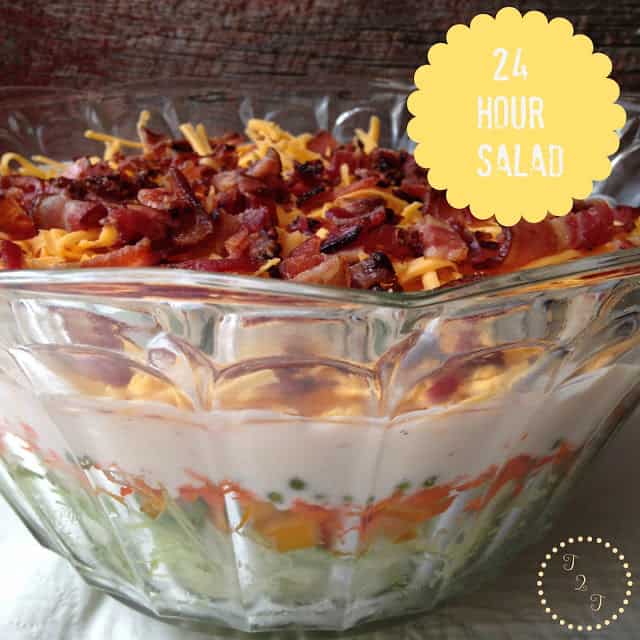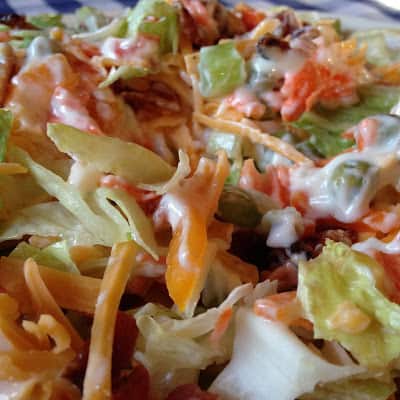 24 Hour Salad
Ingredients
6

cups

shredded iceberg lettuce

1/2

cup

chopped celery

1/2

cup

chopped green pepper

1/2

cup

chopped red onion

1/2

cup

frozen green peas, thawed or fresh

1/3

cup

julienne water chestnuts

1/3

cup

julienne radishes

1

cup

shredded carrots

1 1/2

cups

miracle whip salad dressing

2

tablespoons

white sugar

1 to 2

tablespoons

white vinegar

1/4

teaspoon

salt

1/8

teaspoon

pepper

2

cups

shredded extra sharp cheddar cheese

1/2

pound

bacon, crisp and crumbled
Instructions
Mix together mayo, sugar, vinegar, salt and pepper. Set aside.

In a large glass bowl, layer vegetables in order given.

Spread mayo mixture over the top and spread mixture to the edges of the bowl to seal.

Sprinkle with cheddar cheese and bacon.

Cover bowl with plastic wrap and refrigerate overnight or up to 24 hours.
Looking For More?
Try this super delicious salad Russian Beet Salad.
Recipe Note:
If you have a super large, glass punch bowl then you're in luck. You can fill your glass punch bowl with a multi-layer trifle, dirt cake or even potato salad. Gelatin salads work well in glass bowls too. The next time you're out doing some thrift shopping, keep your eyes peeled for one of these large glass bowls. You can still pick them up for cheap but I've noticed that over the past few years, they're becoming increasingly harder to find and more expensive.