Turtle Crispy Bars
We may earn money or products from the companies mentioned in this post.
Turtle Crispy Bars
Turtle Crispy Bars are fast, easy and delicious, just like all crispy treats. Marshmallows, caramel, chocolate, crispy rice cereal and chopped pecans. Hey, What's not to like? I mean come on, you have regular crispy treats topped with a caramel sauce and drizzled with chocolate. Three layers of yum. A package of caramels are melted with sweetened condensed milk, butter and pecans then drizzled over the crispy treats. Now for the icing on the crispy treats. Milk chocolate chips and butter are melted together and frosted over the caramel layer. The remaining pecans are tossed on top. Sounds delicious, doesn't it!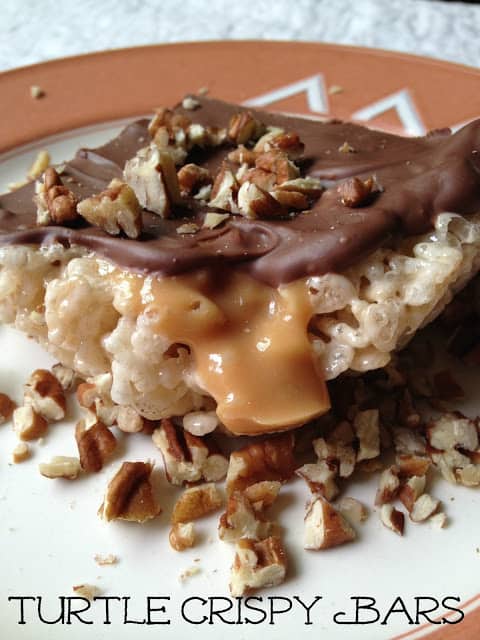 Marshmallow Treats History
Mildred Day, needed a fundraiser which would allow her Campfire Girls the ability to raise a large amount of money for their summer camps and activity programs. The Kellogg brand was popular in her area of Battle Creek, Michigan. The creative scout leader has a copy of the "Puffed Rice Brittle" recipe, and adapted the concoction to add sweeter flavor to the treats. During that era, Campfire Girls also sold "Campfire Marshmallows" in a box, similar to the Girl Scout Cookie drives of today.
Campfire Leader Starts a Sensation
In 1941, the Kellogg Company added the recipe to the back of the box of Rice Krispie cereal box. The company trademarked the name and recipe for this simple dessert. The recipe was a fast favorite among both children and price-conscious mothers. The treats that were created by a clever Campfire Girls leader to raise money for her troop soon became a national sensation.  Rice Krispie Marshmallow Treats are just as popular today as they were in 1941.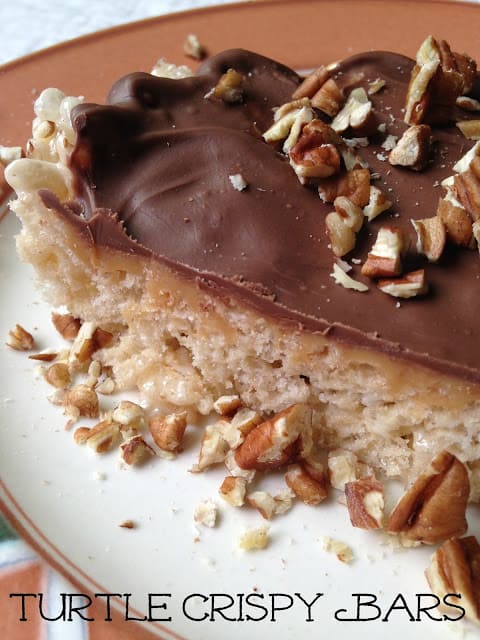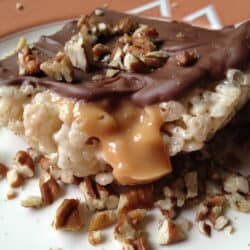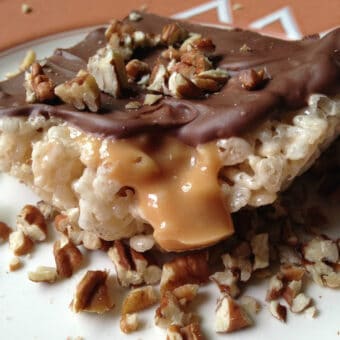 Turtle Crispy Bars
Rice Krispie Treats made with caramels and chocolate!
Ingredients
6

cups

rice crispy cereal

4

cups

miniature marshmallows OR

1

10 oz package

regular marshmallows

4

tablespoons

butter

32

caramels, unwrapped

5

tablespoons

sweetened condensed milk

3

teaspoons

butter

1 1/2

cups

chopped pecans, divided

1

cup

milk chocolate chips

1

teaspoon

butter
Instructions
Melt butter over low heat in a large saucepan.

Add marshmallows and stir until completely melted. Remove from heat.

Add rice crispy cereal, stirring until well coated.

Press mixture into a buttered 13 x 9 inch baking dish.

Use buttered spatula or buttered wax paper to prevent sticking while pressing mixture down. Cool completely.

In a small saucepan, combine caramels, milk and butter. Cook and stir over low heat until smooth. Stir in 1 cup chopped pecans. Drizzle evenly over prepared crispy treats.

In a small microwave-safe bowl, combine milk chocolate chips and butter. Microwave on high for 30 seconds to 2 minutes until smooth, stirring every 30 seconds. Drizzle over caramel.

Sprinkle remaining pecans over chocolate layer.

Let set for one hour. Cut into bars.
Recipe on Tap:
We have many, many rice krispie treats here on T2T, take a quick peek; Neapolitan Marshmallow Treats, Peanut Butter Crispy Treats, Cookies n' Creme Cereal Treats and Strawberry Vanilla Rice Krispie Treats.