Turkey Tetrazzini Leftover Style
We may earn money or products from the companies mentioned in this post.
Turkey Tetrazzini Leftover Style
This recipe is fast, easy and economical. It's also a great way to use left-over holiday turkey and any left-over holiday gravy. We seldom have any left-over holiday gravy, but you can substitute jarred roasted turkey gravy in this recipe. Also, this recipe calls for using creamed spinach. In my area, the only brand of creamed spinach that I can find is by Birdseye. Turkey Tetrazzini is super delicious, no matter how you make it.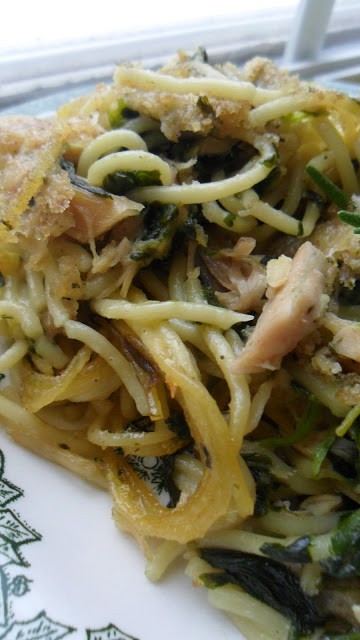 Chicken or Turkey
This recipe is a great way to use up left-over holiday turkey. It also calls for a jar of roasted turkey gravy, but left-over turkey gravy will certainly work too. You don't have to wait for the holidays to make this recipe or buy/make a turkey either. Simply buy a rotisserie chicken or when making chicken for dinner, throw in an extra piece and make this recipe. All you need is 2 cups of cooked, cubed chicken or turkey. Personally I think turkey has more flavor than chicken for this recipe so that's why I use turkey to make turkey tetrazzini instead.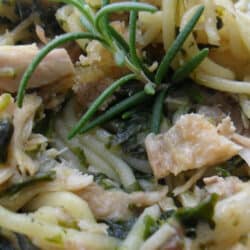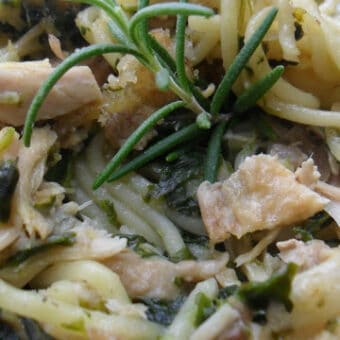 Turkey Tetrazzini
This is a great recipe to make with left-over holiday turkey and gravy.
Ingredients
2

cups

cubed, cooked turkey

8

ounces

linguine noodles

1

12 oz jar

roasted turkey gravy or left-over holiday gravy

1

10 oz box frozen

creamed spinach, thawed

1

4 oz can

mushroom stems and pieces, drained

1/2

cup

milk or evaporated milk

2

tablespoons

dry white wine, optional

1/8

teaspoon

nutmeg

1

tablespoon

melted butter, for topping

1/4

cup

Parmesan-flavored bread crumbs, for topping
Instructions
Cook linguine according to package directions, drain.

Heat oven to 350 degrees. Spray 11 x 7 inch baking dish with non-stick cooking spray.

In large bowl, combine cooked linguine and all remaining ingredients. Stir gently to mix. Spoon into sprayed baking dish.

In small bowl combine topping ingredients, mix well. Sprinkle evenly over top.

Cover with foil. Bake for 35 minutes or until bubbly, uncover. Bake 10 minutes longer or until topping is browned.

This recipe can be doubled with the same great results.