Turkey Lasagna Roll Ups
We may earn money or products from the companies mentioned in this post.
Turkey Lasagna Roll Ups
About five years ago, we started making lasagna for our Christmas Dinner. Up until that time, we had made ham, duck, goose, lamb and beef tenderloin. That was all fine and dandy, but it seemed to involve more work than I personally wanted to partake in. Also by Christmas Day, everyone seemed to be appetizer-ed out. An added plus to serving lasagna, it can be made ahead of time. Which means it's ready when you are.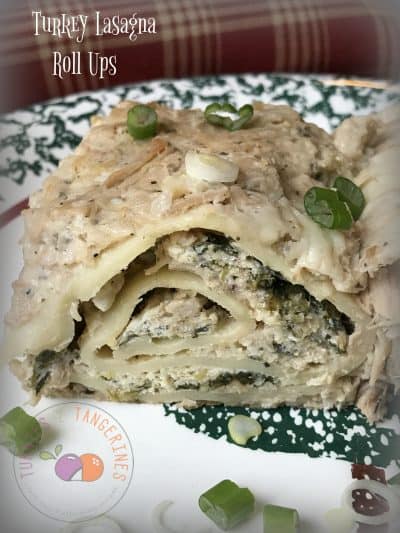 Turkey or Chicken
Turkey Lasagna Roll Ups are made with cooked, chopped turkey, chopped spinach, plenty of cheese and Alfredo sauce. The cooked turkey that I used in this recipe was left-over from Thanksgiving. (that I had froze) If that isn't an option for you, substitute cooked chicken instead. Rotisserie chicken or even canned chicken (if your into that) works great in this recipe. This recipe is very forgiving, so make it your own, use what you like.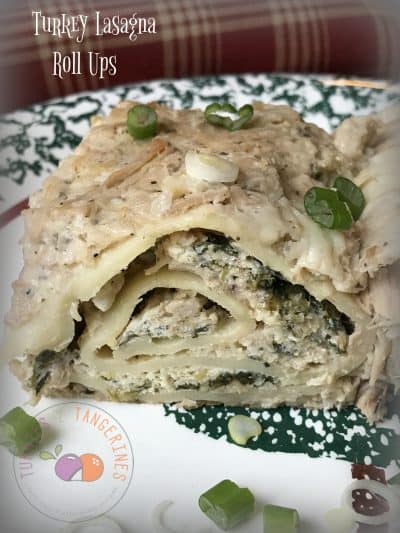 Over the Years
Over the years, I have made many different kinds of lasagna. From traditional style lasagna to seafood lasagna and even a breakfast lasagna. In my book, any and all lasagna is delicious. You really can't mess it up! Lasagna just keeps getting better and better, each and every time it's reheated. This year I decided to go with lasagna roll ups. My husband is a huge Alfredo sauce fan, so this year I went with Alfredo sauce. Your Welcome, Jim.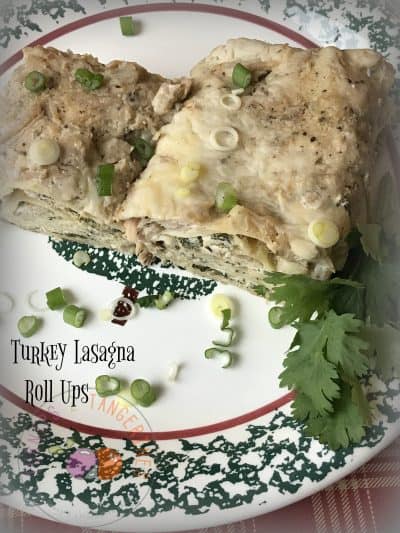 Christmas Dishes
With the holidays here, I thought I'd share a few of our favorite 'Christmas' dishes. Last Christmas we shared this recipe for White Christmas Lasagna, soo good! Another favorite and a recipe I had forgotten about over the years, Christmas Scalloped Potatoes and Ham. Serving ham for this year's Christmas Dinner? Give this recipe a try, Christmas Ham with Maple Glaze. We can't forget about dessert now can we! How about some Christmas Sugar Cookies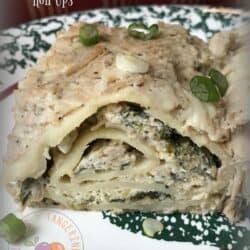 Turkey Lasagna Roll Ups
Turkey Lasagna Roll Ups are made with left-over cooked turkey. If turkey isn't an option, use rotisserie chicken.
Ingredients
4

tablespoons

olive oil

1

medium

onion, chopped

2

garlic cloves, minced

4

tablespoons

flour

1/4

teaspoon

salt

1/8

teaspoon

white pepper

1

cup

turkey broth

2

14 oz jars

Alfredo Sauce

4

cups

cubed, cooked turkey, divided

1

cup

grated Parmesan cheese, divided

1

egg

1

15 oz container

ricotta cheese

2

cups

shredded mozzarella cheese

2

cups

shredded Italian cheese blend

1

teaspoon

dried basil

1

teaspoon

dried Italian seasoning

1/4

teaspoon

salt

1/4

teaspoon

pepper

1/8

teaspoon

ground nutmeg

1

10 oz package

frozen chopped spinach, thawed and squeezed dry

15

lasagna noodles

1

cup

shredded mozzarella cheese

1/2

cup

Parmesan cheese

1/4

cup

minced fresh parsley
Instructions
In a saucepan, heat oil over medium heat until hot. Saute' onion and garlic in oil until tender. Stir in flour, salt and pepper. Cook until bubbly. Gradually stir in turkey broth. Bring to a boil, stirring constantly. Boil 1 minute. Reduce heat to low, stir in Alfredo sauce, 1 1/2 cups cooked turkey and 1/2 cup Parmesan cheese. Cook over low heat for i minute. Set aside.

In a medium bowl, combine egg, ricotta cheese, remaining 1/2 cup Parmesan cheese, remaining 1 1/2 cups cubed, cooked turkey, mozzarella cheese, Italian cheese blend, basil. Italian seasoning, salt, pepper, ground nutmeg and spinach. Set aside.

Cook lasagna noodles according to package directions. Drain. Spread 1/3 cup turkey mixture over each cooked lasagna noodle. Carefully roll up.

Pour 1/2 of the Alfredo sauce mixture into the bottom of a 3-quart baking dish. Place roll-ups, seam side down over sauce mixture. Top with remaining sauce. Sprinkle top with 1 cup shredded mozzarella cheese and 1/2 cup Parmesan cheese. Cover with foil.

Bake covered for 45 minutes. Uncover, bake an additional 15 minutes longer or until cheese has melted and sauce is bubbly.

Serve lasagna roll-ups with minced fresh parsley and garlic bread if desired.
Notes
*Recipe Note: This recipe calls for using 2-14 oz jars Alfredo sauce. Depending on how saucy  you want this dish, you can use 1 jar of Alfredo sauce or 1 1/2 jars. 
Recipe Idea:
Serve Turkey Lasagna Roll Ups with a crisp, light, white wine from Von Stiehl Winery such as a Pinot Grigio. If your looking for a delicious lunch idea to serve family and friends over the holidays, Turkey Pastrami Reuben Sliders and a cup of Smoky Gouda Cheese Soup will satisfy any size appetite.