Turkey Ham and Cheese Macaroni Salad
We may earn money or products from the companies mentioned in this post.
Turkey Ham and Cheese Macaroni Salad 
I can not believe that Turkey Ham and Cheese Macaroni Salad is the first pasta salad that I've posted this summer. But then again, it's hard to believe that it's the middle of July already. I can remember when I was growing up my mom would say this same statement every summer, "It's the 4th of July, the summers over." Now this could be one of those scenarios is "the glass half empty or half full."
As I got older and had kids of my own, I realized that maybe that statement was my mom's way of wishing that school would hurry up and start again. Years later, I said to my then sister-in-law Lynn, "Well it's the 4th of July, summers over." Lynn looked at me and said, "No, it's not! It just started!" Is the glass half empty or half full but then I guess you could ask, "is the glass half full or half empty?" Hmm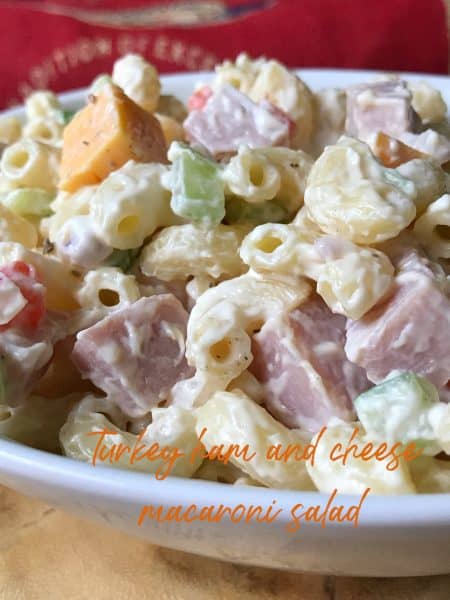 Half Empty or Half Full?
I thought I'd get to the bottom of this so I checked out Wikipedia to get the facts. This is what it said; "Is the glass half empty or half full?" is a common expression, a proverbial phrase, generally used rhetorically to indicate that a particular situation could be a cause for Pessimism (half empty) or Optimism (half full), or as a general litmus test to simply determine an individual's worldview." Well alrighty then, that settles that:)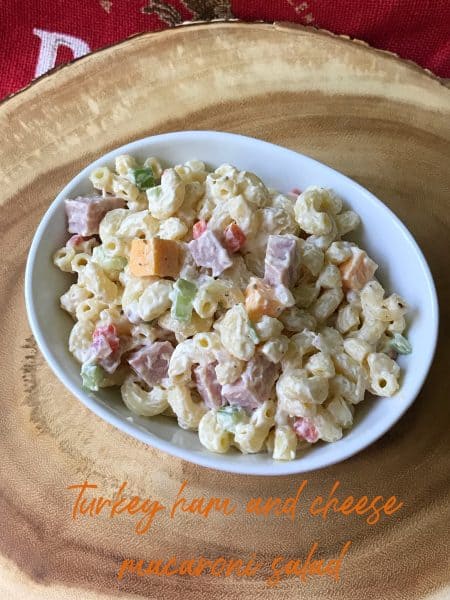 Embellish?
Another phrase or word I wanted to look up was "em•bel•lish" A few months back, it was pointed out to me that I embellish my stories here on Turnips 2 Tangerines. Hmm, I don't feel that I do? I'm simply telling my version of a story, as I remember it. To my knowledge, they are true. So when I read the definition of embellish, "Embellish; to make a statement or story more interesting or entertaining by adding extra details, especially ones that are not true." I became more confused so I dug deeper.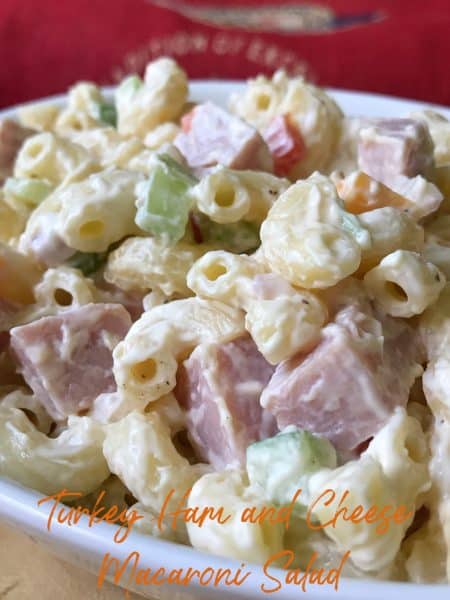 Truth or Fact?
What is the difference between truth and fact? Fact is something that cannot be combated with reasoning, for it is logic itself. But truth is something which depends on a person's perspective and experience. Then what is the difference between Fiction and Nonfiction? In general, fiction refers to plot, settings, and characters created from imagination, while nonfiction refers to factual stories focused on actual events and people. However, the difference between these two genres is sometimes blurred, as the two often intersect. Well enough said, my head is spinning! Back to the turkey ham and cheese macaroni salad:)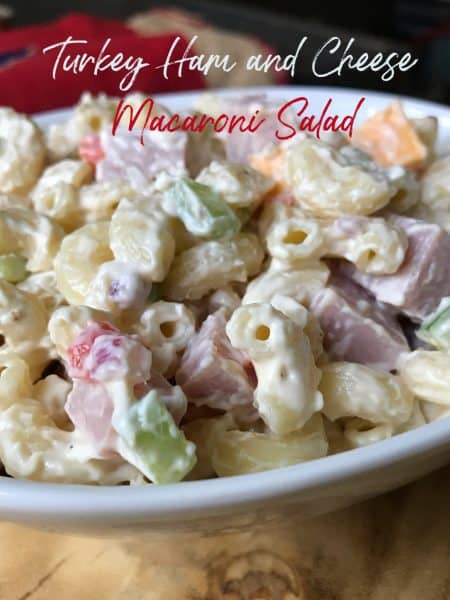 Pasta Salads
Turkey ham and cheese macaroni salad is a classic deli style salad. You can purchase ham and cheese macaroni salad in any deli, anywhere, especially throughout the summer months. Years ago, a trip to the local grocery store deli was a quick and relatively inexpensive way to pick up a dish "to pass." Stopping at the deli is still an easy option and a great option for smaller families too but the cost or price per pound has gone way up over the years. Making it cheaper, in some instances, to make pasta salads at home. Let's face it, pasta salads can be made from just about anything.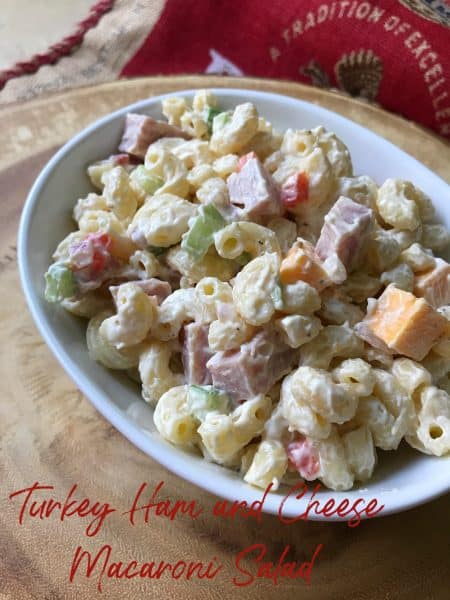 Deli Life
Let me make something crystal clear, I am by no means putting down deli counters or the people who work in a deli. In fact, I worked briefly at Mike's T & C, to be exact, in the deli department and I can tell you from experience, working in a deli is damn hard work. Have you ever tried to lift a 20 lb bucket of mayonnaise? Or how bout a big tray of whole chickens? That crap is heavy! Let's just say that wearing a hair net, dropping breaded chicken into a vat of hot oil and slipping and sliding across a greasy floor wasn't for me but I have deep respect for the people that do.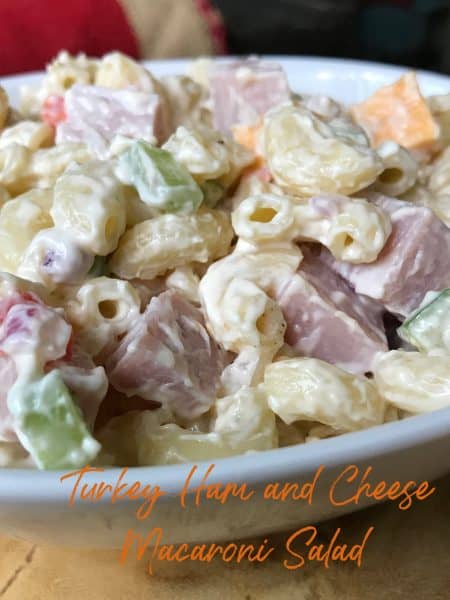 Like pasta salad? So do we! Give these a try. Deli Style Macaroni Salad,  Greek Pasta Salad and Penne with Artichokes.
Turkey Ham and Cheese Macaroni Salad
A super delicious pasta salad!
Ingredients
1

lb

elbow macaroni

8

oz

sharp cheddar cheese

,

cubed

8

oz

turkey ham

,

diced

1/2

cup

shredded carrots

,

optional

1/2

red onion

,

minced

4

celery stalks

,

diced

2 oz jar

diced pimento

,

drained

1

cup

olive oil mayonnaise

2

tablespoons

apple cider vinegar

2

tablespoons

honey

2

tablespoons

of Dijon mustard

1

teaspoon

of salt

1/2

teaspoon

of pepper
Instructions
Cook macaroni according to package directions. Rinse under cold water, drain well.

In a large mixing bowl, toss together cooked pasta, cubed cheese, turkey ham, carrots, onion, celery, and pimento.

In a small mixing bowl, mix together mayonnaise, apple cider vinegar, honey, Dijon mustard, salt, and pepper.

Pour the mixture over the pasta and toss until well combined. Cover bowl with plastic wrap and chill at least 1 hour before serving.
This recipe is made with Jennie-o Turkey Ham. 
Recent Article to Read: Five Secrets to Jump Start Your Summer Garden