Turkey Frame Soup
We may earn money or products from the companies mentioned in this post.
Turkey Frame Soup
After Thanksgiving when most of the left-overs have been eaten, the Black Friday shopping is over, why not put that turkey frame to good use and make a big batch of Turkey Frame Soup. There is something so comforting about making homemade soup. Maybe it's the delicious smells coming from the kitchen when soup is simmering on the stove or sitting down to a steaming bowl of homemade soup, it's comforting to know that you made this easy soup from leftover Thanksgiving turkey.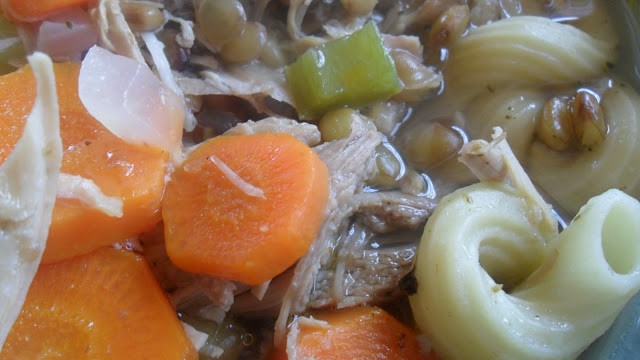 Everyone Loves Soup
Everyone loves soup. In fact, I don't think I know anyone who doesn't like soup. My hubby and I could eat soup everyday and this is one of our favorite. Maybe it's the smell of this soup simmering all day on the stove or the fact that the last of the turkey will be gone, this soup is always a welcomed sight on the table. I like to eat this soup with a nice chunk of bread but if your like my hubby, a sleeve or two of saltine crackers.
Oyster Crackers
Westminster Crackers are my favorite soup crackers. It seems to me that they're bigger, heartier and tastier than the usual brands of oyster crackers of tasted. For that reason, I love to use Westminster oyster crackers to make all kinds of flavored snack crackers. We've made several varieties such as Taco Oyster Crackers Don't have time to make soup? Freeze the meaty turkey frame for later, and make soup on a cold, winter's day.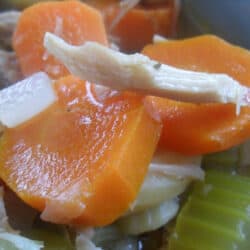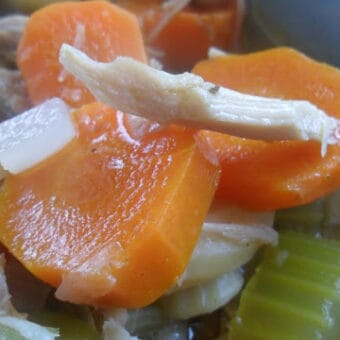 Turkey Frame Soup
Hearty and Delicious! Perfect way to use left-over holiday turkey.
Ingredients
1

left-over

turkey frame, from a 14-20 lb turkey

8

quarts

water or enough water to cover turkey frame

2

cups

chopped left-over turkey, combination of white and dark meat

1

medium

onion, chopped

4

large

carrots, peeled and sliced

4

stalks

celery with leafy tops, chopped

1

cup

fresh green beans, cut in half

2

teaspoons

salt

1/2

teaspoon

pepper

1/2

teaspoon

dried oregano

1/2

teaspoon

garlic powder

2

teaspoons

dried Italian seasoning

2 to 3

chicken bouillon cubes, optional

1/2

cup

lentils

2

cups

wide egg noodles or noodles of your choice
Instructions
Place turkey frame in a soup kettle or dutch oven, cover with 8 quarts of water. Bring to a boil. Reduce heat, cover and simmer 1 to 2 hours, add more water if needed.

Remove the turkey frame, cool.

Remove turkey from bones and cut into bite size pieces, discard bones. Strain broth through double thickness of cheesecloth, return broth to soup pot after straining.

Add to broth: turkey meat, onions, carrots, celery, green pepper, green beans, salt, pepper, seasonings, and bouillon cubes. Bring to a boiling, reduce heat and cover. Simmer 45 minutes. Add noodles and lentils. Cook until noodles and lentils are tender.
Soup is delicious anytime and this is another favorite recipe to try.
Wild Rice Soup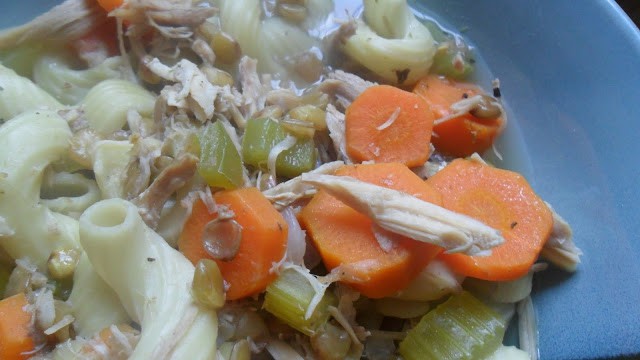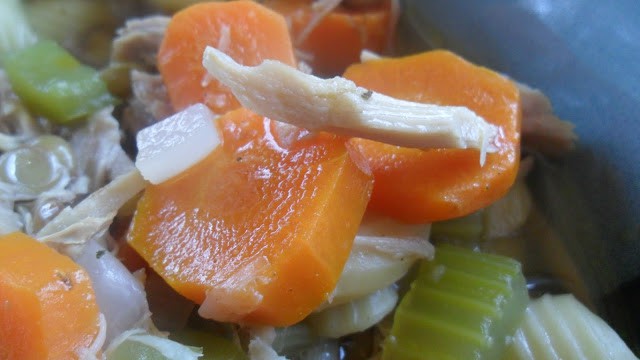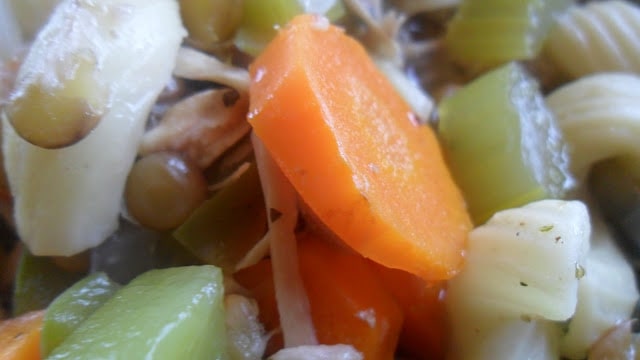 Here is another delicious recipe using holiday left-overs. Christmas Scalloped Potatoes and Ham. There are so many delicious recipes that can be made with leftover holiday turkey and/or ham. Make extra so you'll have plenty for leftovers!