Tuna Salad Stuffed Avocado
We may earn money or products from the companies mentioned in this post.
Tuna Salad Stuffed Avocado
Tuna Salad Stuffed Avocado is a light and tasty way to enjoy tuna salad. This simple dish is perfect for lunch or dinner on a warm summer evening. It's also a great lunch option when your watching your diet. I have been on an avocado 'kick' as of late. Avocados were recently on sale at my local grocery store (4 for $1.00) and since I have absolutely no self-control, I bought 12. My hubby, who doesn't even like avocados thought I was nuts.
Ash Wednesday
Today is Ash Wednesday and I thought it was appropriate to talk about Ash Wednesday. Ash Wednesday is one of the most popular and important holy days in the liturgical calendar. Ash Wednesday opens Lent, a season of fasting and prayer. It takes place 46 days before Easter Sunday, and is mainly observed by Catholics, although many other Christians observe it too. Ash Wednesday comes from the ancient Jewish tradition of penance and fasting.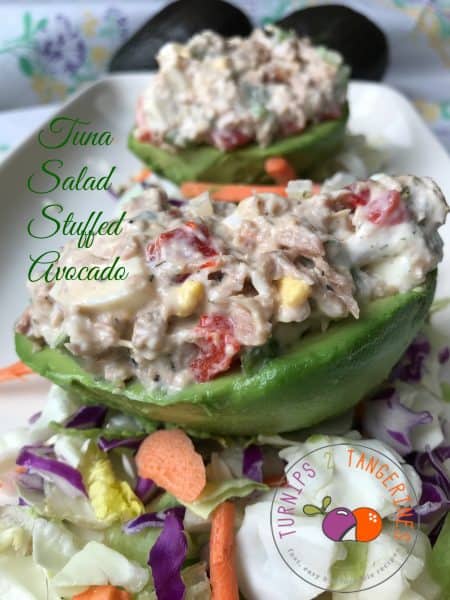 Ashes
Ashes symbolize the dust from which God made us. As the priest applies the ashes to a person's forehead, he speaks the words: "Remember that you are dust, and to dust you shall return." Priests administer ashes during Mass and are a visible symbol of penance. The ashes are made from the blessed palms used in the Palm Sunday celebration of the previous year. The ashes are christened with Holy Water and are scented by exposure to incense.
It is important to remember that Ash Wednesday is a day of penitential prayer and fasting. Some faithful take the rest of the day off work and remain home. It is generally inappropriate to dine out, to shop, or to go about in public after receiving ashes. Catholics should receive ashes within the context of Mass but may be delivered by a priest to those who are sick or shut-in.
Beginning of Lent
Ash Wednesday marks the beginning of the Season of Lent. It's a season of penance, reflection, and fasting which prepares us for Christ's Resurrection on Easter Sunday. You can't eat meat on Ash Wednesday, which marks 40 days before Easter and the beginning of Lent. According to the Catholic law of abstinence, Catholics refrain from meat on Fridays altogether during this 40-day period, as well as on Ash Wednesday.
Tuna Salad Stuffed Avocados
Perfect for a light lunch or as a side dish.
Ingredients
2 or 3

firm ripe avocados

1

6 oz

can tuna, drained

2

tablespoons

finely diced red onion

2

tablespoons

finely diced red bell pepper

2

tablespoons

finely diced celery

1

hard-boiled egg, diced

2 - 4

tablespoons

olive oil mayonnaise

1

teaspoon

lemon juice

1/2

teaspoon

dried dill weed

salt and pepper to taste

chopped lettuce blend
Instructions
Combine tuna, diced onion, red bell pepper, celery, egg, mayonnaise, lemon juice and dill weed in a bowl, mix well. Refrigerated one hour. Taste and season with salt and pepper.

Cut avocados in half, remove seed and peel carefully.

Use a spoon to stuff avocados with tuna salad filling.

Serve immediately on a bed of lettuce.
Notes
*For a spicier version, stir in 1 tablespoon finely diced jalapenos into the tuna mixture.
Information on Ash Wednesday is from: Catholic Online, World's Catholic Library
Recent Recipe: Cinnamon-Spiced Bananas