Tuna Noodle Casserole
We may earn money or products from the companies mentioned in this post.
Tuna Noodle Casserole
An Old-Fashioned Classic, Tuna Noodle Casserole is a casserole that I'm sure most people have tried or made, at least once. That statement might not be true quite as much today but back when I was growing up in the 60's and 70's that statement would have been true. Especially if you went to Catholic school!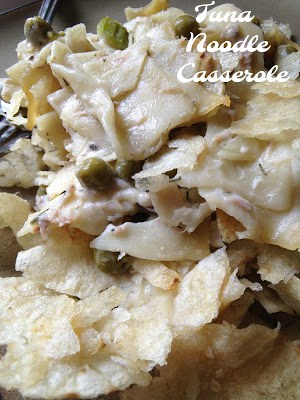 A Lent Classic
Tuna Noodle Casserole has been served in school cafeteria's for eons. When I was growing up, Tuna Noodle Casserole was a staple in our house, eaten every Friday night for dinner during Lent. Often to the moans and groans of myself, my brother and sisters. We would have much rather dined on Mrs. Paul's fish sticks, the long, slender rectangles that never really seemed to crisp up. You know the ones…the fish sticks that came with the little packet of pickle relish, that you added to a couple tablespoons of mayonnaise. We loved those fish sticks served on a toasted bun with some 'homemade' tarter sauce. Fishwiches as Aggie would call them.
Stretch That Can
My mom Aggie was a master at turning yesterdays left-overs into today's make-over meal. If we had tuna noodle casserole on Friday night then you could bet money on it that Saturday's lunch will be left-over tuna noodle casserole, re-invented. Made into something that she called, "Tuna Noodle French bread" Today they might be called 'sliders.'  She would spoon left-over tuna noodle casserole on thick slices of French bread, top each with a slice of American cheese, then put the slices under the broiler and broil until the slice of American cheese had melted. Saturday's version of Tuna Noodle Casserole was by far my favorite.
Add On
Chopped onions and celery are optional in this recipe. I don't think my mom added either to her Tuna Casserole. Aggie wasn't exactly what you would call a 'chef'. It would be fair to say, that she was more in the category of 'terrible' cook…Aggie would have considered adding onion, celery and dried dill weed, as certainly qualify the recipe as 'gourmet' (I very much doubt she even had dried dill weed) Considering I had never eaten a taco until I was in the third grade….or a lettuce salad, until I was 19 years old, should shed some light on the subject. I definitely led a very 'Sheltered' food life.
A Word About Canned Tuna
Canned tuna is precooked and is sold as albacore, or white meat and light meat. It comes in three grades, the best being solid or fancy (large pieces), followed by chunk (smaller pieces) and flaked or grated (bits and pieces). Canned tuna is packed in either water or oil. Canned tuna will generally keep for about a year, stored at 65º F or less. The best practice is to buy only what will be used within a few months of purchase.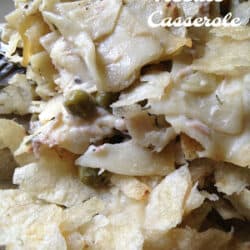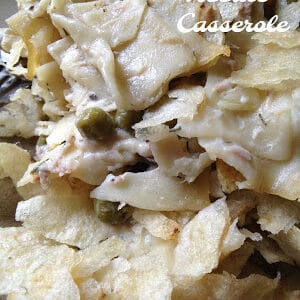 Tuna Noodle Casserole
Delicious served anytime.
Ingredients
1

12 oz package medium egg noodles

2

10 1/2 oz each cans condensed cream of mushroom soup

1 1/2

cups

milk

2

7 1/2 oz each cans chunk tuna, drained and flaked

1

small can peas

,

drained

salt and fresh pepper

,

to taste

1/4

cup

each diced onion and celery

1/2

teaspoon

dried dill weed

2

cups

coarsely crushed potato chips
Instructions
Preheat oven to 350º Coat a 3-quart casserole dish with non-stick cooking spray.

Prepare noodles according to package directions; drain.

In a large bowl, combine soups and milk; mix well. Add noodles, tuna, peas, salt and pepper. Stir in onion and celery. Pour mixture into prepared casserole dish.

Sprinkle dried dill weed over the top. Top with crushed potato chips.

Bake 30 to 35 minutes, or until bubbly and heated through.

Serve immediately.
Tuna Salad Sandwich and Tuna Melt are two of our lunchtime favorites.