Try These Homemade Taco Sauce Recipes
We may earn money or products from the companies mentioned in this post.
Try These Homemade Taco Sauce Recipes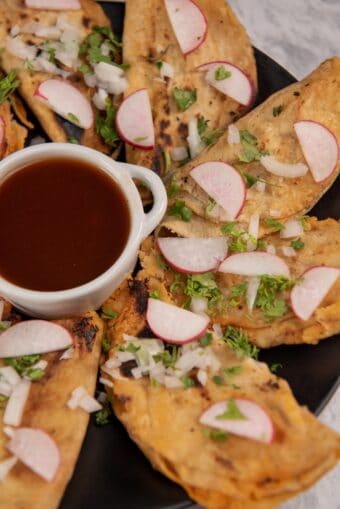 The key to great tacos is to get the seasoning and sauce right. You can check out guides online on how to season taco meat. This guide delves into a few different taco sauces worth making at home, which will help to give your tacos an extra tasty burst of flavor. Try these homemade taco recipes today!
Tomato Salsa
Tomato salsa is the most popular taco sauce. You'll find hundreds of different recipes on how to make this sauce – all of which may be slightly different. The key ingredient is of course tomatoes. Onion, garlic, white wine vinegar and lime juice are also popular ingredients within this salsa. Feel free to play with various herbs and spices. Tomato salsa goes well with meat like chicken and beef. It also goes well with beans if you're looking to make vegetarian or vegan tacos.
Guacamole
Guacamole is another Mexican classic. In many cases, it pretty much uses the same ingredients as tomato salsa but with the addition of avocado to give it that green appearance and thick texture. Many people use guacamole as a dip, but you can add it to tacos as a filling with ingredients like chicken.
Salsa Verde
Salsa verde is green in color and made using a mix of herbs. There are many different ways to make salsa verde – a few popular ingredients added to this salsa include parsley, garlic, dijon mustard, capers and red wine vinegar. Salsa verde goes well with many different taco fillings from beans to chorizo. It can pair particularly well with beef. If you're feeling daring you can even serve it with beef tongue!
Chipotle Lime Crema
For a creamier and smokier taco sauce, consider this homemade chipotle lime crema sauce. It's made from chipotle peppers, lime juice, sour cream, garlic, salt and honey. This is a dynamic sauce that can go well with various taco toppings including vegetables and fish. On top of dolloping it in your tacos, you can also dip foods in it.
Salsa Macha 
Salsa macha is rich and nutty. It is made from frying up chillies, peanuts, oil and apple cide vinegar. You can use other nuts in it instead of peanuts if you desire – thick can help thicken it out and add extra nutty taste. This sauce goes well with chicken tacos. It can also go well with bean taco fillings.
Jalapeno Ranch
If you're looking for something with a spicy kick to it, try this jalapeno ranch recipe. It contains sour cream, cilantro, jalapeños, lime juice, salt, onion powder and garlic powder. Jalapeño ranch pairs well with chicken as it does with fish. It's a great spicy sauce to drizzle over shrimp.
Sriracha Fish Taco Sauce
If you're looking for a sauce for fish tacos, why not try mixing together some sour cream, sriracha, garlic, lime and mayo? Sriracha has a tangy taste that compliments seafood well. Add this to shrimp tacos or you can also pair it with cod or tilapia. Try these recipe ideas to celebrate your Cinco de Mayo festivities.
Cinco de Mayo Favorites
Up Next: Five Ingredient Bacon Bread