Tropical Baked Steel Cut Oatmeal
We may earn money or products from the companies mentioned in this post.
Tropical Baked Steel Cut Oatmeal
Tropical Baked Steel Cut Oatmeal is the answer to all of your oatmeal needs. Everyone knows the benefits of steel cut oats but who wants to get up an hour earlier than they have to, stand over a stove and stir oatmeal? Not me, that's for sure. Yes, you can purchase the little packages of "instant" oatmeal  and yes, they are convenient. Sometimes though, you want a meatier oatmeal, one you can sink your teeth into, so to speak.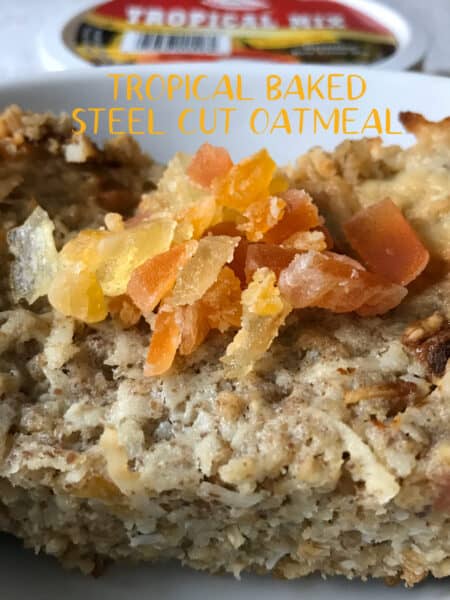 Lets Talk Grouts
Scotch oats or steel cut oats or Irish oatmeal are all names for groats that have been cut into 2 to 3 pieces and not rolled. Steel cut oats take considerably longer to cook than rolled oats and have a nice chewy texture. Oat flour is made from grouts that have been ground into powder. Oat  flour contains no gluten. For baked goods that need to rise, such as yeast breads, oat flour must be combined with a flour that does.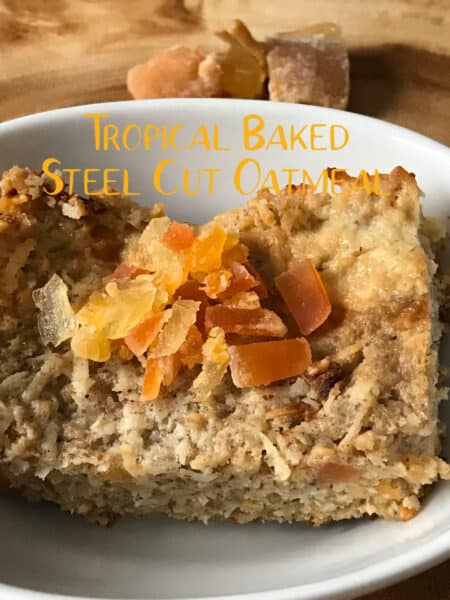 Bran
Oat Bran is the outer casing of the oat and is particularly high in soluble fiber, thought to be a leading contender in the fight against high cholesterol. Grouts, oat bran, flour and Scotch oats are more likely to be found in natural food stores. Fortunately for consumers that trend is changing. More and more supermarkets now have a health food section. Oats are high in vitamin B1 and contains a good amount of vitamins B2 and E.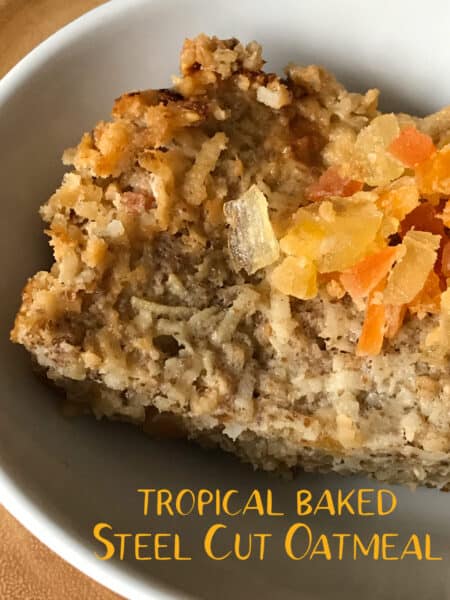 Oat Grouts
Unlike animals who consume whole oats as fodder, humans don't usually consume whole oats until after the oats have been cleaned, toasted, hulled and cleaned again. After this process they become oat groats. Serve oat grouts as a cereal or prepared in the same manner as rice. Use as side dish or in a dish such as a salad or stuffing. Oat grouts become regular rolled oats, also called old-fashioned oats when steamed and flattened with huge rollers.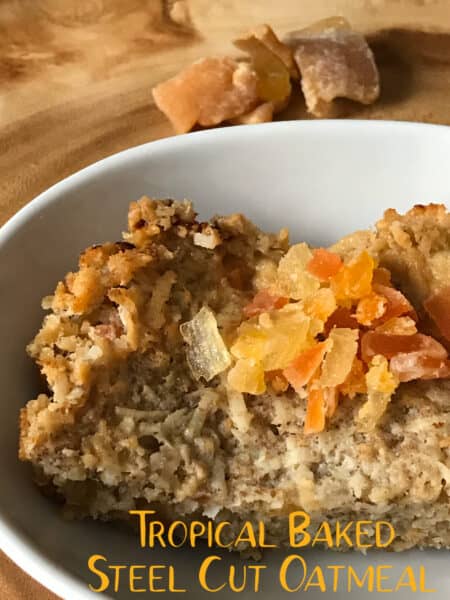 Paradise Fruit Co.
This recipe is made with Paradise Tropical Fruit. Since 1961 Paradise Brands has been America's favorite brand for candied fruit products. Paradise makes glace' (candied) fruit of all kinds, including candied cherries, ingredients for fruit cake recipes and much more. Paradise Fruit has been achieving baking excellence for over 50 years. Now you can purchase a full line of candied fruit products with their online store, powered by Amazon.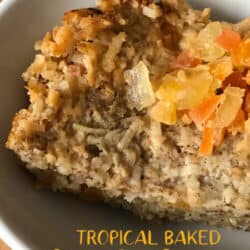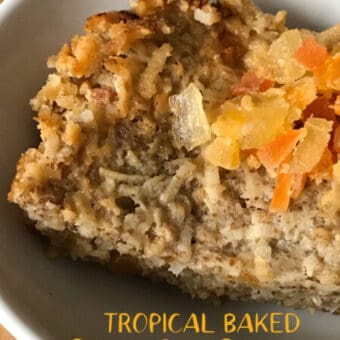 Tropical Baked Steel Cut Oatmeal
A delicious breakfast option. Perfect for overnight guests!
Ingredients
2 1/2

cups

steel cut oats

1

cup

chopped dried tropical fruit

3/4

cup

sweetened flaked coconut

1 1/2

tablespoons

coconut oil, melted

2

teaspoons

ground ginger

1

egg

1/2

cup

honey

1/4

teaspoon

salt

4

cups

unsweetened coconut milk or milk of choice

2

tablespoons

ground flax seed
Instructions
In a large bowl, combine steel cut oats, chopped tropical fruit, flaked coconut, melted coconut oil, ginger, egg, honey and salt. Stir to combine.

Stir in 2 cups coconut milk until combined.

Stir in remaining 2 cups coconut milk and ground flax seed. This mixture will be quite liquidity.

Pour mixture into a greased 2-quart baking dish.

Bake for 45-50 minutes or until oatmeal is set and top is golden.

Top each serving with flaked coconut, chopped dried tropical fruit and Greek yogurt, if desired.

Store any leftovers in an air-tight container in the refrigerator.
Notes
Recipe Note: Coconut milk can be found in the dairy case located by the almond milk and other cartons of milk.
Here are a few more Tropical fruit recipes you are going to love! Tropical Smoothie Bowl, Tropical Fruit Smoothie Pops, and Tropical Smoothie.