Triple Ginger Cookies
We may earn money or products from the companies mentioned in this post.
Triple Ginger Cookies
I have wanted to make homemade Triple Ginger Cookies ever since I bought my first container of triple ginger cookies from Trader Joe's some 6 years ago. If you've ever had the pleasure of biting into a Trader Joe's triple ginger cookie, you know what I'm talkin' bout. Pure ginger cookie heaven!! Fortunately for you and moi, we can now make this recipe for delightfully triple ginger cookies at home. Now we don't have to run out to the nearest Trader Joe's and buy a container of cookies, not that that's a bad thing mind you. A trip to Trade Joe's is always well worth it, but for me anyway, the nearest Trader Joe's is 2 hours away, so lucky for me I can now make them at home:)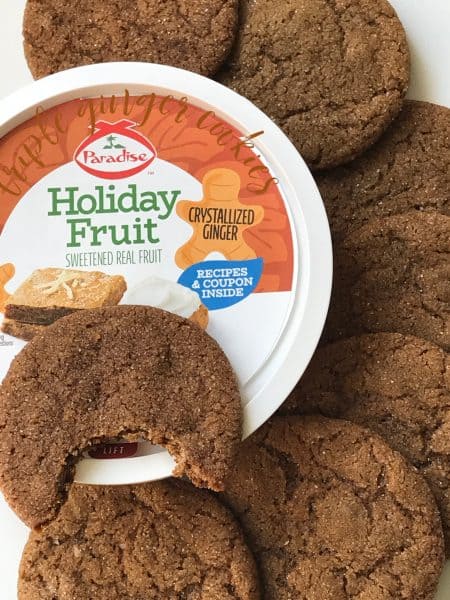 Recipe Credit
I am sorry to say that I can't take any credit for this super delicious recipe. Boo hoo for me. I can and will thank the source for this fantastic recipe. It has taken me many years and many unsuccessful attempts to make a triple ginger cookie that was "just right." Luckily I found this recipe on the blog called Love and Olive Oil. Stop by Love and Olive Oil and see for yourself the many tempting recipes that you'll find there.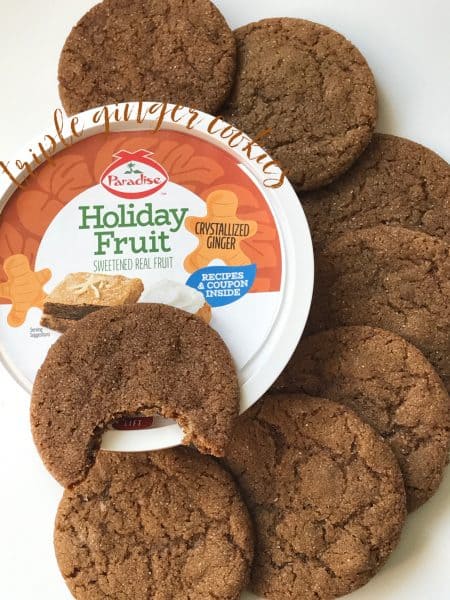 Ginger Galore
I found this recipe from Love and Olive Oil after I "google it". I've googled many recipes for triple ginger cookies but none of them had the triple I was looking for. Until that is, I found this recipe. It had the triple I wanted, plus so much more. Molasses, butter, dark brown sugar and so on. This recipe also has lots of ground ginger, 2 tablespoons worth, 2 tablespoons finely grated, fresh ginger root and my favorite, 1/3 cup of finely chopped crystallized ginger. Not only are these cookies a close "copy-cat" recipe of my favorite Trader Joe variety, they're relatively easy to make too. Little hands come in handy for rolling the dough into small balls and then into granulated sugar. Get the kiddies involved and make some memories.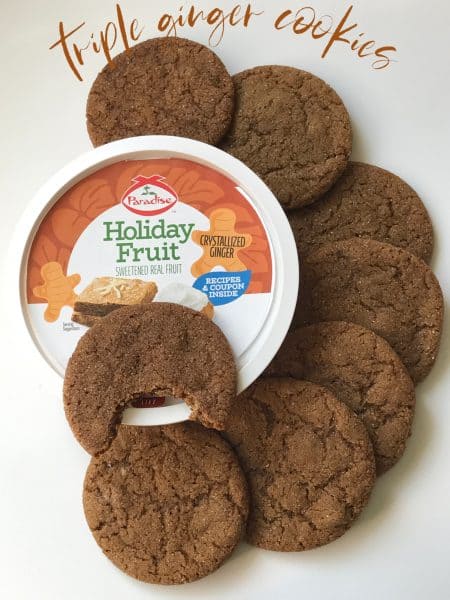 Paradise Fruit
This recipe for triple ginger cookies are made with crystallized ginger from Paradise  Fruit Company. I have been on a crystallized ginger roll as of late. I can't seem to get enough of this pungent, slightly peppery, sweet concoction. Crystallized ginger can be used in everything, in my humble culinary opinion. I love to eat crystallized ginger right out of the container:) If you're looking for more recipes using Paradise Fruit check out these; Old English Caramel , Cherry Delight Cookies and Orange Date Cinnamon Rolls.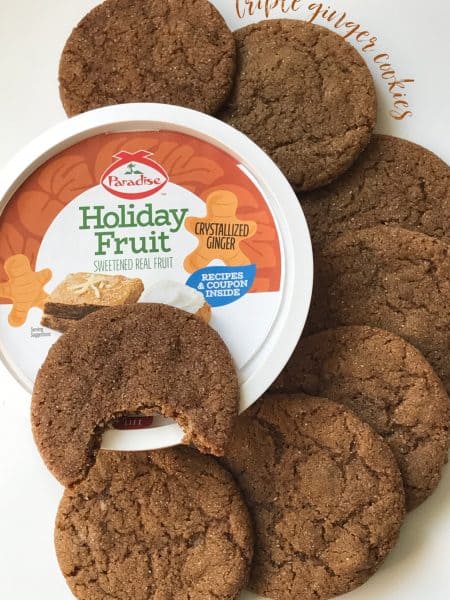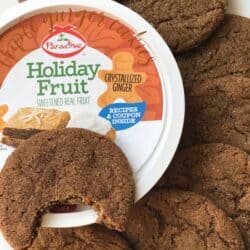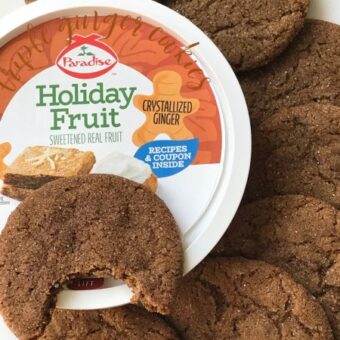 Triple Ginger Cookies
Made with triple ginger goodness!
Ingredients
2 1/2

cups

all-purpose flour

2

teaspoons

baking soda

1/2

teaspoon

salt

12

tablespoons

unsalted butter

2

tablespoons

ground ginger

1/2

teaspoon

ground cinnamon

1 1/4

cups

dark brown sugar

1/4

cup

molasses

2

tablespoons

finely grated fresh ginger

1

large

legg plus 1 large egg yolk

1/3

cup

finely chopped crystalized ginger

granulated sugar, for rolling
Instructions
In a bowl, whisk together flour, baking soda, and salt; set aside.

Melt butter in a skillet set over medium heat. Once melted, lower heat and continue to cook, swirling frequently, until foaming subsides and butter is just beginning to turn golden brown, about 2 to 4 minutes. Transfer melted butter to large bowl and whisk in ground ginger and cinnamon. Let cool for about 2 minutes, then whisk in brown sugar, molasses, and fresh ginger. Add egg and yolk and whisk to combine. Add flour mixture and stir until just incorporated. Mix in crystallized ginger. Cover with plastic wrap and refrigerate until firm, about 1 to 2 hours.

Preheat oven to 300 degrees F; position oven racks to upper-middle and lower-middle positions. Line 2 baking sheets with parchment paper (or use silicone baking mats). Place granulated sugar in shallow dish or bowl. Spoon dough by heaping teasponfuls; shape into 1-inch balls, then roll in sugar to coat. Arrange balls on prepared baking sheets, leaving 1 to 2 inches of space between them.

Bake for 15 minutes, then rotate baking sheets (top to bottom and front to bakand bake for an additional 9 to 12 minutes, or until cookies on lower tray just begin to darken around edges. Transfer to wire rack and cool completely before serving. Rrepeat with remaining dough. Cookies will keep, stored at room temperature in an airtight container, for up to 2 weeks
Nutrition
Serving:
1
g
,
Calories:
489
kcal
,
Carbohydrates:
77
g
,
Protein:
5
g
,
Fat:
18
g
,
Saturated Fat:
11
g
,
Cholesterol:
72
mg
,
Sodium:
447
mg
,
Potassium:
280
mg
,
Fiber:
1
g
,
Sugar:
46
g
,
Vitamin A:
563
IU
,
Calcium:
66
mg
,
Iron:
3
mg
Recipe Note: Nutritional information may be subject to change.