Tomato Basil Topping for Bruschetta
We may earn money or products from the companies mentioned in this post.
Tomato Basil Topping for Bruschetta
Tomato Basil Topping for Bruschetta is one of the best ways to showcase summers bounty of fresh, garden ripened tomatoes. Make topping with fresh plum tomatoes. Plum tomatoes contain less water than most tomatoes. Tomato and basil topping requires juicy, sun-kissed, garden fresh tomatoes in order for this recipe to shine. Now is the time to make this delicious topping when your garden is overflowing with tomatoes.
Word About Bruschetta
Bruschetta [broo-SKEH-tah] [broo-SHEH-tah] From the Italian word meaning "to roast over coals," this traditional garlic bread is made by rubbing slices of toasted bread with garlic cloves, then drizzling the bread with extra-virgin olive oil. Season the toasted bread slices with salt and pepper. Serve alongside warmed dipping sauce.
Made in Advance
Best made with summer-fresh, vine-ripened tomatoes and fresh basil, tomato and basil topping is the perfect tribute to summer produce. Let the tomato topping sit at room temperature when allowing the flavors to marry. The flavors come together better at room temperature. For a fast and fresh antipasto idea, give the idea below a try.
Super Easy Idea
This summer set out plates of toasted bruschetta and toasted, thin slices of potato. Add several small bowls of fresh grated Parmigiano-Reggiano cheese and a big bowl of this delicious topping. Serve with a sturdy, dry red wine such as a Chianti Riserva. For added Italian Flair serve on beautiful Italian pottery available at Italian Pottery. Italian Pottery is a great place to find beautiful Italian Pottery or anything else you might need.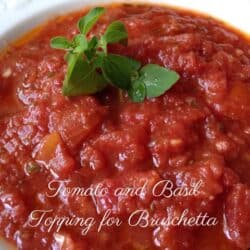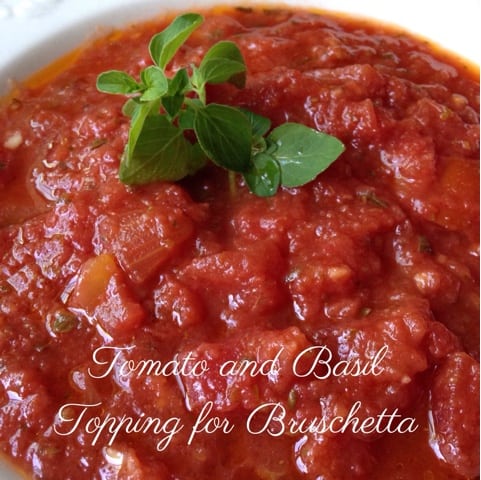 Tomato and Basil Topping for Bruschetta
Tomato and basil topping is great served on toasted crostini too.
Ingredients
4

medium

vine-ripened tomatoes, coarsely chopped

2

medium

shallots, minced

3

medium

garlic cloves, minced

1/2

cup

chopped fresh basil

1/4

cup

chopped fresh Italian parsley

1

tablespoon

red wine vinegar

4

tablespoons

extra-virgin olive oil

salt and pepper to taste
Instructions
Combine all ingredients in a large bowl.

Cover and let sit on the counter for 2 hours for flavors to develop.

Can be covered and refrigerated for up to two days.
Recipes On Tap
Top fried, broiled or grilled super thin potato slices with Tomato Basil Topping. As mentioned above, top toasted slices baguette slices with Tomato Basil Topping. Here is the recipe for  Potato Bruschetta