Tom and Jerry Holiday Drink
We may earn money or products from the companies mentioned in this post.
Tom and Jerry Holiday Drink
This is a re-post from December of 2013. I accidentally deleted the recipe a few months back, so this is a re-post from December, 2013. Tom and Jerry Holiday Drink recipe was given to me by my ex-mother-in-law, my kids Grandma, almost 38 years ago. I'm not exactly sure where or from whom she got this recipe from but I do remember my mother-in-law telling me the same two stories about this recipe. The story behind this recipe changed from Story #1 to Story #2 depending on how many Tom and Jerry's she'd consumed that evening. Which by the way could be quite a few!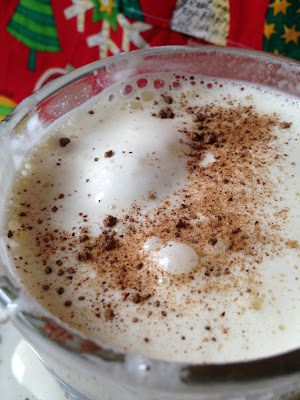 Story #1
Story # 1 Went something like this: This recipe is an old Irish recipe. The recipe came from her mother and dad who acquired the recipe, from an old Irish customer. The old Irish customer came into their liquor store, O'Connell's, that they owned and operated when they were first married in the 1920's. She often threw in the fact that the Irish customer was part of the Irish mafia from Chicago. C'mon now, I don't think so, but stranger things have happened.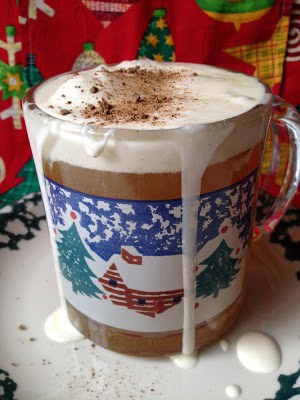 Story #2
Story # 2 Went something like this: My mother-in-law was given this recipe by a bartender after she sang the song, "Oh Danny Boy" while sitting at the piano bar one evening at an establishment she frequented. The name of the establishment was none other than the "Left Guard Charcoal House" later known as "Martinis" in Appleton WI. The restaurant was connected to a hotel called the Midway Motel Lodge.
The Left Guard Charcoal House was owned and operated by the Green Bay Packer Greats, Max Mc Gee and his team-mate Green Bay Packer, Fred "Fuzzy" Thurston. Colleen said it was their (Max and Fuzzy's) way of saying "Thank you" for singing that song on St. Patty's Day. Evidently she had often asked for the recipe. Colleen often said that the both of them were in love with her. I knew the woman, I doubt it but stranger things have happened.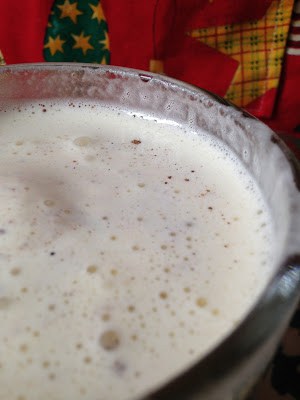 Toasty Warm
Now, I'm not sure if either story is true but one thing I do know is this batter is wonderful!! It has definitely stood the test of time in my family. I've enjoyed many a Tom and Jerry on a freezing cold winter evening. Nothing better than sipping a hot Tom and Jerry on Christmas Eve or after an evening of shoveling. Tom and Jerry is the perfect way to stay toasty warm in the winter. Homemade Tom and Jerry batter is 100 times better than any commercial brand you can buy in any grocery store. (Sorry Mrs. Bowen)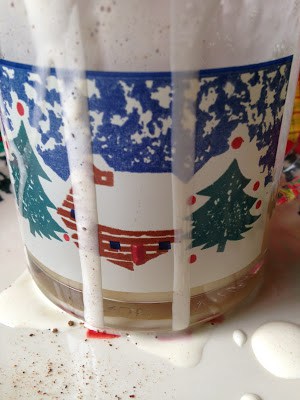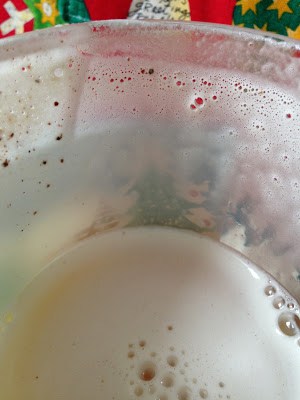 Christmas Memories
This drink will warm you up on a cold, winter's night. Wonderful after an evening of sledding, skiing, or snow shoveling. It's the perfect drink to sip while trimming the Christmas tree and listening to your favorite Holiday Christmas Carols. I have enjoyed many mugs of Tom and Jerry's while listening to Kenny Rogers Christmas Cassette/CD or while watching White Christmas at Mike and Lynn's house. I remember one Christmas the entire State of Wisconsin was under a severe winter storm advisory.
With blizzard and whiteout conditions, people were advised to stay home and to stay off the roads. I was standing looking out my front window when I could make out four bundled figures slowly walking down the street. I could hardly make them out through the blowing snow. All of a sudden I realized who it was! Mike, Michelle, Cori and Lynn we're walking down the street, hanging on to a rope draped between them, just like the little pre-school kids on field trips, minus the tye-dye shirts.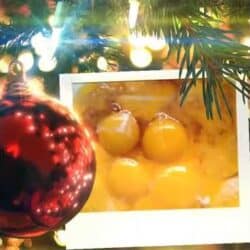 Tom and Jerry Batter
A super delicious batter to make that holiday classic Tom and Jerry.
Ingredients
1

dozen

eggs, room temperature

1/2

teaspoon

cream of tartar

1

teaspoon

vanilla extract

2 1/4

cups

granulated sugar

1/8

teaspoon

cream of tartar

1

teaspoon

vanilla extract

2 1/4

cups

powdered sugar

1/4

teaspoon

allspice

Boiling water

Brandy and Dark Rum

nutmeg
Instructions
Separate eggs. Place egg whites in a clean, glass bowl. Place egg yolks in a second clean, glass bowl.

Beat egg whites with 1/2 teaspoon cream of tartar, 1 teaspoon vanilla extract until stiff, about 8 to 10 minutes. Add 2 1/2 cups granulated sugar. Continue beating for 20 minutes, scraping down sides of bowl. The whites will become very thick and stiff. Set aside.

Beat egg yolks with 1/8 teaspoon cream of tartar and 1 teaspoon vanilla extract until light in color and thick, about 8 to 10 minutes. Add 2 1/2 cups powdered sugar. Continue beating until very light in color and thick, about 20 minutes.

Gently fold beaten egg yolks into whites, along with 1/4 teaspoon allspice. Just fold the two together, do not beat.

Pour batter into an empty, clean 5 quart ice cream pail. Cover. Store pail in the freezer.
Notes
Recipe Note: I have always used a hand held Mixmaster to make this recipe.
When making a Tom and Jerry Drink, you need to use boiling hot water. Use a teapot, filled with water and heat to a boiling. Keep the teapot and on top of the stove and keep the water on a low simmer until needed. Keep adding more water to the teapot as needed.
Use a nice size mug for making a Tom and Jerry. You don't want a too small of a cup nor do you want a cup that is too large. Add ingredients accordingly to cup size.
 To make a Tom and Jerry per serving: Pour one jigger of Brandy and one jigger Dark Rum into cup. Add boiling water, fill cup 2/3 full. Add batter, about 2 or 3 heaping spoonfuls. Use a tablespoon from your silverware drawer. Sprinkle top of batter with nutmeg. Serve with a spoon to mix in batter with water and booze. 
Here are a few more recipes we know you'll love: Fish House Punch, Warm Up Scandinavian Style with a Glögg and Drunkin' Weenies and a Brandy Slush.